Imogen
Review Your Product
x

Imogen
Product Details
Please note that due to the size of the Imogen Chaise unit, some fabrics will result in a visible seam* where two pieces have been sewn together.
Click here for a full list of these fabrics.
* The seam will lay horizontally, approximately 36cm from the front edge of the chaise cushion.
Height (A)
Width (B)
Depth (C)
Seat Height (D)
Chaise End
93cm
289cm
190cm
48cm
Corner
93cm
290cm
290cm
48cm
Corner End
93cm
290cm
208cm
48cm
4 Seater
93cm
248cm
109cm
48cm
3 Seater
93cm
198cm
109cm
48cm
Standard Arm Unit
93cm
99cm
109cm
48cm
Large Arm Unit
93cm
124cm
109cm
48cm
Standard Centre Unit
93cm
82cm
109cm
48cm
Large Centre Unit
93cm
107cm
109cm
48cm
Corner Unit
93cm
109cm
109cm
48cm
Chaise Unit
(Left-Hand / Right-Hand)
93cm
108cm
190cm
48cm
Footstool
48cm
110cm
86cm
n/a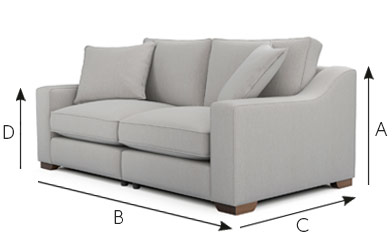 Imogen
Seat Cushions: Fibre or Feather-Wrapped Foam
Back Cushions: Feather & Fibre
Sprung seat
Low slung and sumptuously deep, Imogen is a modular sofa system that offers an array of configurations. Clean, tailored lines are highlighted with piping detail and finished with a choice of wood or brushed chrome feet.
You can choose between fibre filled or feather-wrapped foam interiors. Fibre is soft, squidgy and inviting but will need regular plumping and turning to maintain the look.
Feather-wrapped foam is created by wrapping high-density foam with a sumptuous duck feather jacket, it provides a firmer sit but will still require plumping. This model comes complete with 3 piped scatter cushions to match the fabric of the sofa.
Interest Free Credit is available on all orders over £799. Find out more.
Made in the UK
10 Year Frame Guarantee
Available in Over 100 Fabrics
How much is delivery?
To mainland UK addresses:
Delivery charges for furniture (other than clearance) is £40 for one item and £60 for more than 1 item.
For cushion orders there is a delivery charge of £7.
For rug orders there is a delivery charge of £15
For clearance items there is a delivery charge of £60
Please note: An additional £50 charge will be applied for deliveries to Northern Ireland and the Scottish Highlands.
For deliveries to UK addresses other than the UK mainland (for example, the Scottish islands, Isle of Man, Isle of Wight, Scilly Isles, Jersey and Guernsey) a charge of £80 will be applied.
How long will delivery take?
Our furniture is made to order, so most items will take 6 weeks. If you are ordering the exact sofa, chair or footstool that is on display in one of our galleries then delivery will be just 4 weeks.
Can I cancel my order?
If you change your mind, you have the right to cancel your order either before, or within 14 days of delivery.
How do I return an item?
If you wish to return an item, please contact our customer service team on 01225 792 333 with your order details.
Read our full Delivery & Returns policy here.
British Quality & Craftsmanship
Handcrafted in the UK from the makers of Parker Knoll, Duresta and G Plan
All of our furniture is designed and made in our purpose built factory in Nottinghamshire - a renowned centre for the upholstery industry. Each piece is lovingly crafted by furniture makers and upholsterers with decades of experience. It is with this skill and craftsmanship that The Lounge Co. offer a 10-year frame guarantee for peace of mind and as a mark of quality.