Holly
Review Your Product
x

Holly
Product Details
| | Height (A) | Width (B) | Depth (C) | Seat Height (D) |
| --- | --- | --- | --- | --- |
| Corner | 87cm | 250cm | 250cm | 47cm |
| Chaise End | 87cm | 240cm | 160cm | 47cm |
| 4 Seater | 87cm | 238cm | 98cm | 47cm |
| 3 Seater | 87cm | 201cm | 98cm | 47cm |
| 2.5 Seater | 87cm | 171cm | 98cm | 47cm |
| 2 Seater | 87cm | 146cm | 98cm | 47cm |
| Snuggler | 87cm | 122cm | 98cm | 47cm |
| Footstool | 47cm | 79cm | 79cm | - |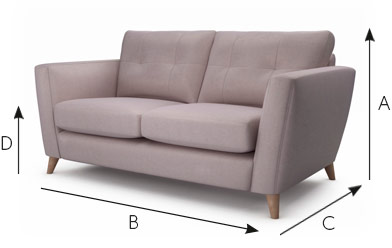 Holly
Seat Cushions: Foam with fibre wrap
Back Cushions: Fibre
Sprung seat and back
A modern sofa range with contemporary design features such as twin-needling and gently pulled in back cushions.
Interest Free Credit is available on all orders over £799. Find out more.
Made in the UK
10 Year Frame Guarantee
Available in Over 100 Fabrics and Leather
How much is delivery?
To mainland UK addresses:
Delivery charges for furniture (other than clearance) is £40 for one item and £60 for more than 1 item.
For cushion orders there is a delivery charge of £7.
For clearance items there is a delivery charge of £60
Please note: An additional £80 charge will be applied for deliveries to Scottish Highlands. For deliveries to UK addresses other than mainland Britain (for example, the Scottish islands, Isle of Man, Isle of Wight, Scilly Isles, Jersey, Guernsey and excluding Northern Ireland) charges will vary based on these locations and we will contact you once order is placed with a final delivery charge. We do not offer deliveries to Republic of Ireland or Northern Ireland.
Our delivery partner will provide an estimated delivery time slot 36 hours before delivery of furniture items. If you subsequently cancel the delivery or if you are not available to accept the delivery when our delivery partner arrives at your address within the agreed time slot, we reserve the right to charge you an additional re-delivery fee of £100, in addition to any delivery charge already paid.
How long will delivery take?
Due to the impact of Covid-19 on our suppliers and production, our delivery times are currently a little longer than usual. Products with in-stock fabrics will be delivered in approximately in 12-14 weeks. Out of stock fabrics will take an additional 6 weeks.
For clearance items, delivery can typically be around two weeks but you will be contacted by our delivery partner to arrange delivery as soon as possible.
Can I cancel my order?
If you change your mind, you have the right to cancel your order either before, or within 14 days of delivery.
How do I return an item?
If you wish to return an item, please contact our customer service team on 01225 792 333 with your order details.
Read our full Delivery & Returns policy here.
British Quality & Craftsmanship
Handcrafted in the UK from the makers of Parker Knoll, Duresta and G Plan
All of our furniture is designed and made in our purpose built factory in Nottinghamshire - a renowned centre for the upholstery industry. Each piece is lovingly crafted by furniture makers and upholsterers with decades of experience. It is with this skill and craftsmanship that The Lounge Co. offer a 10-year frame guarantee for peace of mind and as a mark of quality.
Get The Look
Take inspiration from our beautiful lifestyle photography to accessorise your Holly Sofa...
Deadly Nightshade

Peacock Tail