PremierCare Fabric and Leather Upholstery Protection
We know you'll love your sofa or chair from The Lounge Co.
Protect it from stains and accidental damage from just £40 with our PremierCare Protection.
5 YEAR PROTECTION
PremierCare is designed to make sure your furniture's appearance is not spoiled by everyday accidents such as household spills, rips, tears or burns. PremierCare Protection covers your furniture for 5 years, and provides you with peace of mind that repair costs and stain removal are taken care of.
WHAT COVER IS AVAILABLE?
PremierCare features cover against stains and accidental damage.
STAIN COVER
Covers you against accidental household spills resulting in a stain on your fabric or leather upholstery.
Stains Covered:
PremierCare will protect and restore your furniture even if it has been affected by any of the stains below:
• Tea/coffee/hot chocolate • Red/white wine • Alcohol • Tomato ketchup • Milk • Blackcurrant and orange juice • Cola and other fizzy drinks • Curry & pizza • Spaghetti bolognese • Grease from foodstuffs • Shoe polish • Chocolate and confectionery • Nail varnish • Cosmetics Soap products • Paint & wax • Human and animal bodily fluids • Mineral oil and glue • Soot • Tar • Dye transfer
Please note: Other stains not listed here are included. Stain removal is subject to Terms and Conditions that can be found in the downloadable leaflet.
ACCIDENTAL DAMAGE COVER
Guards against accidental damage resulting in a rip, tear or burn to your fabric or leather upholstery. Leather upholstery is also covered for accidental damage resulting in a scratch, puncture of scuff. An extra benefit of PremierCare accidental damage cover is that you can also claim once if your child or pet deliberately damages your furniture.
Accidental Damage Covered:
PremierCare covers common household accidents resulting in:
Upholstery: • Rip • Tear • Burn
Leather: • Scratch • Puncture • Scuff
Pet damage and deliberate child damage are limited to only one incident of each during the period of cover.
HOW MUCH WILL IT COST?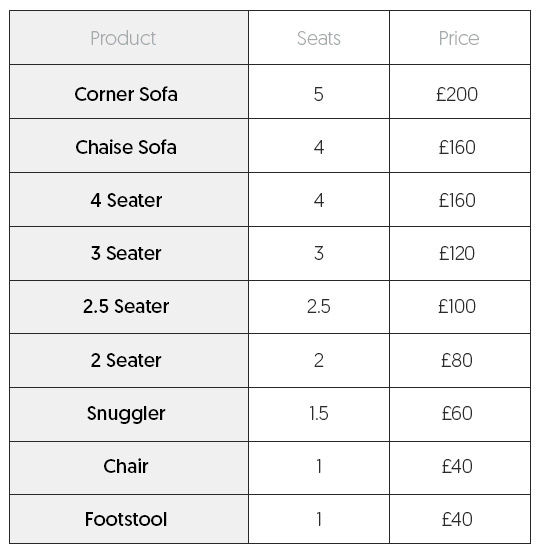 Please note: All prices are inclusive of Insurance Premium Tax at 12%
HOW DO I PURCHASE THE PREMIERCARE PROTECTION?
When you have chosen your new sofa or chair, you can chose the option of PremierCare in your shopping basket
WHO SUPPLIES THE PREMIERCARE PROTECTION?
PremierCare Fabric and Leather Upholstery Protection is supplied by Castelan Limited. Click here to download the full PremierCare leaflet. By purchasing PremierCare protection, you are entering into a contract with Castelan Limited. Please read their Terms and Conditions here.
YOUR INSURANCE DEMANDS AND NEEDS
This product will meet the demands of those who:
• Wish to protect their furniture from the risks explained in the Insurance Product Information Document and understand this insurance falls outside the scope of our statutory or contractual obligations
• Wish to protect their furniture for the duration of the policy knowing that you will not be required to pay a claim excess or affect any form of no claims bonus which may apply on a contents insurance policy
• Understand the insurance provides specific cover for the furniture being purchased and is not a general maintenance contract