Black, white or both? If colour leaves you cold, then a stylish monochrome palette could be just the ticket. Being bold with black and white will give a fresh, clean, and unquestionably sophisticated look to your lounge. A black sofa is super-stylish and will hide a multitude of sins! A white sofa will take a little more care but will make a stunning statement.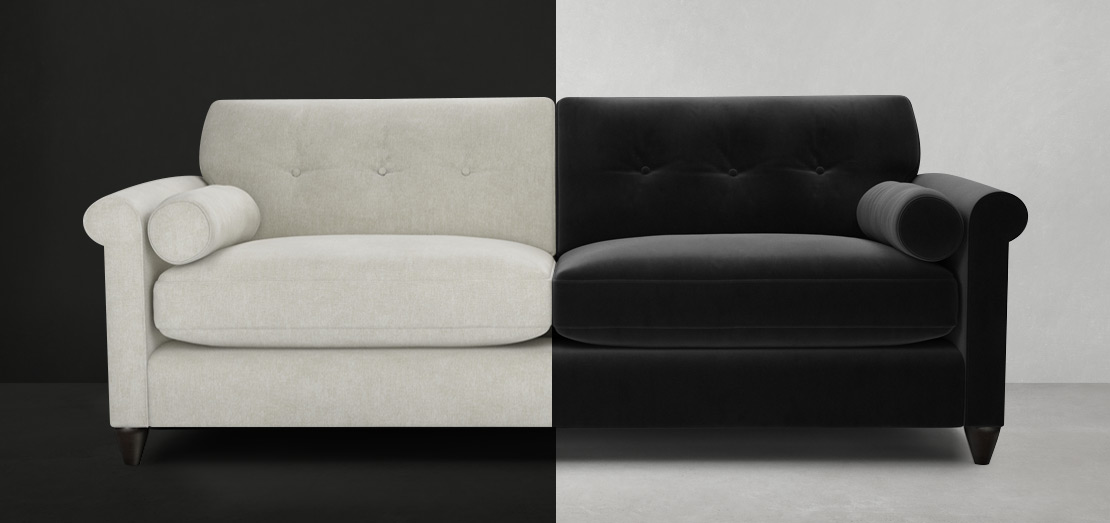 Our range of black and (almost) white fabrics includes linen, chenille and leather. If you fancy mixing the two shades, our range of accent fabrics are a great way to introduce the monochrome trend into your lounge. Choose your favourite fabrics and get up to six swatches delivered for free.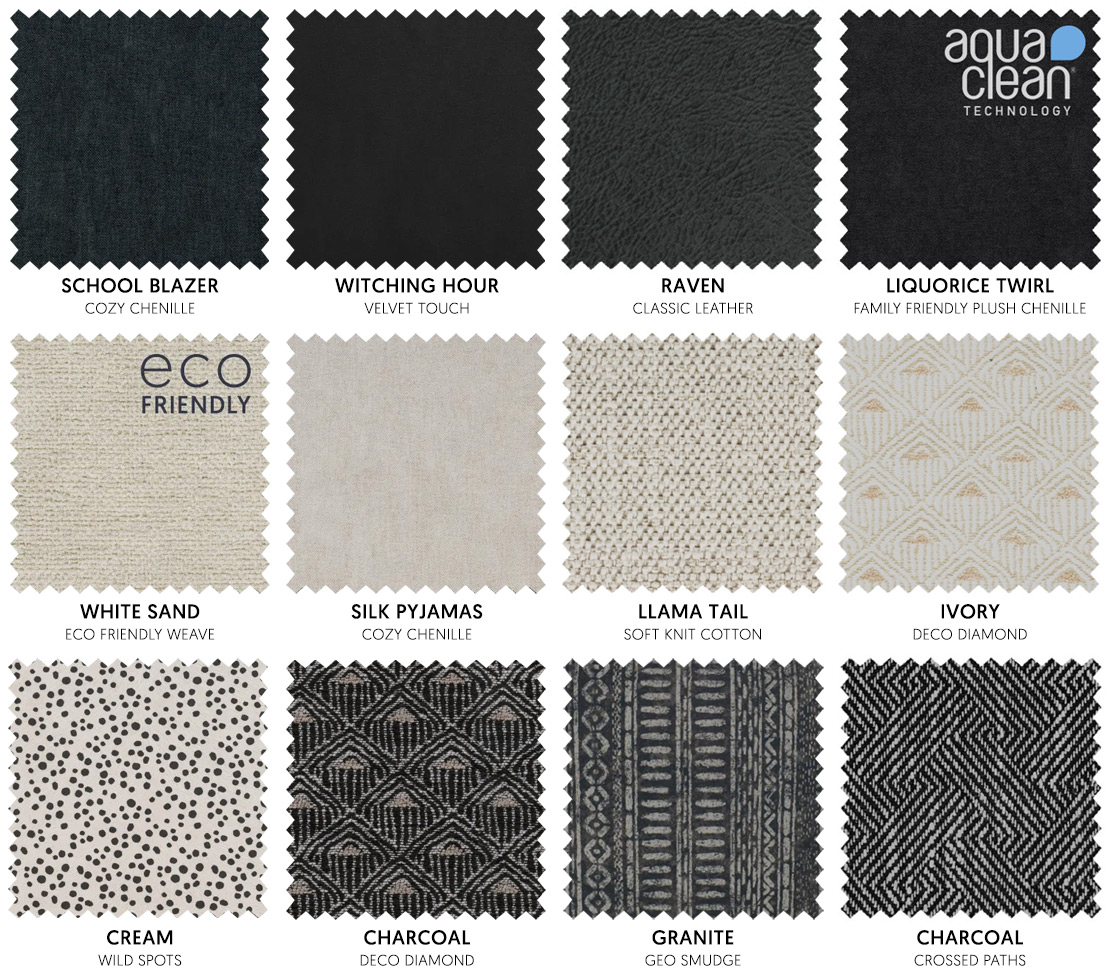 Be Bold with Black
Embrace the dark side and go all black! A black leather sofa will catch the light and shine out of a dark interior. Instead of black walls, paint in a deep charcoal grey is softer and warmer. Add cushions and a rug in dark patterns to break up the solid colour.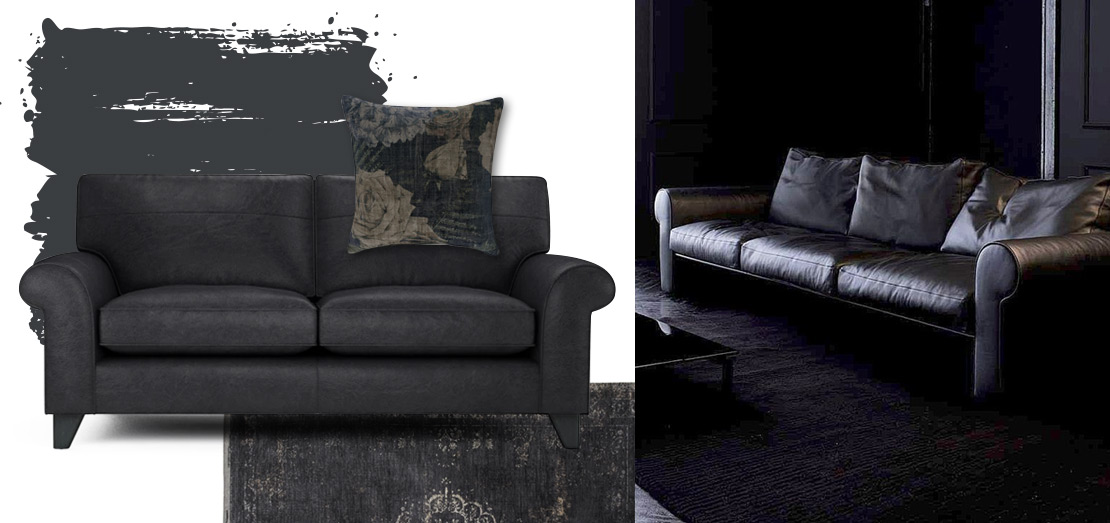 Sofa: Penelope 3 Seater in Classic Leather – Raven. Cushion: Midnight Garden – Dusk. Paint: Zeitgeist by Craig & Rose. Rug: Mineral Black by Louis de Poortere (Lifestyle Image sourced from Pinterest)
Pale and Interesting
If the thought of a black lounge is just too dreary, keep it bright with white on white! Ok – maybe everything in pure white would be a bit too stark, that's why we've chosen pale shades of cream and off-white. A cream sofa might seem like a scary proposition, but if you choose a Family Friendly fabric, you can wipe away everyday stains with ease. Find out more about the innovative Aquaclean Technology that we use.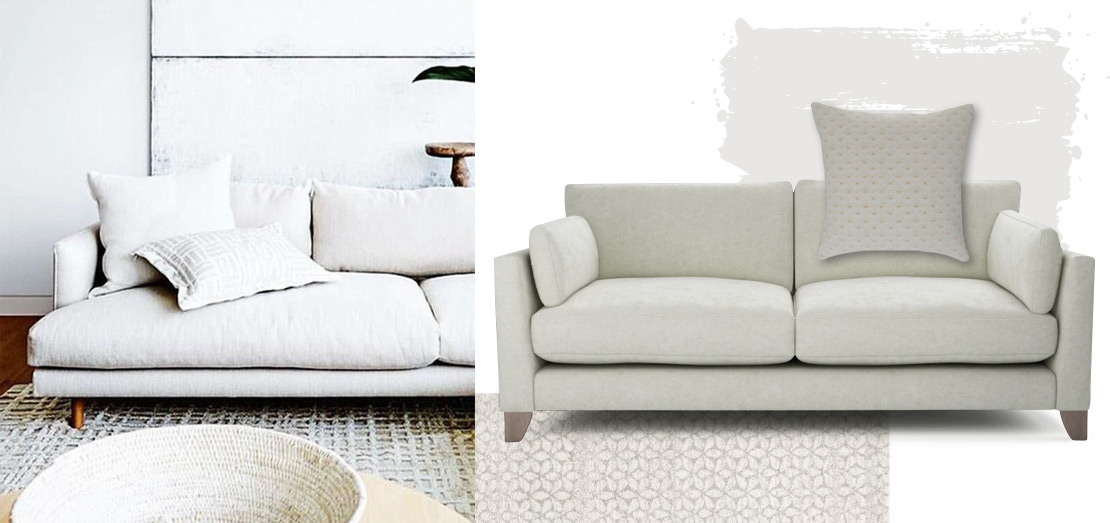 Sofa: Paloma 3 Seater in Cozy Chenille - Silk Pyjamas. Cushion: Deco Diamond - Ivory. Paint: Wevet by Farrow & Ball. Rug: Stella Cream Rug by Wayfair (Lifestyle Image sourced from Pinterest)
Monochrome Mix
If you'd rather mix your monochrome palette, add Scandi-inspired accessories to a sofa in a solid colour. Bold geometric patterns make a real statement and will add a modern touch to your home. A black sofa set against a pale grey or off-white wall will look stylish and striking.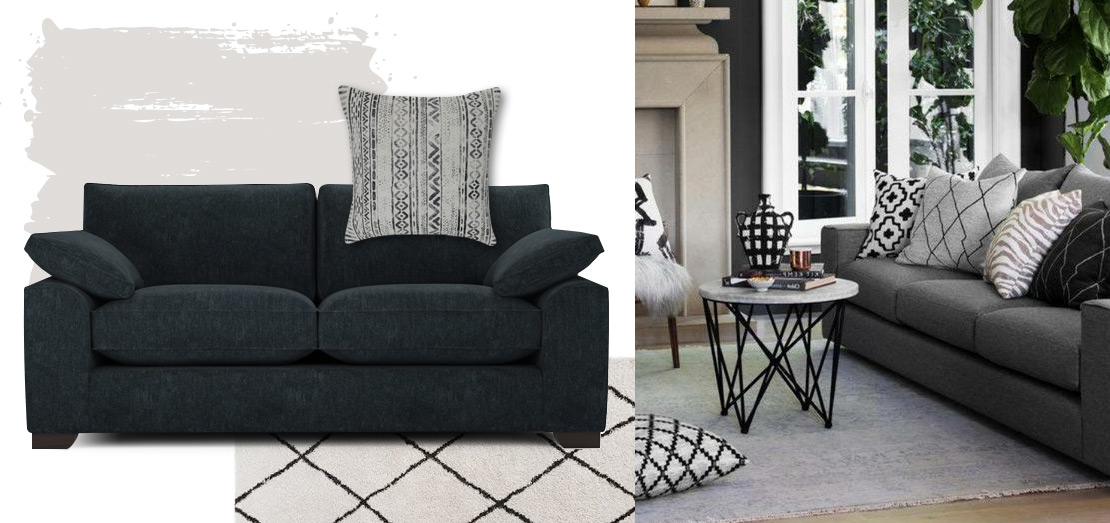 Sofa: Josie 3 Seater in Cozy Chenille - School Blazer. Cushion: Geo Smudge – Charcoal. Paint: Spotlight by Crown. Rug: Goba Shaggy Rug by Benuta (Lifestyle Image sourced from Pinterest)
Dark and Decadent
A black velvet sofa is a darkly decadent style statement. By adding dusky pastels to a monochrome scheme you create warmth and softness. We love pairing black with teal or blush pink; accessorising with metallics and rich textures to create a look that's inspired by Gothic Victoriana but with a contemporary twist.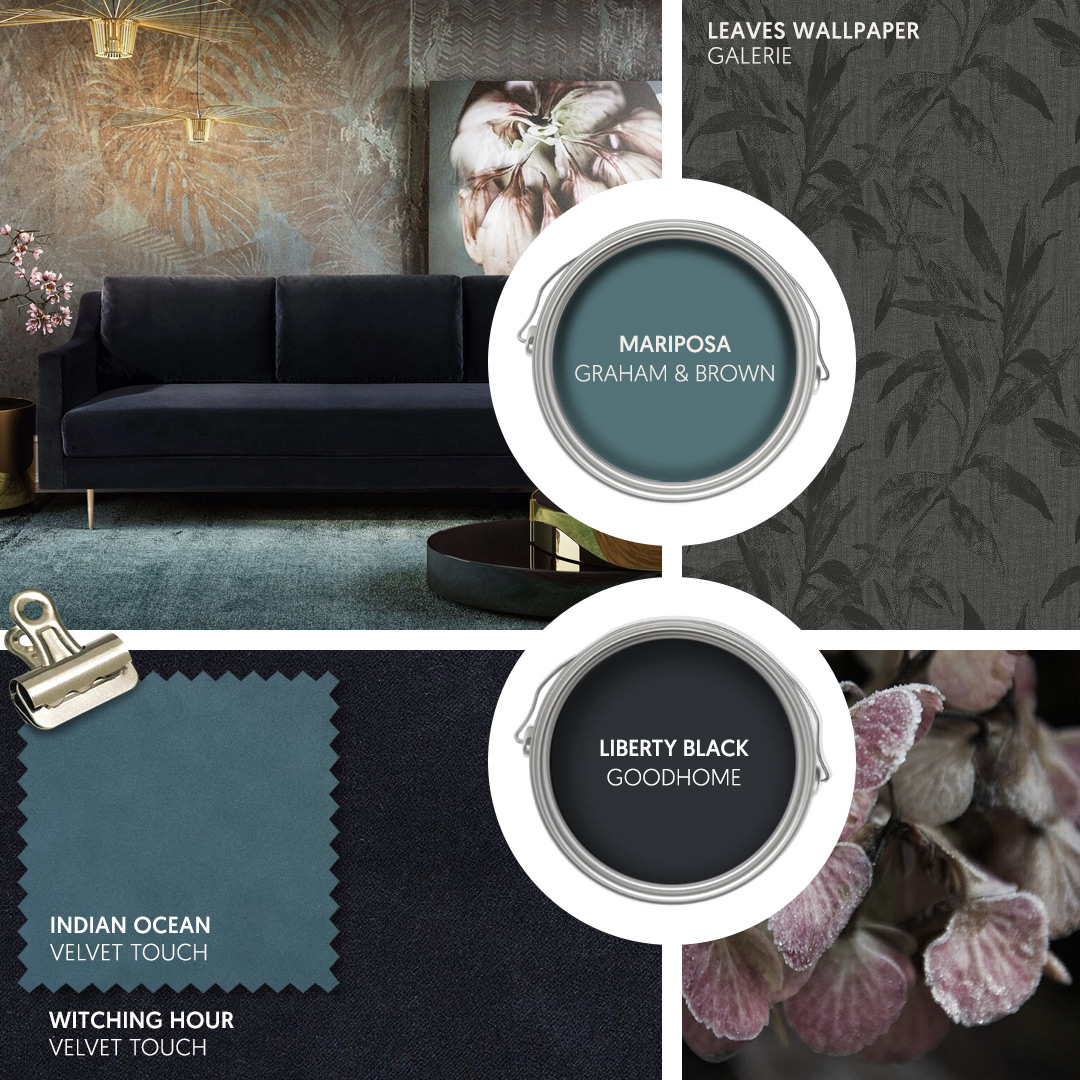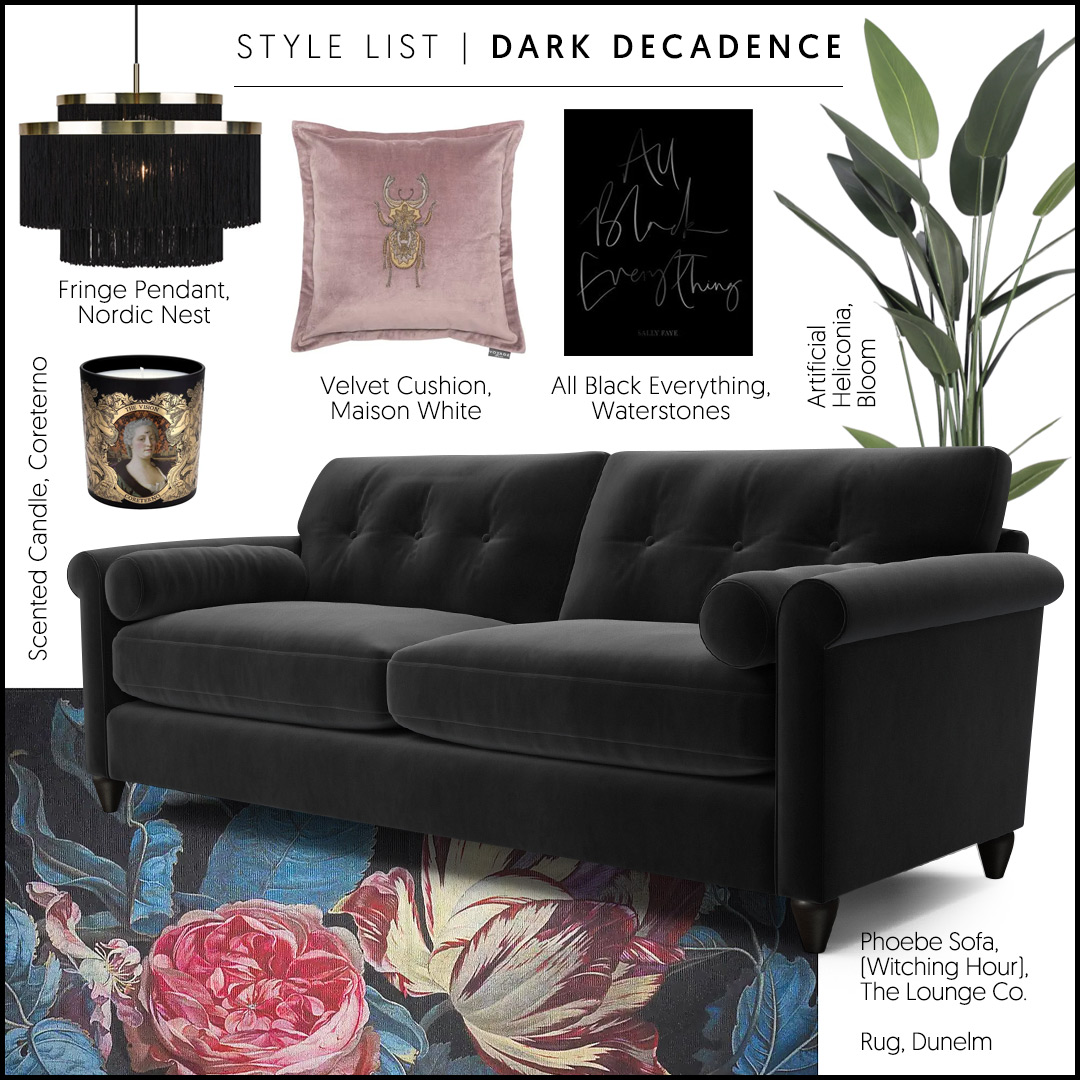 Sofa: Phoebe 4 Seater in Velvet Touch - Witching Hour
If you need some more Black and White inspiration, head to Pinterest and explore our Monochrome board. Follow us and you'll have more than 60 boards full of interior ideas to discover...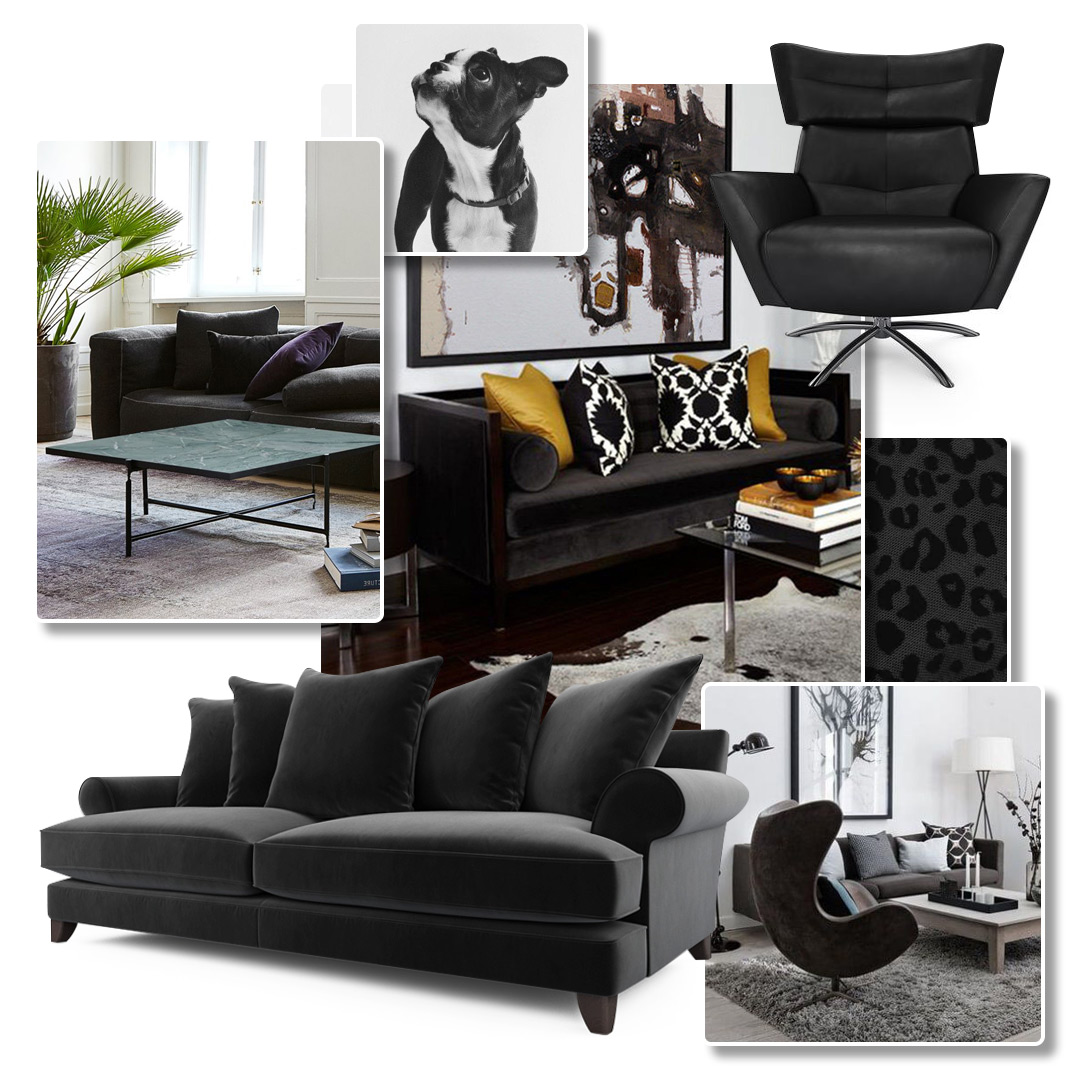 Sofa: Briony 4 Seater Pillow Back in Velvet Touch – Witching Hour. Chair: Jacob in Classic Leather – Raven