We'd love you to meet Melody. You may have seen her already; the star of our recent advertising campaign in London. Melody is the epitome of modern elegance but is also perfect for vegging out on!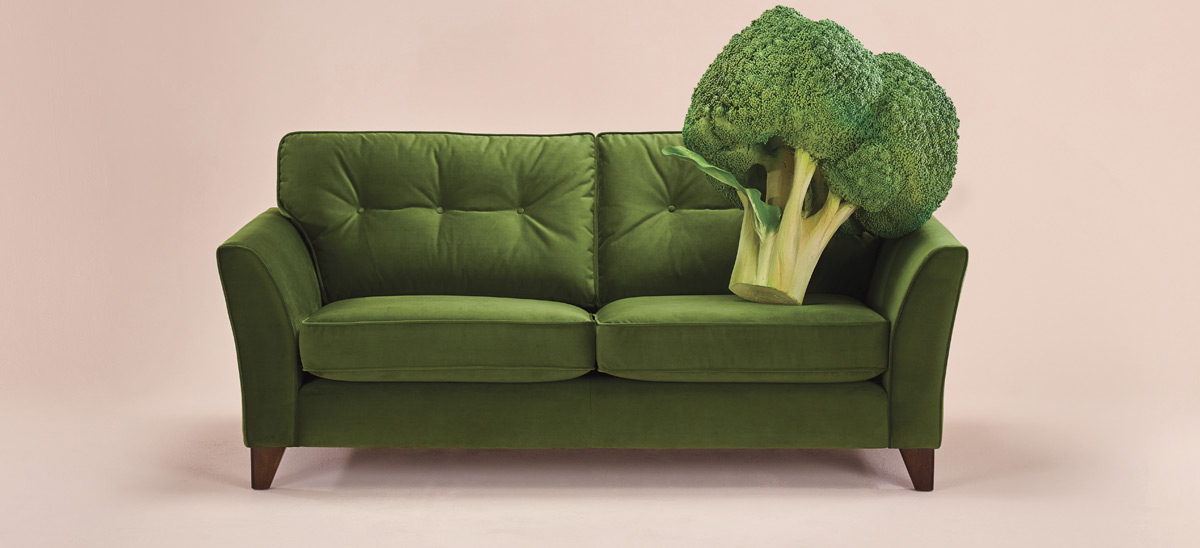 Sofa: Melody 3 Seater in Velvet Touch – Woodland Moss
With graceful tapered arms, high legs and buttoned back cushions, Melody's details have been carefully designer to give her contemporary style while retaining an air of classic elegance. Designed and made in Nottinghamshire by expert craftsmen, Melody's stunning looks are backed up with a 25-year frame guarantee. British quality you'd expect at prices you wouldn't!
THE MELODY RANGE
Melody is available in five sizes, including a matching footstool - perfect as an occasional table, or simply for putting your feet up. Whether your living room is on the small side or you've got plenty of space to stretch out, we've made Melody accessible to all sizes of room.

From left: 4 Seater, 3 Seater, 2.5 Seater, Snuggler, Footstool (all show in Family Friendly Casual Knit – Sand Dune)
Download the Melody Range Card to view all of her dimensions and prices.
GO GREEN
We photographed the 4 Seater Melody in stunning 'Woodland Moss' (Velvet Touch). A perfect match for the abundance of houseplants that framed the scene.

From left: Melody 2.5 Seater in Chunky Weave – Wild Thyme, Melody 4 Seater in Velvet Touch – Woodland Moss, Melody Footstool in Chunky Weave - Wild Thyme, Shoreditch Taupe Rug
We balanced the greenery with the Melody 2.5 Seater and Footstool that were both upholstered in Wild Thyme (Chunky Weave), a neutral shade with a subtle green hue. If you'd like to introduce the botanical trend into your own home, discover more on our 'Botanical Beauty' blog.
If you're not ready to go green, Melody is available in over 100 beautiful fabrics, including our best-selling Family Friendly Fabrics. Choose up to 8 FREE fabric samples to start creating your perfect Melody.
Fancy vegging out? Explore the Melody range and get ready to relax...