Introducing the Dulux Colour of the Year 2023
For the past twenty years, the colour experts at Dulux have been translating global insights into a Colour of the Year that matches the mood of the moment. The shade for 2023 is Wild Wonder™ – a positive, glowing tone, inspired by the natural world.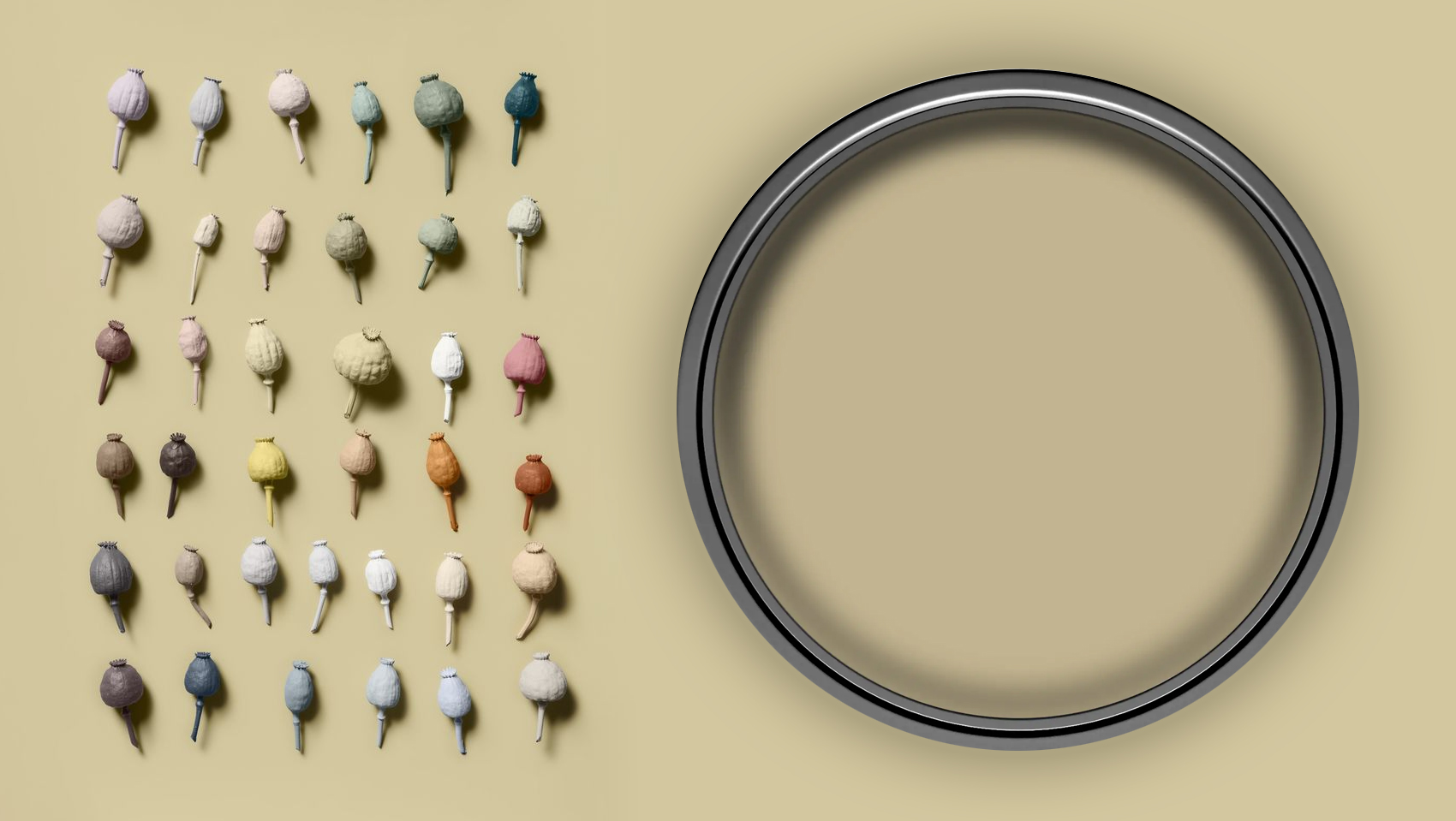 Much like the changing seasons of nature, the beauty of this warm neutral hue is that it's both a golden green and a warm yellowy gold, depending on the light it's in.
What other colours go with Wild Wonder™?
Dulux have created four palettes with Wild Wonder™ as the hero. We've chosen the perfect sofa to match these easy-to-use colour combinations...
FLOW COLOURS

The Flow palette is all about bringing balance to the home. These seashore tones of soft greys, blues and sandy shades create a look that's fun but not overpowering. The beautiful blue-grey of Shallow Puddle looks cool on contemporary Madison and balances the warm tone of Wild Wonder™.

Cushion: Sea Salt. Sofa: Madison 4 Seater in Velvet Touch – Shallow Puddle.
RAW COLOURS

Reminding us of the wealth of natural materials around us, the Raw palette is made warm and enriching harvest shades. These soft, inviting hues create a space that feels comfortable and cocooning. The neutral warmth of Holly in Trench Coat adds a deeper, autumnal tone to Wild Wonder™.

Cushion: Manor House. Sofa: Holly 4 Seater in Cozy Chenille – Trench Coat.
BUZZ COLOURS

The vibrant shades in the Buzz palette celebrate the biodiversity of a wildflower field. The 'meadow bright' hues will create a space that feels playful and invigorating. The jewel-like shade of Raspberry Rhodonite looks stunning on Colette (exclusive to Furniture Village), and pops against the neutral background of Wild Wonder™.

Cushion: Rusty Gate. Sofa: Colette 4 Seater in Family Friendly Soft Velvet - Raspberry Rhodonite (exclusive to Furniture Village).
LUSH COLOURS

Connecting with nature makes us feel better, and the soothing forest tones in the Lush palette can create an atmosphere of rootedness, support, warmth, and softness. To elevate Wild Wonder™ into botanical luxury, we've paired it with Briony in sumptuous Evening Teal.

Cushion: Silver Sage. Sofa: Briony 4 Seater Pillow Back in Velvet Touch – Evening Teal.
The versatility of Wild Wonder™
We think you'll agree that Wild Wonder™, the colour of the year from Dulux, is a beautiful neutral that's hugely versatile. Why not give your lounge a seasonal makeover and choose the perfect British-made sofa to complement this wonderfully warm shade. Order up to six of your favourite fabric samples and get them delivered for free.