Very Peri – the Colour of 2022
Every year, the design world waits in anticipation for the new Pantone Colour of the Year. The gurus of colour choose a specific shade that is not only trend-led but has cultural significance. This year, the shade is Very Peri, a violet-blue with red undertones "that displays a spritely, joyous attitude and dynamic presence that encourages courageous creativity and imaginative expression."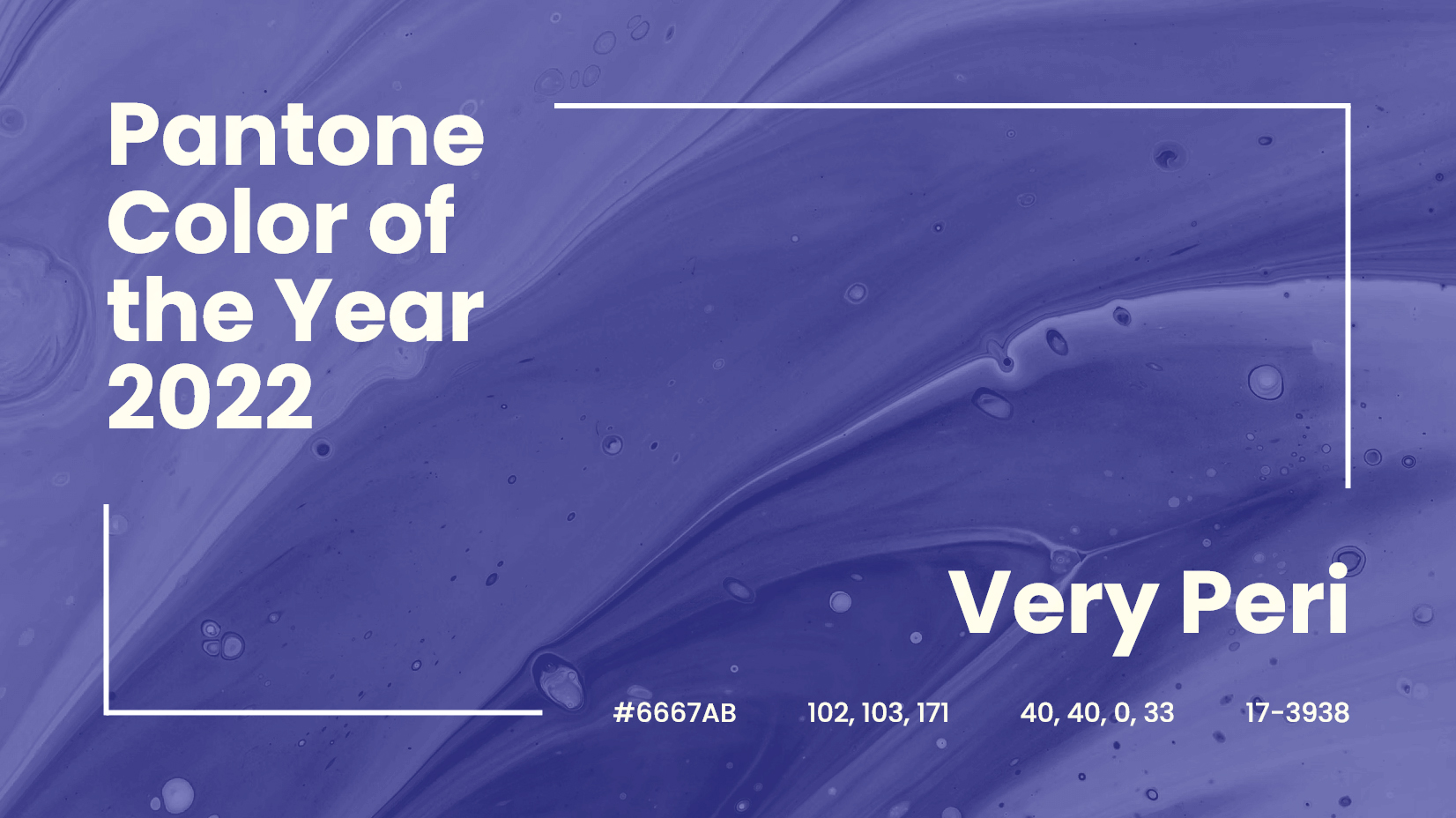 According to the Pantone Color Institute " Very Peri helps us to embrace an altered landscape of possibilities, opening us up to a new vision as we rewrite our lives. Rekindling gratitude for some of the qualities that blue represents complemented by a new perspective that resonates today, Very Peri places the future ahead in a new light."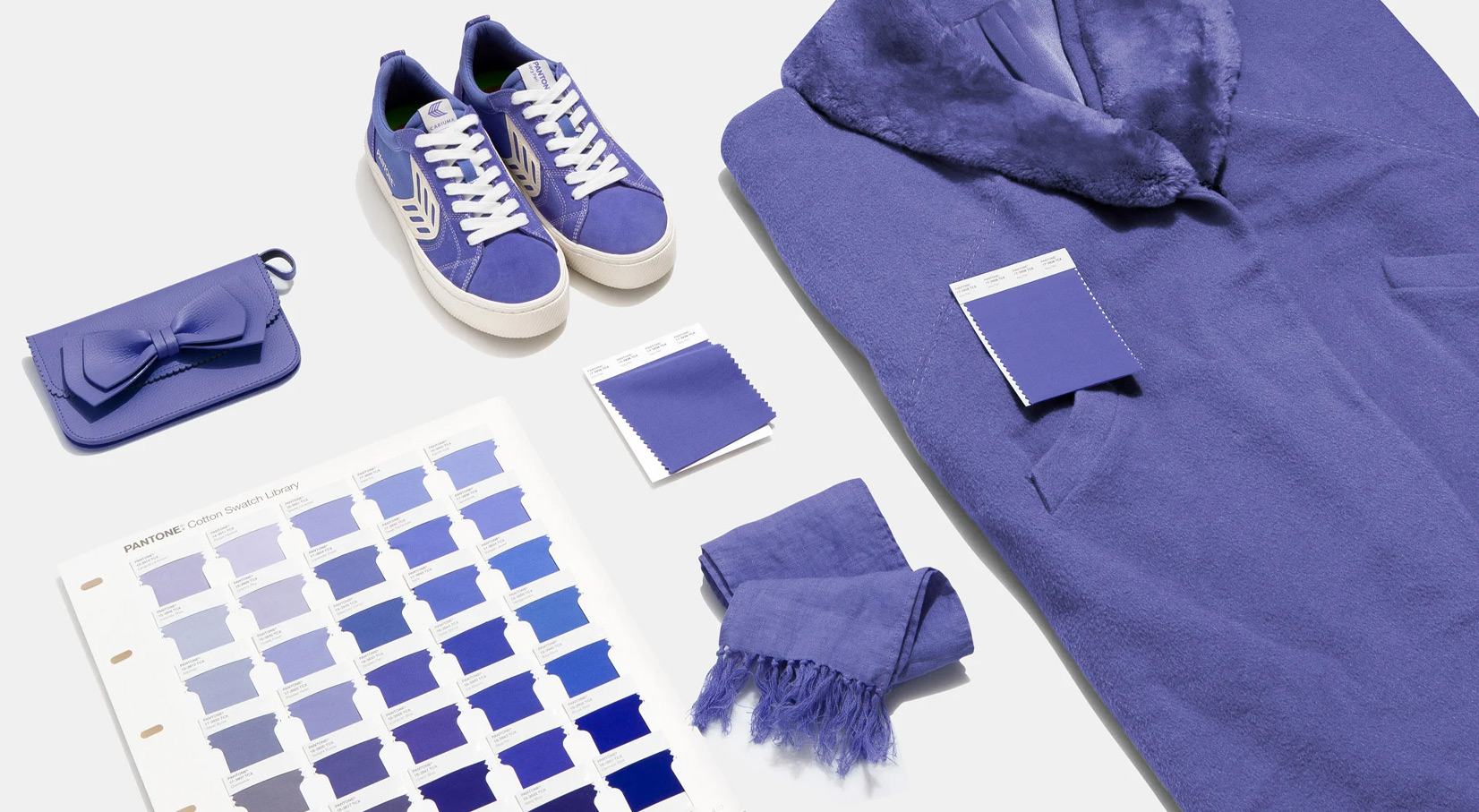 Examples of Very Peri being used in fashion.
The Positivity of Purple
The colour purple gives off positive vibes and is associated with elegance and luxury. Darker shades are rich and warm, whilst lighter shades of purple promote feelings of calm and relaxation, similar to blue.
Whilst we don't have a violet-blue shade like Very Peri on offer at The Lounge Co., you can find pretty purple shades in a range of fabrics. A purple sofa will make a bold style statement and will be warm and inviting.

Order free swatches of these perfect purples or any of our gorgeous fabrics, nothing beats holding it in your hand to truly appreciate the texture and tone.
How to Use Very Peri at Home
Very Peri is a bold colour that some might find scary, so Pantone have created four unique colour palettes that bring the best out of the Colour of the Year in four different ways.
We've teamed some of our favourite fabrics with 'Amethyst Falls 4' from Dulux – very similar in tone to Very Peri, to show how you can use these on-trend colour schemes in your own lounge.
Colette 4 Seater in Velvet Touch – Mulled Wine. Cushions in Ashen Rose and Silver Sage
The 'Balancing Act' palette is full of complementary shades and shows a natural balance between warm and cool tones. We've combined a raspberry velvet sofa with pastel shades of pink and mint to complement the punchy purple.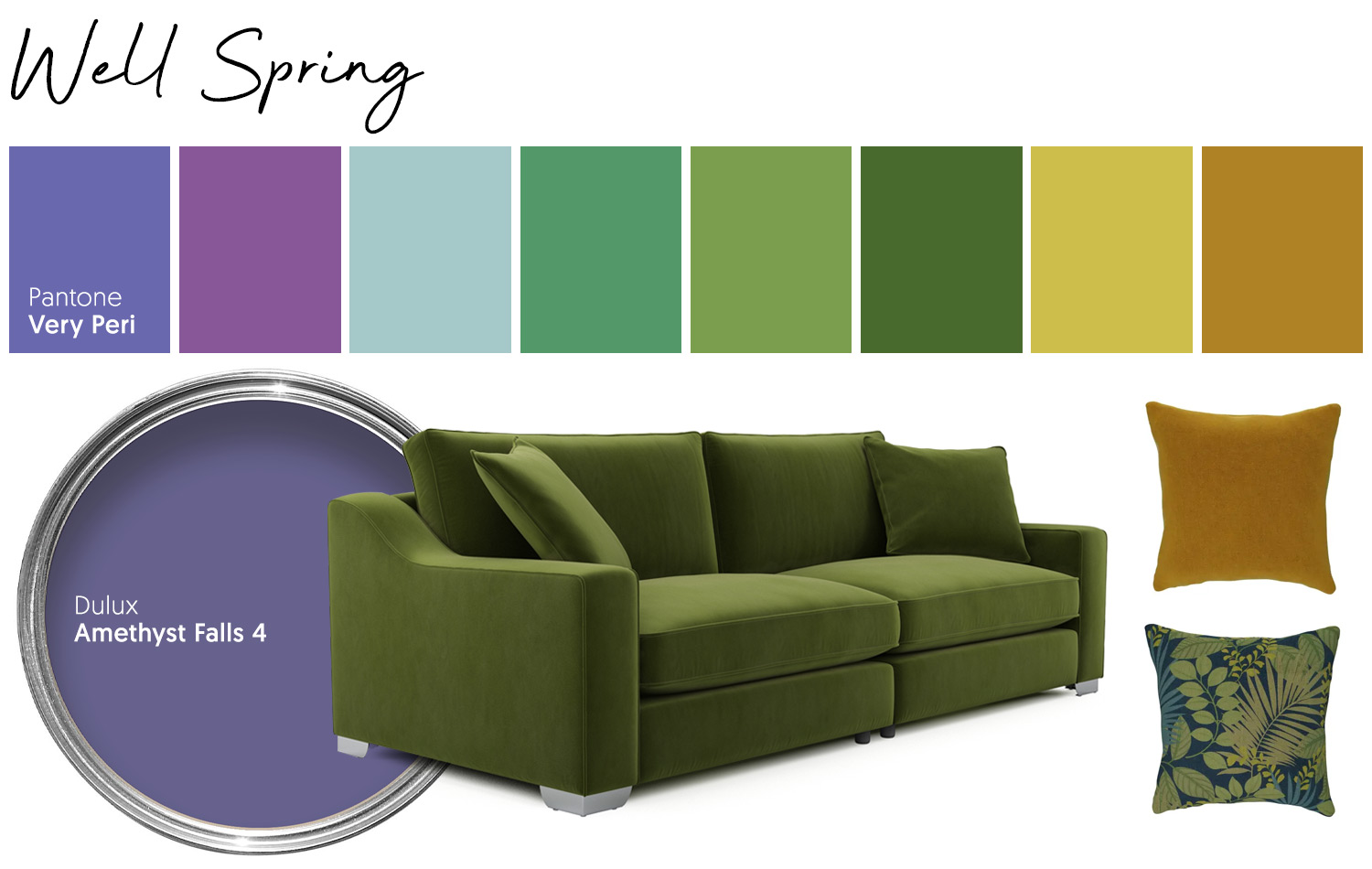 Imogen 4 Seater in Woodland Moss. Cushions in Golden Spice and Jungle Shade - Green.
'Well Spring' is a harmonious palette with natural shades of green and yellow. We've chosen botanical hues in the form of a moss green sofa and yellow and green cushions to create a vibrant look.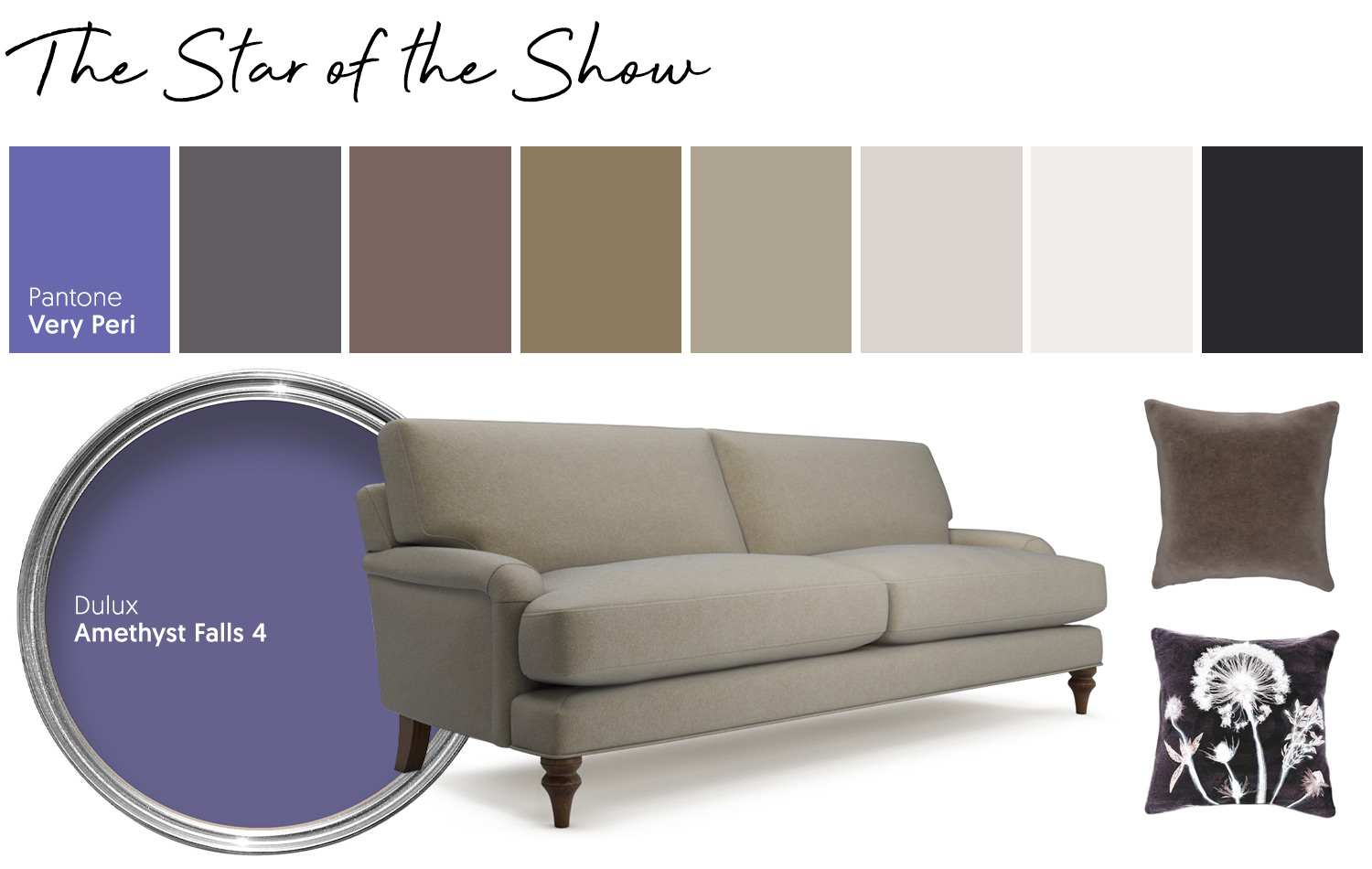 Rose 3 Seater in Velvet Touch – Quiet Fawn. Cushions in Coffee Onyx and Botanical Dandelion.
'The Star of the Show' is a combination of Very Peri with classic neutrals that convey sophistication. We've paired a beige velvet sofa with cushions in coffee brown and black to let the violet hues sing.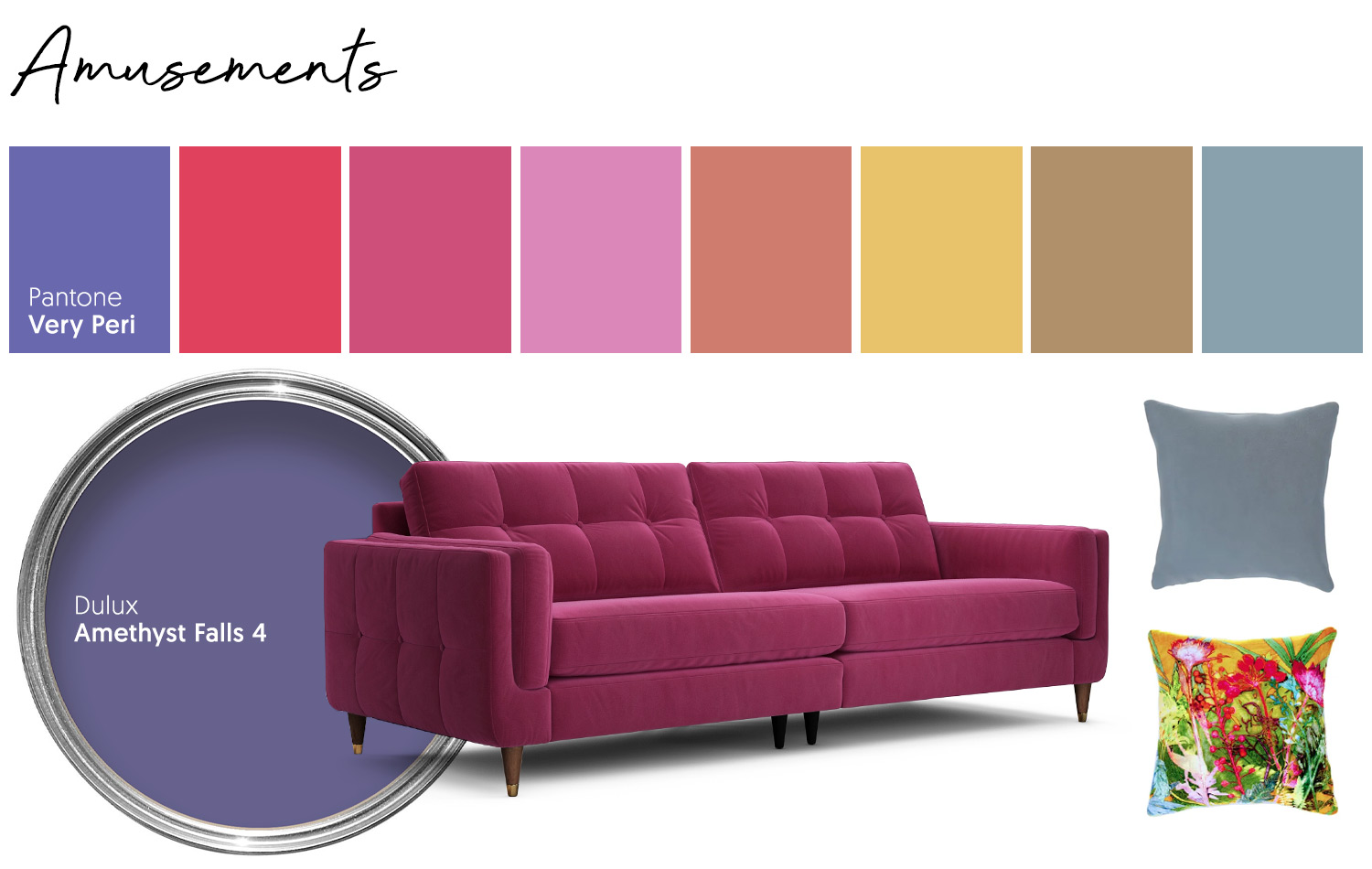 Madison 4 Seater in Velvet Touch – Summer Punch. Cushions in Shallow Puddle and Botanical Tropical.
The 'Amusements' palette is a joyous story where playful pink hues combine with chalky blues and neutrals. We've gone bright and beautiful with a fuchsia pink sofa and vibrant floral cushions to match the intensity of Very Peri.
Purple Power
If a purple sofa is a bit too bright, you can add this heavenly hue in smaller doses throughout your lounge. Add a splash of colour in the form of a rug, print or table lamp. This shade of violet looks particularly exquisite in glass form or as a bunch of fresh flowers...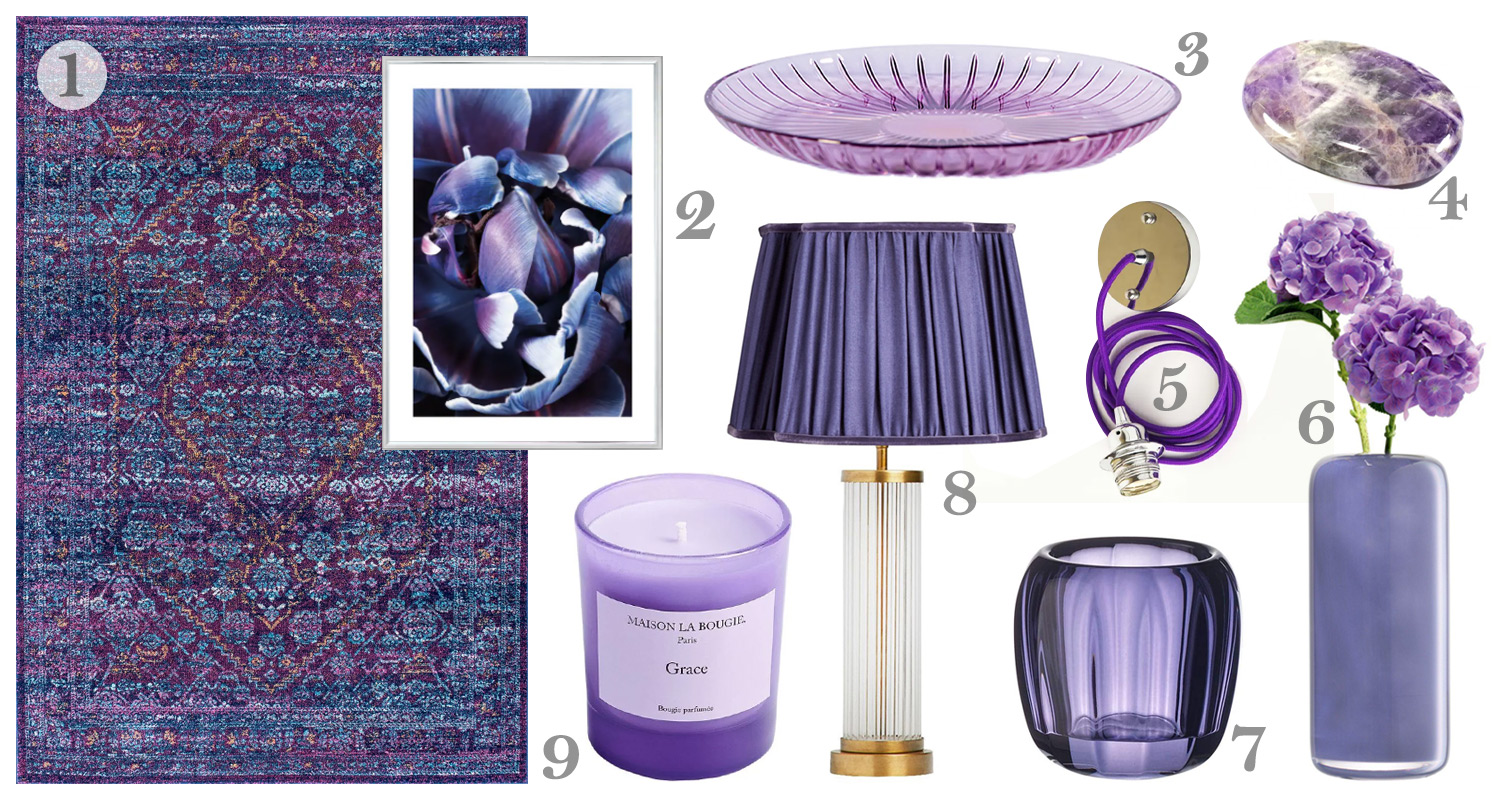 1. Roslyn Purple Rug from Wayfair 2. Framed Print from Desenio 3. Glass Plate from Artemest 4. Amethyst Palm Stone from The Psychic Tree 5. Ceiling Pendant Set from Trouva 6. Haze Purple Vase from Pavilion Broadway 7. Tea Light Holder from Villeroy & Boch 8. Table Lamp from Pooky 9. Candle from Modesens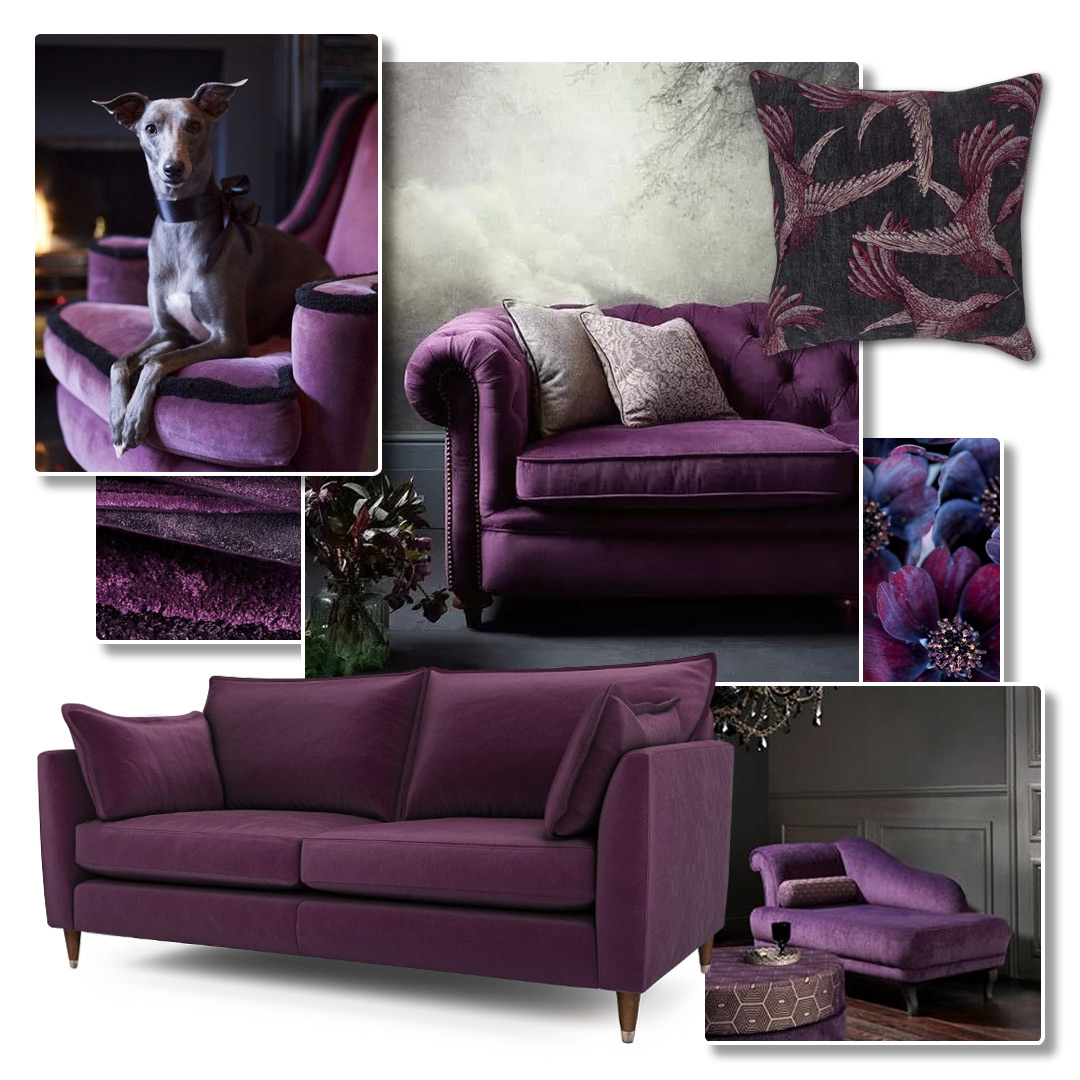 A purple sofa, purple chair or purple cushion can add a touch of opulence to an otherwise neutral room. Even better, all our furniture is handcrafted, with love, in the UK and is designed with modern living in mind.
If you're passionate about purple, you can get even more interior inspiration by following us on Pinterest, Facebook, or Instagram.