Sweet Embrace and Colours to Complement It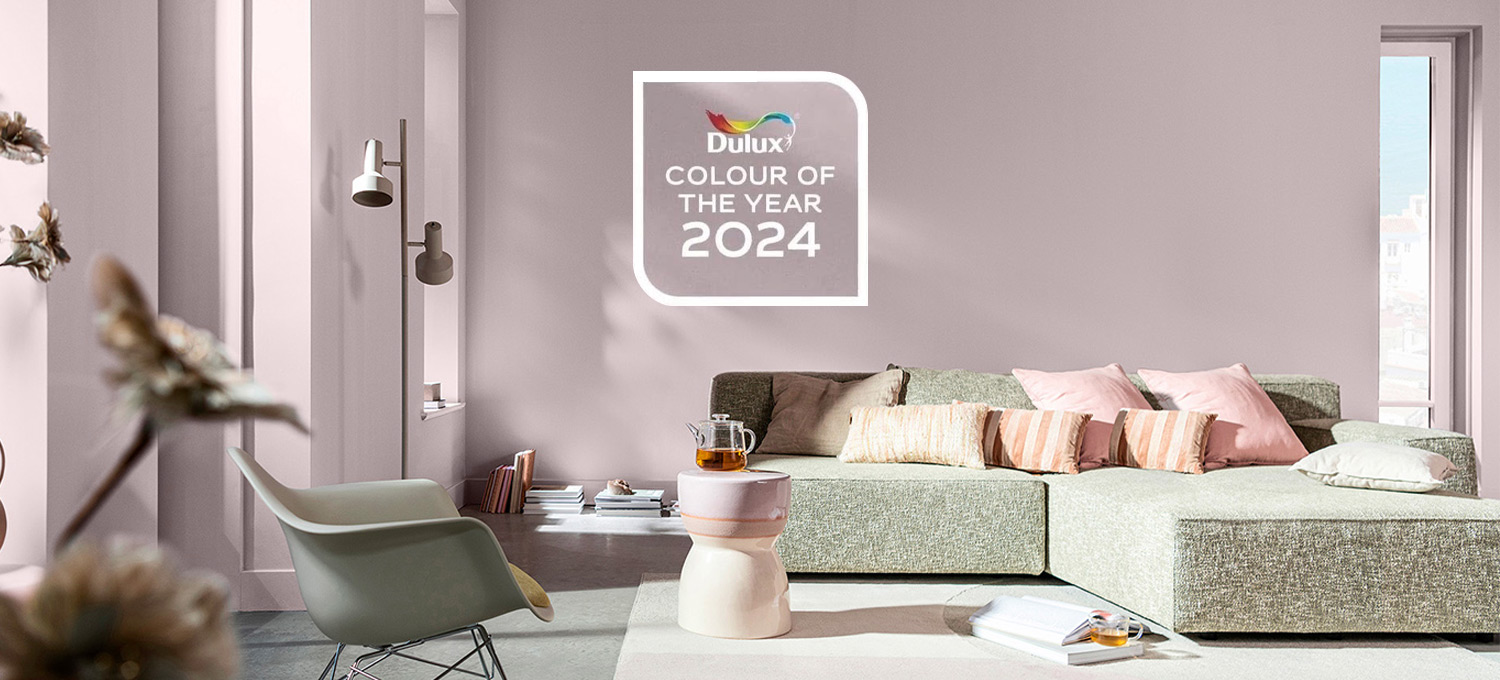 We all need a Sweet Embrace...
Pink has been everywhere in 2023, so it's no surprise that the new Dulux Colour of the Year for 2024 is a version of this popular shade. 'Sweet Embrace™' is soft and sophisticated. The chalky pink with blue undertones is delicate yet optimistic and can work as a standalone shade or as a beautiful base paired with other hues.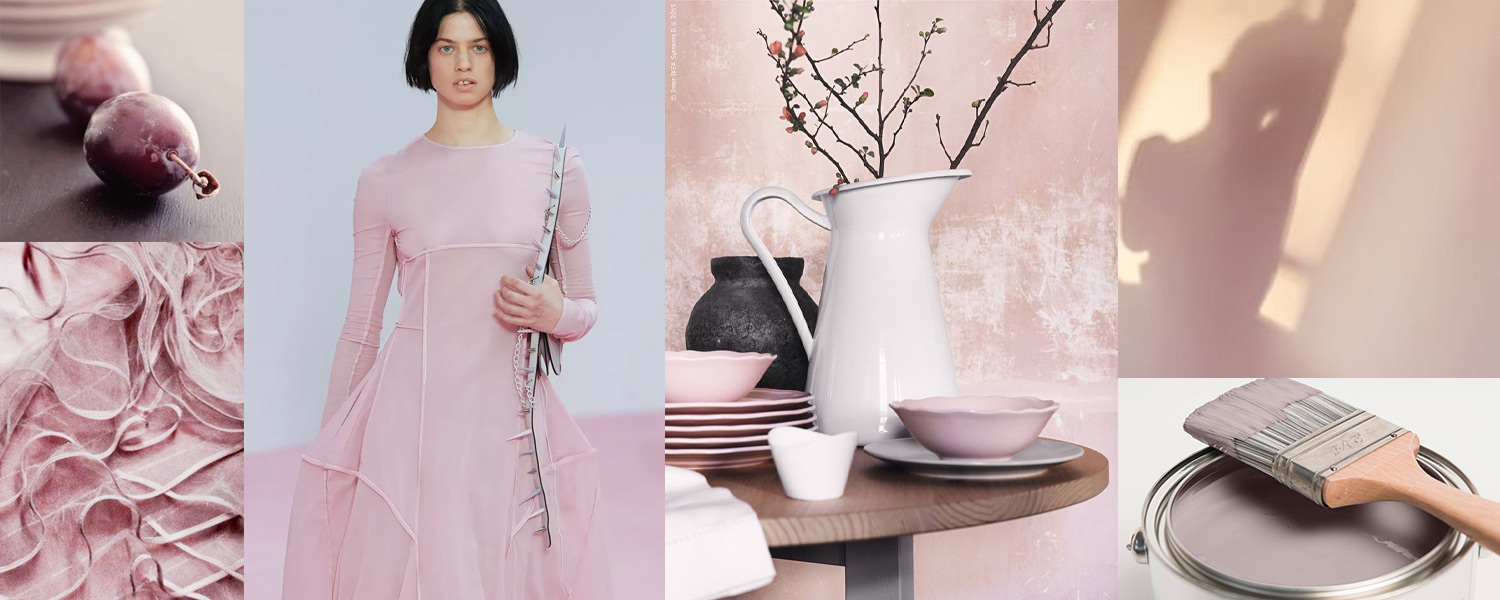 Images found on Pinterest
How can pink work in my home?
Can you use pink in your lounge without creating a sickly-sweet interior that Barbie would feel at home in? The simple answer is yes! The key to using pink is choosing the right shade and creating the right balance. The beauty of the new Dulux Colour of Year is that it's very pared-back, there's just enough to colour to create interest, but the undertones are cool and neutral.
That's not to say you shouldn't embrace pink and have it everywhere! The trick here is to choose different shades of the same tone and layer it up to create interest, which allows the eye to move around your room.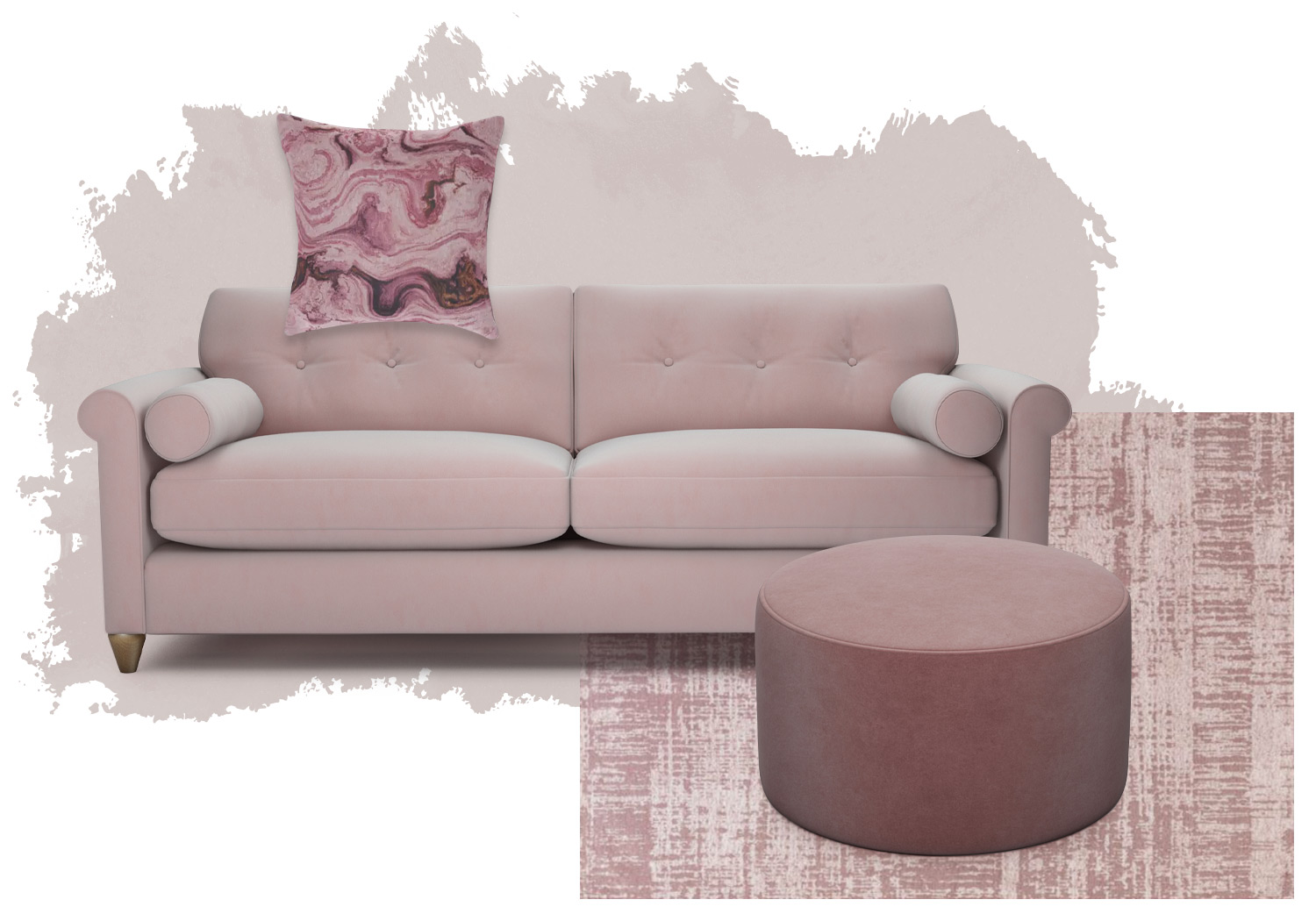 Cushion: Modern Minerals – Agate. Sofa: Phoebe 4 Seater in Cotton Candy. Footstool: Harrison Round Footstool in Rose Quartz.
Keep your cool
If you're looking for a room that's cool and calm, choosing pink might not seem like the obvious choice, however the blue-grey undertones in 'Sweet Embrace™' mean it's a great partner for a naturally inspired palette of breezy blues and greens.

You can use the Dulux Colour of the Year as neutral. Paint your walls, woodwork and even ceiling with it, and then layer your room with cooler tones that will bring the pale pink back down to earth. At The Lounge Co., blue and green are our top two best-selling sofa colours. A velvet sofa in moss green would look stunning, or crisp cotton in blue-grey would be the perfect balance to the softer pink.
Accents of silver, marble and blonde wood will add a touch of luxury to your room, and finish by adding small pops of pale pink in the form of scatter cushions, vases or a rug to connect back to the colour on the walls.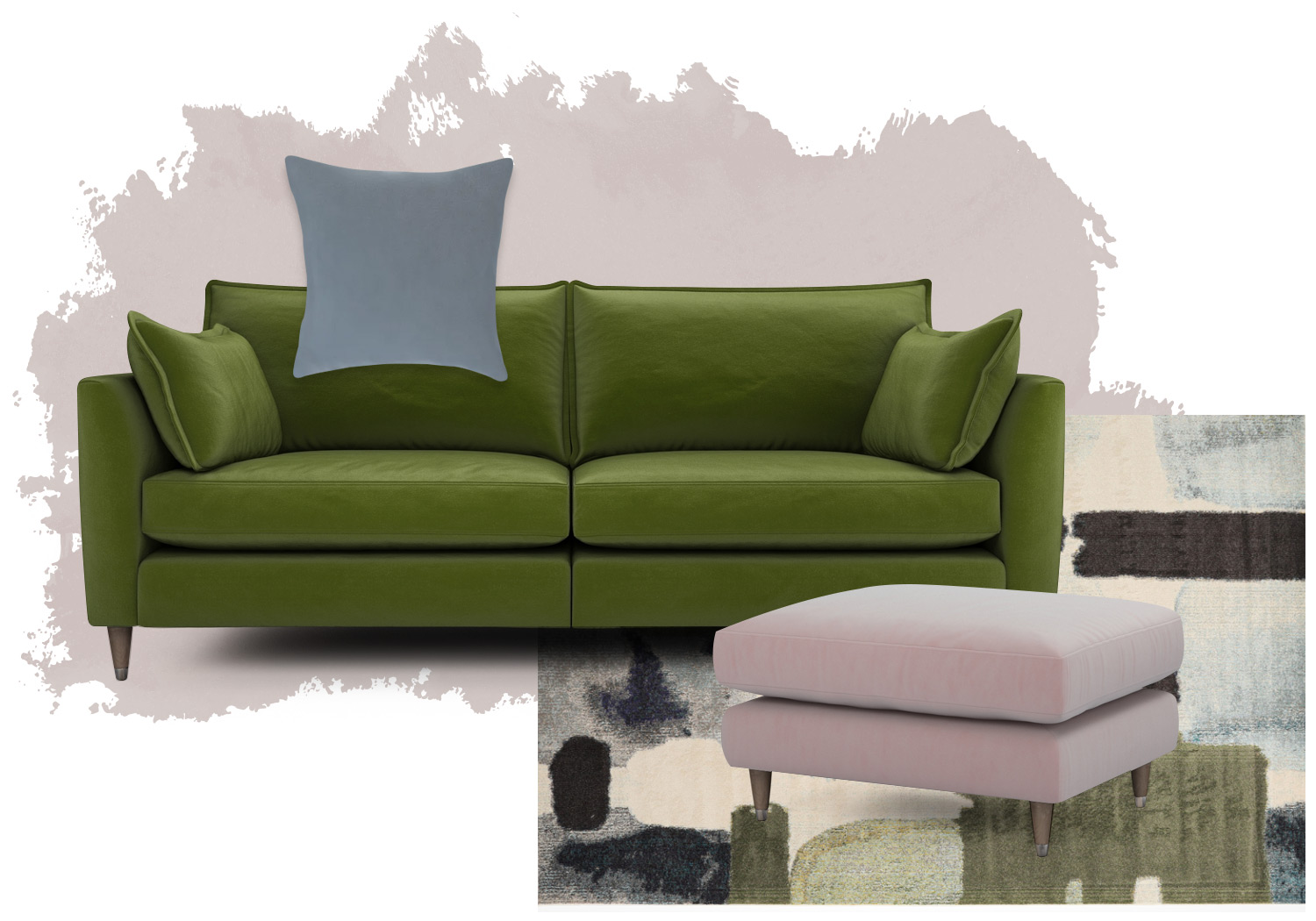 Cushion: Shallow Puddle. Sofa: Charlotte 4 Seater in Woodland Moss. Footstool: Charlotte Footstool in Cotton Candy.
Warm things up
If you've got a North-facing space that needs some extra warmth, or you're simply after a room that's bright and inviting, you can match 'Sweet Embrace™' with cosy shades of copper, ochre and taupe.

Comforting earthy tones alongside the pastel pink will create an uplifting feeling that will transform even the darkest corner of your home into a harmonious haven. Stripes are key trend in interiors for 2024, so creating a feature wall with two or three of these warm tones will make a real statement. If pattern isn't your thing, keep the walls one colour and add the extra colour by choosing a sofa or armchair in tan leather or a chaise in beautiful burnt orange. Textures such as boucle, soft knits or traditional tweeds will add an extra layer of warmth to the room.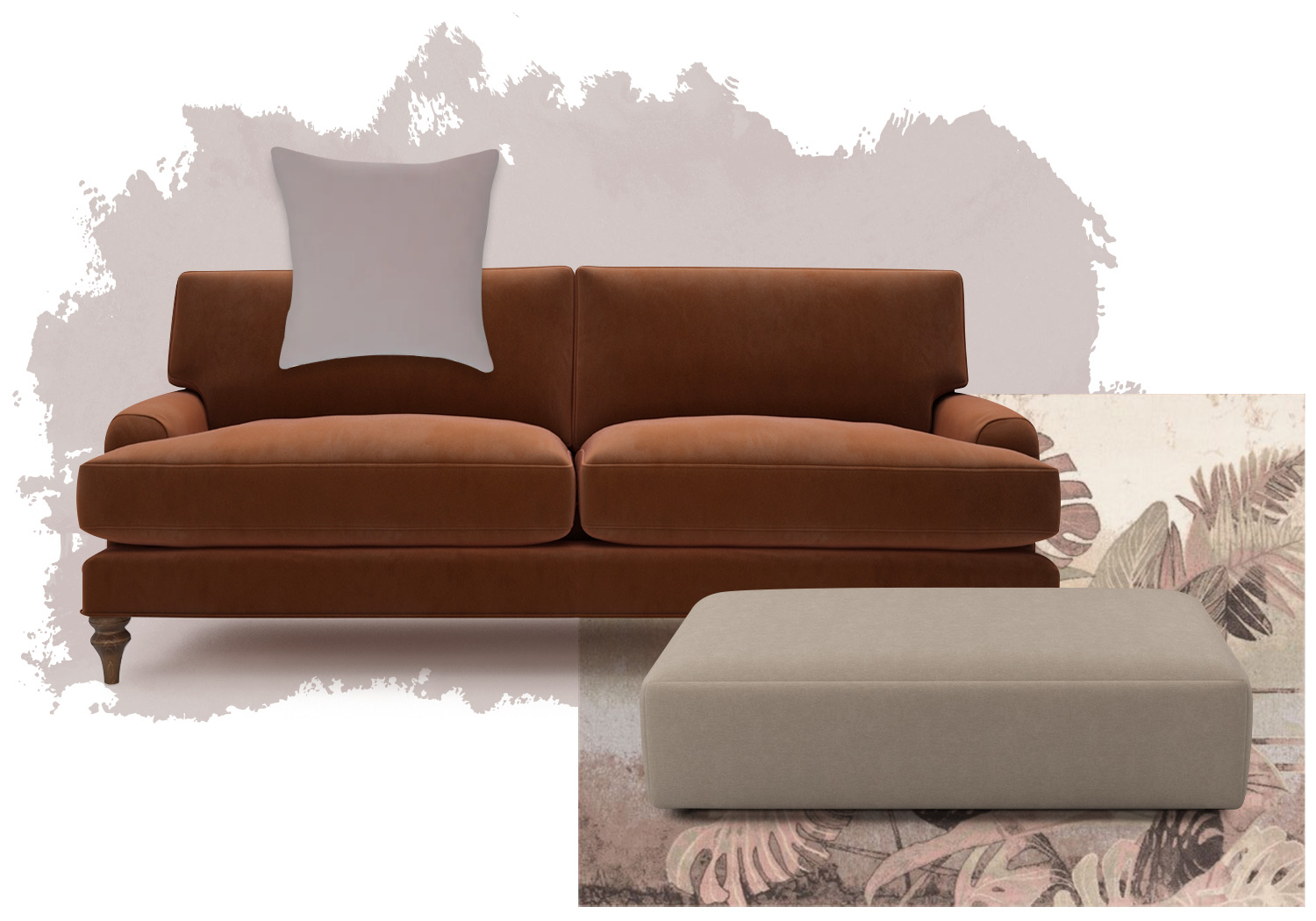 Cushion: Cotton Candy. Sofa: Rose 3 Seater in Rusty Gate. Footstool: Taylor Oblong Footstool in Brandy Butter.
Feel uplifted
Do you want your home to feel joyful and uplifting? Simply combine 'Sweet Embrace™' with warm neutrals and dreamy shades of lavender and yellow.

Mixing these vibrant tones will create a fun, friendly palette that is guaranteed to make you smile. Gone are the days when all four walls had to be the same colour, mix it up by choosing two tones for the room, or add a quirky touch by painting your woodwork and door in sunshine yellow. If you want to keep your sofa neutral, choose a warm, creamy tone and add a punch of colour with accessories in happy brights.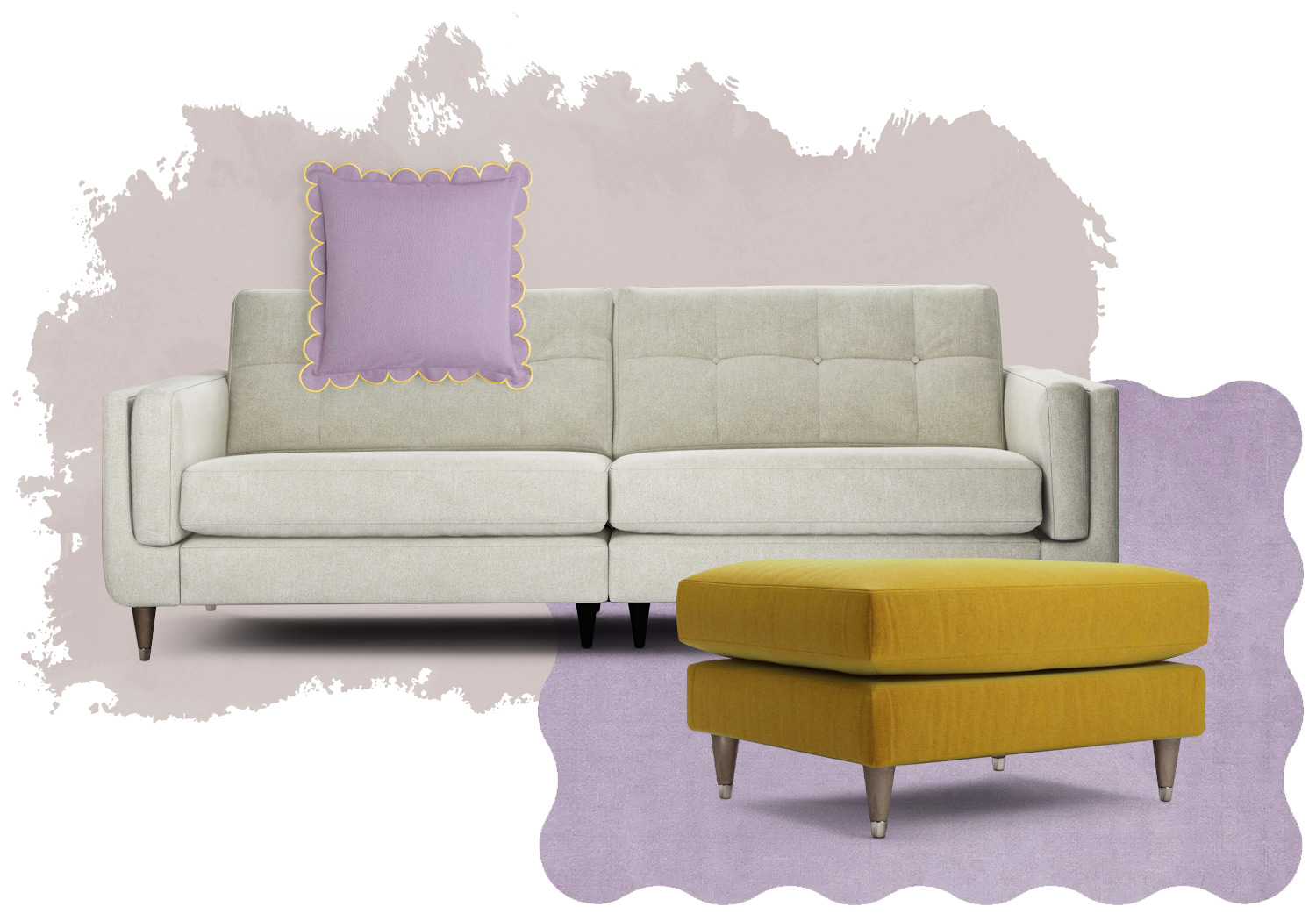 Cushion: from H&M. Sofa: Madison 4 Seater in Silk Pyjamas. Footstool: Madison Footstool in Golden Spice.
Enjoy a Sweet Embrace...
If you love the delicate, chalky tones of 'Sweet Embrace™', it doesn't need to be confined to the walls. Here's our edit of dusky pink homewares and accessories that will add a touch of faded elegance to your lounge...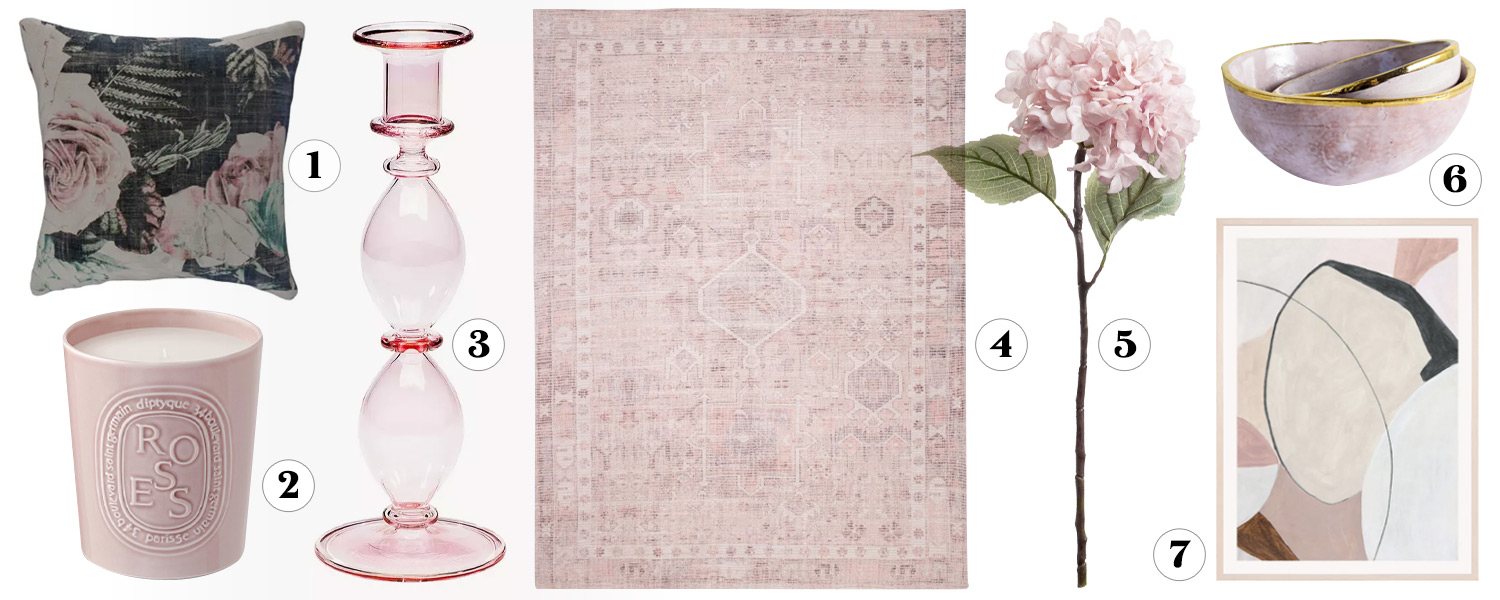 1. Midnight Garden Cushion – The Lounge Co. 2. Roses Candle – Diptyque 3. Glass Candlestick – Liberty 4. Rug – West Elm 5. Faux Hydrangea – Aufora 6. Ceramic Bowls – Att Pynta 7. Framed Print – Desenio
Is it time for a pink sofa?
If 'Sweet Embrace™' has got you hooked, you can discover our range of pink sofas and chairs. If you're after some pink interior inspiration, make sure you follow us on Facebook, Instagram and Pinterest.