Every year, the colour experts at Dulux translate global design trends into their new 'Colour of the Year'. They've just announced that the shade for 2022 is Bright Skies™. An airy and fresh, pale blue tone that opens up and breathes new life into any space.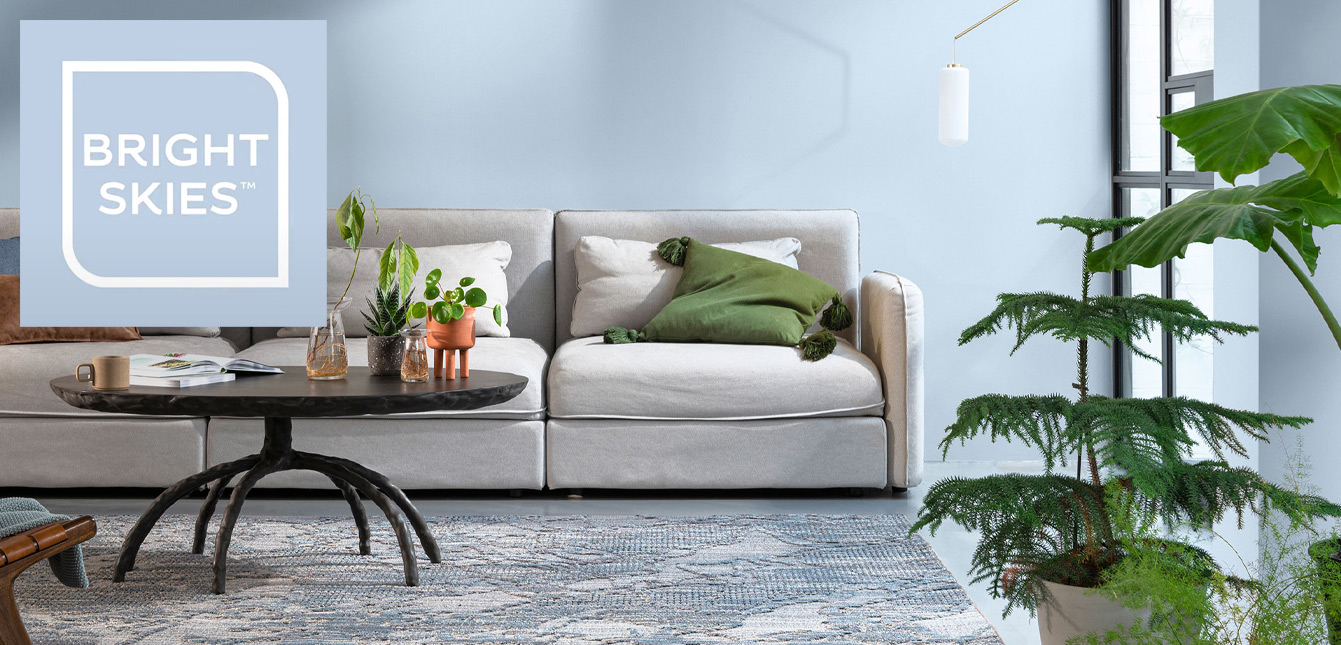 Image Credit: Dulux
The blue shade has been created to represent a change of gear as we move into 2022, feel optimism and begin to embrace our freedom. According to Dulux, Bright Skies™ is a color that makes small spaces and spaces that are blocked in seem huge. If you'd like to order a tester of this magical colour, you can get one on the Dulux website.
Image Credit: Dulux
Blue is calm and enduring, and this shade is no different. The Pantone Colour of the Year is rich, deep and elegant. Not so vivid that it shouts to be heard, but vibrant enough to offer understated intensity.
What colours go with Bright Skies?
Because the beautiful pale blue of Bright Skies™ is such a versatile colour, Dulux has curated four colour palettes, designed to react to different styles and what you want from your home...
The Greenhouse Colours

Within the Greenhouse palette, you'll discover trend-led greens and blues that you can combine with our Colour of the Year 2022, Bright Skies™, to bring the positive effects of nature into your home. In a rural location, these light, fresh naturals beautifully complement your surroundings. In an urban space, they can make you feel in touch with the natural world.

Sofa: Paloma 4 Seater in Velvet Touch – Olive Grove
To capture this feeling of nature, we've chosen our Olive Grove fabric to complement the Dulux Colour of the Year. An olive green velvet sofa has a timeless feel that blends beautifully into a biophilic scheme.
The Studio Colours

If you want your home to be a soothing space where you can recharge and feel inspired, choose from the palette of Studio colours. Together, these soft and airy shades can help you escape the everyday and give a room a comfortable, consoling feel.

Sofa: Coralie 4 Seater in Family Friendly Cotton Touch – Sugared Almond (Coming Soon)
Pairing our Sugared Almond fabric with Bright Skies™ might seem like pastel overload, but these pretty hues, combined with a palette of neutrals create a smile-inducing colour scheme that's light and bright.
The Salon Colours

Your home should be somewhere that you feel safe and comfortable to embrace new ideas. Within the Salon palette are a combination of soft whites and light neutrals that can provide the perfect blank canvas for your daily life. And when paired with our Colour of the Year 2022, Bright Skies™, they create a home that's ready for anything.

Sofa: Sofa: Briony 4 Seater in Cozy Chenille – Silk Pyjamas
A neutral sofa will stay in style from season to season. Our Silk Pyjamas fabric will look stunning against a backdrop of Bright Skies™. A soft, classic colour palette that's reminiscent of a cloudy sky.
The Workshop Colours

If your living room is constantly reinventing itself, switching from social hub to home office to kids' classroom, you need a colour scheme that can keep up. Pair Bright Skies™ with vibrant and joyful colours of paint found within the Workshop palette. Take your pick from colour combinations of light, uplifting tones and create an inspirational backdrop for any activity.

Sofa: Phoebe 4 Seater in Velvet Touch – Buttercup Meadow
For a look that's energetic and uplifting, we've paired Bright Skies™ with our Buttercup Meadow Fabric. A yellow velvet sofa set against a sea of blue will add a splash on sunshine to your lounge.
Embrace Breezy Blues

If you've fallen in love with pale blue, why not choose the shade for a new sofa? A light blue sofa is elegant and versatile. It will add subtle colour to your home but if you choose a grey-toned blue, it'll be neutral enough to fit into any interior and will be easy to accessorise with just about any colour you choose. Discover our range of blue fabrics, from velvets to chenilles and cottons. We've definitely got the blues at The Lounge Co!
Accessorise with Blue
Another easy way to bring this pale blue hue into your home is with accessories. We've found our favourite Bright Skies™ inspired homewares that will lift the spirits and add stylish softness to your surroundings...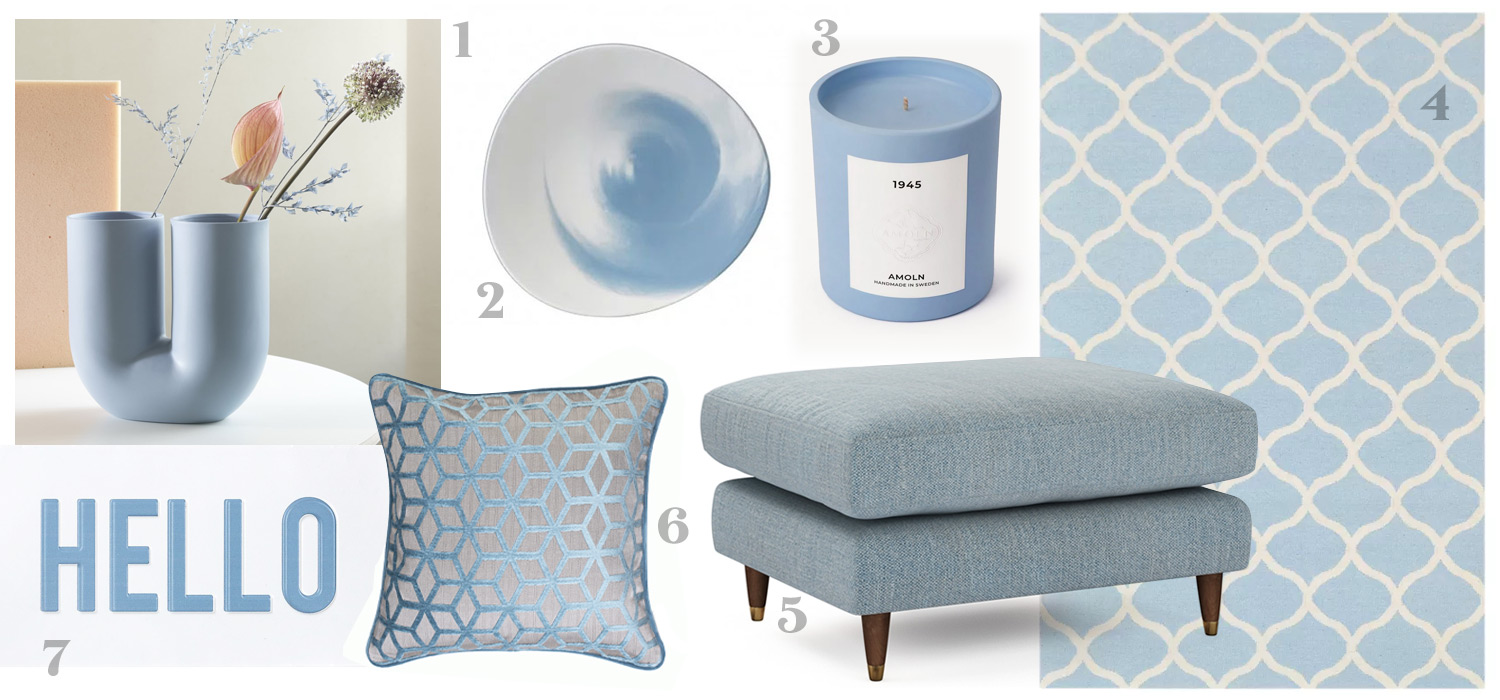 1. Porcelain Vase from Connox 2. Wedgwood Bowl from Kings & Queens 3. Scented Candle from Liberty London 4. Kilim Rug from Wayfair 5. Coralie Footstool in Chalkhill Blue from The Lounge Co. 6. Geometric Cushion Cover from AurabyJM 7. Metallic Wall Plaque from Fruugo
We're big fans of the Dulux Colour of the Year, in fact we're ready with our paintbrushes! However you choose to embrace this bright and optimistic shade we hope that your blues are confined to interior design and you have a positive and joyful 2022.