Sofa on the left: Melody 4 Seater in Velvet Touch - Woodland Moss
As more of us are finding comfort in nature, it's a great time to bring the outside in by embracing beautiful 'botanicals'. The world of fashion has been home to the botanicals trend for the past few seasons, but it can now be seen coming through in the world of interior design and home decor.
The botanicals theme isn't all about bold florals - instead, inspiration is taken from nature in the form of organic shapes, references to plant-life and a palette of tonal greens and yellows

From left: Safari Suit (Cosy Chenille), Woodland Moss (Velvet Touch), Rooftop Garden (Urban Tweed), Curly Kale (Family Friendly Cotton Touch), Olive Grove (Velvet Touch)
You'll find botanically-inspired tones across our curated collection of fabrics. Opt for beautifully decadent green velvet or chenille, or choose a tweed which mixes natural green tones with lighter, neutral shades. Select up to six gorgeous green swatches and get them delivered for free.

Cushions from left: Paradise Bird Teal, Botanical Teal, Jungle Shade - Blue, Jungle Shade - Green
How do I sow the botanical seed?
A living room dominated by green may not be everyone's idea of interior heaven, but adding a few botanically inspired accessories to a neutral colour scheme will automatically inject vibrant colour - after all, green is associated with life, luck and hope. Start small by introducing throws and cushions; our Botanical Teal and Jungle Shade cushions, with their flora-inspired prints, are the perfect example. Mix with other plain fabric cushions in tonal shades to create a naturally inspired array.
What about a green sofa?

From left: Holly 3 Seater in Urban Tweed - Rooftop Garden, Briony 2.5 Seater Pillow Back in Velvet Touch - Woodland Moss, Jacob Chair in Paradise Bird – Teal, Madison 3 Seater in Family Friendly Cotton Touch – Curly Kale
Upholstered furniture in shades of green can make a real statement and look stunning against white walls and bright windows. A strong colour deserves a strong shape - we'd recommend bold pieces such as Briony or Holly which both look amazing in green velvet or a textured tweed. For a real showstopper, how about our 60s inspired swivel chair, Jacob, clad in our vibrant Paradise Bird – Teal.
How do I complete the look?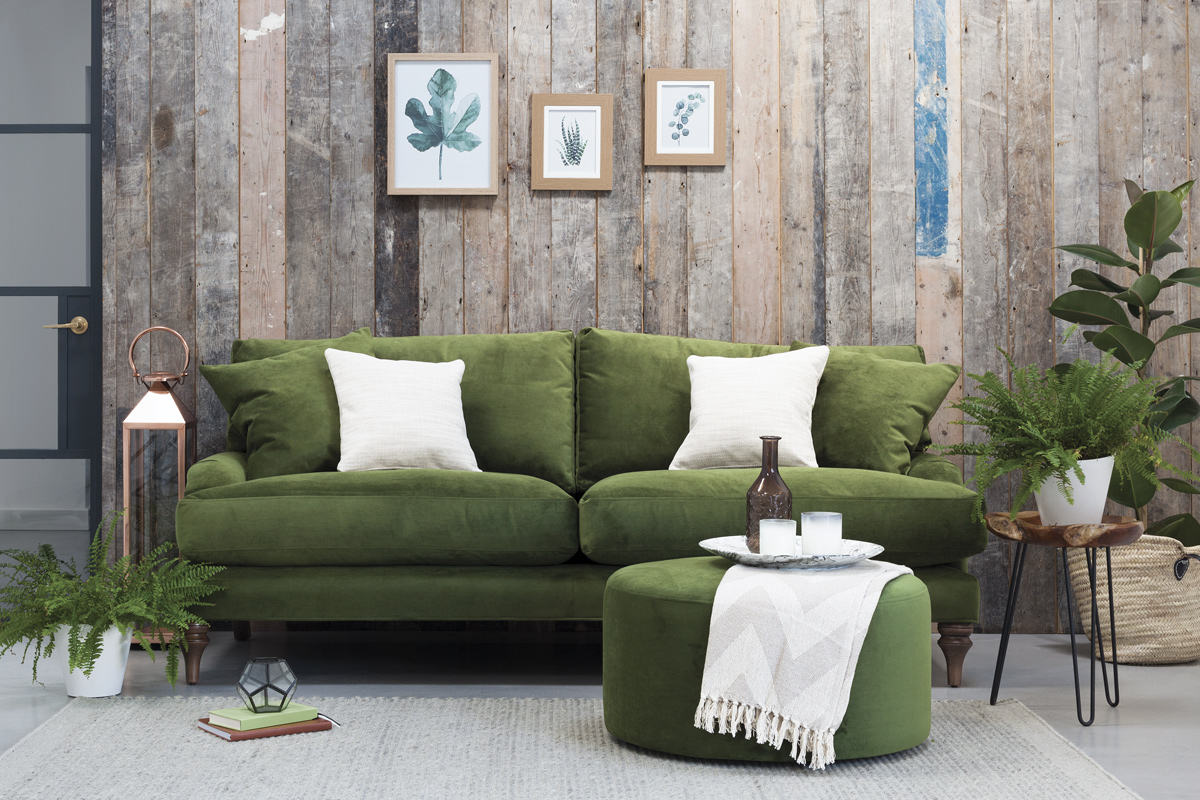 Rose 3 Seater in Velvet Touch - Woodland Moss, Harrison Circle Footstool in Velvet Touch - Woodland Moss
If you've chosen a green sofa, then you may want to choose an alternative fabric for your chairs or footstools. Green works perfectly with warm neutrals and blue-grey tones; Rose is shown here with cushions in Dove Cloud, a soft mocha tone which adds some lightness to the look. If green is your thing, then double it up! Take inspiration from Rose (shown above) and choose a footstool that matches your sofa.
Scour local junk shops for vintage botanical prints - hung in simple frames, they add natural sophistication to bare walls, or bring some real nature (and much welcomed oxygen) into your home with leafy houseplants such as the succulent Aloe Vera or a sculptural Palm. Here are a few of our favourites:

From left: Palm, Fig, Monstera, Olive - all available from good garden centres.
Be Inspired
Make sure you follow us on Facebook and Instagram for beautiful botanical looks and guides on how to style your lounge. For more 'green' inspiration head to Pinterest and explore our 'Botanicals' pinboard.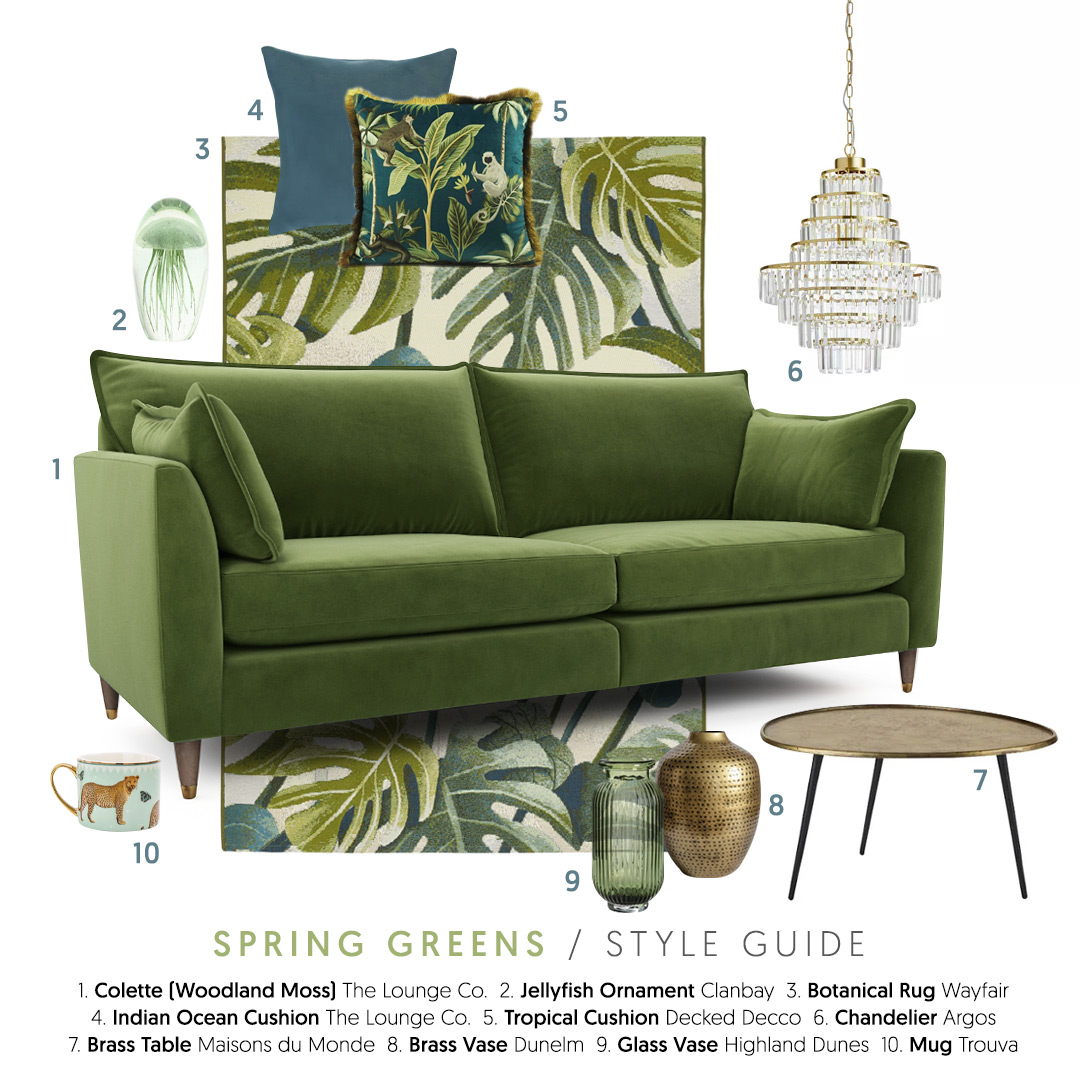 Sofa: Colette 4 Seater in Velvet Touch – Woodland Moss, Cushion: Indian Ocean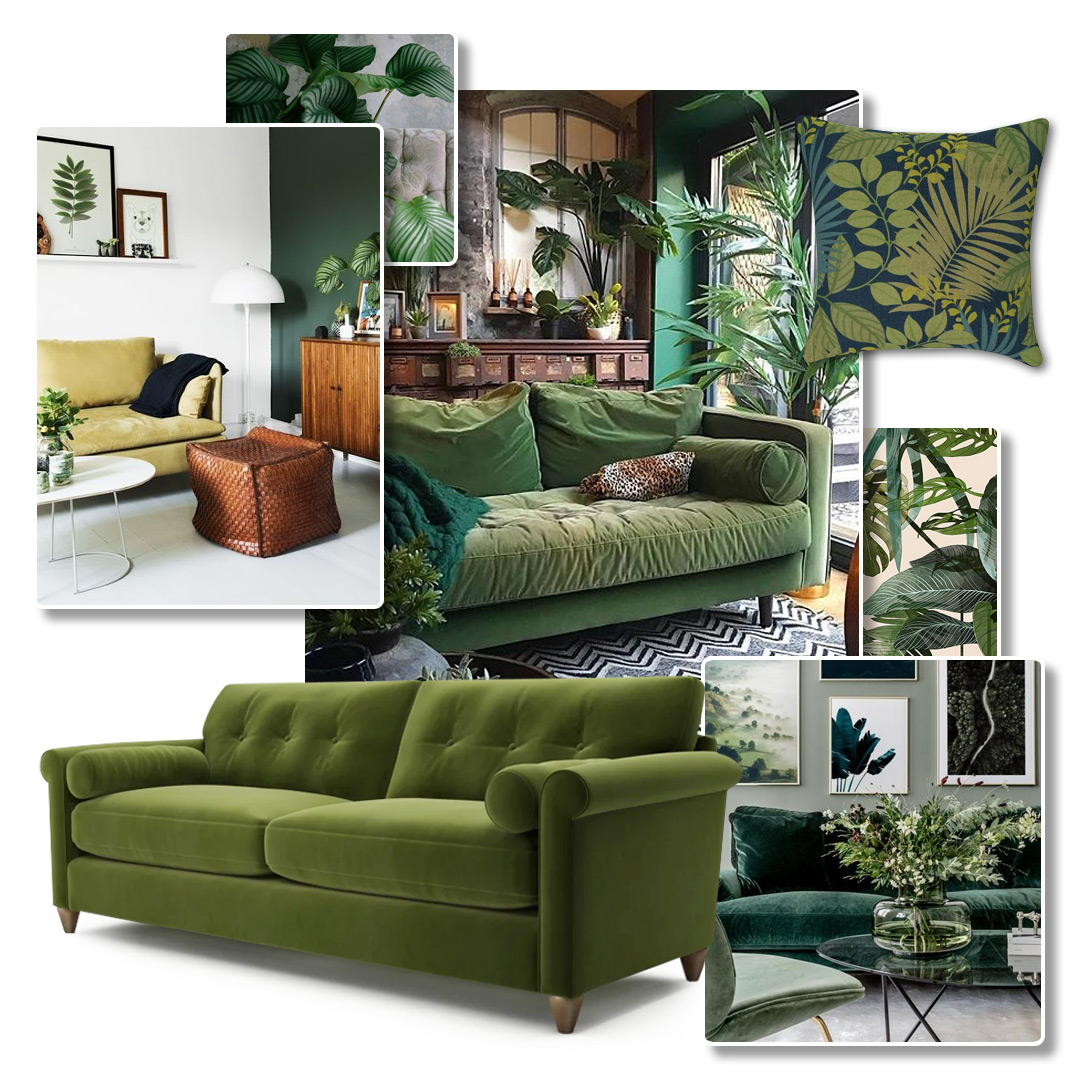 Sofa: Phoebe 3 Seater in Velvet Touch – Woodland Moss, Cushion: Jungle Shade - Blue