Posted 08.09.16
Vintage Inspiration
Vintage is a word that is bandied about rather a lot - denoting everything from a dress found on eBay to flea market finds, charming collectibles and antique gems. But the essence of that charm is that it denotes high-quality, relating to a time or period in which the design, idea, or production was and continues to be superior. Simply put, a good old whiff of nostalgia that never grows old.

Florence 3 Seater Sofa in Herringbone - Queen Bee
Now in sofa terms, we've come a long way. Technologies have improved build and comfort. But there are certain design elements that will forever elicit a little swoon from those who know their chesterfield from their chaise-longue and their mid-century from their English cottage classics. Here at The Lounge Co., we've strived to offer the best of both - a sofa with spring and style - in the shape of a few vintage and retro inspired designs that are the best way to make a heart-warming vintage statement in your lounge.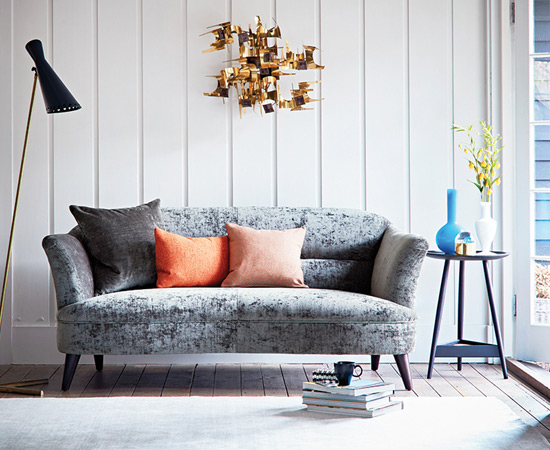 Willow 2.5 Seater Sofa in Crushed Velvet - Elephant Trunk
Our top picks?
Florence's high back and wing details have a retro vibe while Willow's quirky curves will carry off the boldest jewel-toned fabrics. Just looking for a touch of retro styling? Floyd in smooth timeless leather and Jacob are the way to go - or just dip your toe in with statement cushions in a vintage-infused herringbone or sumptuous velvet.
So you've started with a sofa, what now?
Enhance and celebrate vintage design details with interiors accessories plucked from your favourite era. Balance old and new - avoid kitsch and instead pick out a beautiful leather-clad radio, vintage glassware filled with modern succulents or striking greenery, stacks of faded books piled at the foot of your chair along with favourite old board games and classic posters in minimal frames overhead. Perhaps not all together though - combine one or two with crisp white walls and bursts of colour to create a cool compromise.
Where to find these bits and pieces?
While there are a myriad of online auction and resale sites, nothing beats the feeling of finding a one-of-a-kind genuine treasure hidden away in a bricks-and-mortar shop. If you live in a big city, a weekend trip out to peruse small town shops will often come up trumps, as will a reclamation yard, or antique markets such as Lincoln, Ardingly and Sunbury-on-Thames (always take cash and don't be afraid to negotiate). The result? A lounge full of talking points - truly personal.
For more inspiration head to Pinterest and explore our 'Vintage Inspiration' pinboard or see our best selling Mid-Century and Vintage sofas here.