Updated 10.10.17
The Charming Chaise

At The Lounge Co., our discerning customers know what they want, and our Chaise End Sofas are proving very popular. A Chaise is a stylish choice for a modern home; if you like the idea of a corner sofa but just don't have the room, then a Chaise End is perfect for making the most of the space in your lounge.
What is a Chaise End Sofa?
It's the extended chair which turns an ordinary sofa into a Chaise End. A traditional Chaise Longue, according to Wikipedia, "...is an upholstered sofa in the shape of a chair that is long enough to support the legs." The more modern Chaise End Sofa is extended on one side, allowing you to put your feet up or simply use the extra space to put your cup of tea and favourite book.
Why choose a Chaise?
A Chaise is stylish and versatile; it's adding an extra seat without making your sofa any wider. At The Lounge Co. we offer left and right-hand versions of our Chaise Ends, meaning you can choose the perfect configuration for your lounge. After a long day, there's nothing better than coming home, kicking off your shoes and relaxing - and if nothing else our Chaise End Sofas look stunning and will be the envy of your friends!
What Chaise options do you have?
We currently offer four Chaise End Sofas; Holly, Poppy, Lola and Lottie: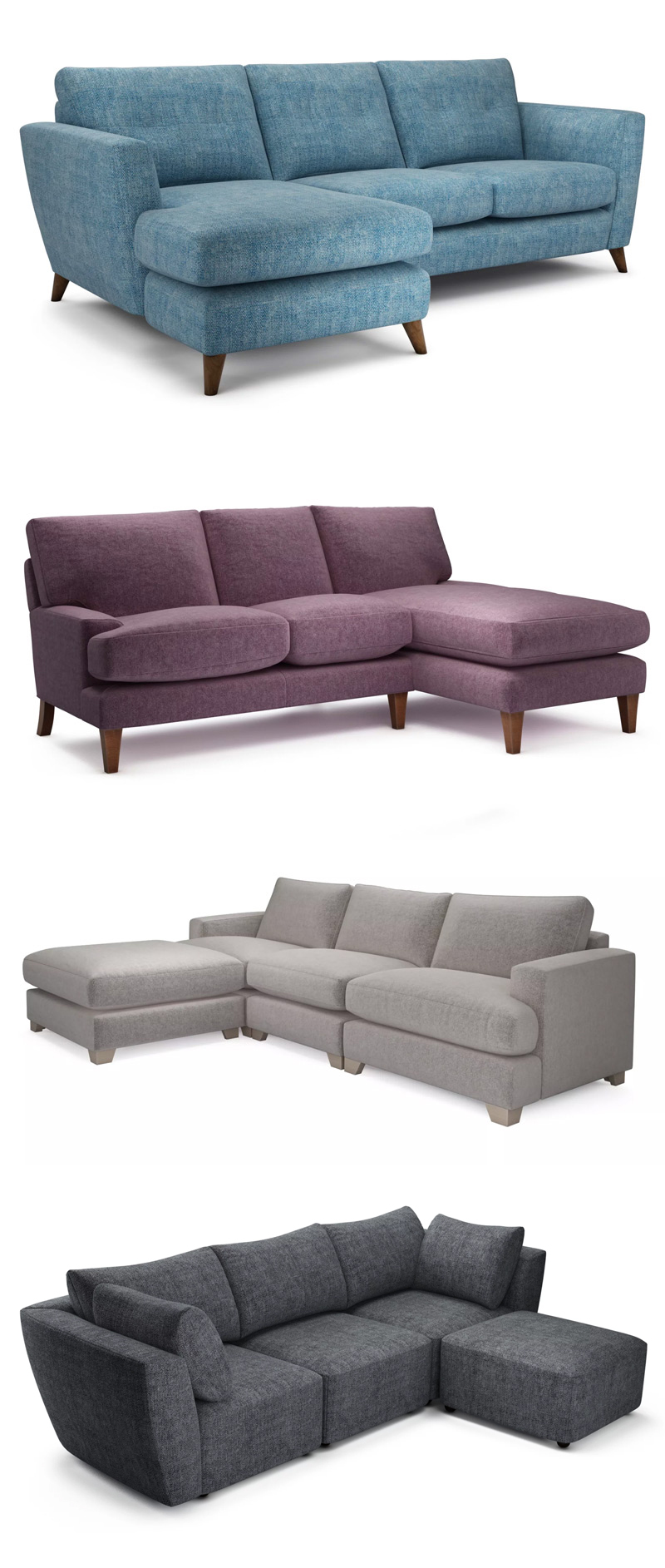 Holly
Holly is a contemporary sofa range with design details such as twin-needling and gently pulled in back cushions. The Chaise End is neat and modern; with a depth of just 160cm it's a great choice for a lounge limited in size. We've shown her here in Family Friendly Basket Weave - Bluebird Feather.
Explore the Holly range here.
Poppy
With crisp, elegant lines, Poppy is a true modern classic. A great addition to any living space and with soft, sink-in fibre cushions, Poppy makes a great family sofa too. It's low arms mean it's perfect to lay out on, great for a lazy afternoon or a relaxing evening. We think she looks effortlessly elegant in Family Friendly Soft Chenille - Purple Emperor.
Explore the Poppy range here.
Lola
Lola is a modular sofa system that's been designed with modern living in mind. It's soft and sumptuous, and because it's modular you can design your own size, shape and configuration. The Lola Chaise End is created by adding a footstool to the sofa - the clever clips underneath mean that it won't go astray and will stay together as one piece. Lola is shown here in Family Friendly Soft Chenille - Whale Mist.
Explore the Lola range here.
Lottie
Lottie is our other versatile, modular range. She's low and contemporary with clean tailored lines. You can choose from a Right or Left-Hand Chaise; both equally as comfortable thanks to the premium materials used in her construction. We've shown her here in Family Friendly Basket Weave - Skunk Ear.
Explore the Lottie range here.
We think a Chaise End Sofa is the best way to stretch out in style. Want to discover more? You can view all of the models here.