Posted 27.10.16
Meet Multi-Talented Taylor
Every so often, a product comes along which really captures the imagination. Our Taylor Storage Footstool is one of those objects which everyone comments on when they see it. Stylish, yet versatile and practical, the footstool is a great way to add colour and texture to your home. Taylor, along with our other footstools, is available in over 100 beautiful fabrics including our contemporary accent fabrics.

We love the display of Taylor Storage Footstools in our Chiswick store. Find your nearest gallery here.
The Taylor Storage Footstool, as the name suggests, is not just for putting your feet on. Lift up the lid and you'll find plenty of space inside that's perfect for storing your favourite books and magazines or even a secret stash of biscuits. If you're constantly standing on Lego (ouch!) - Taylor makes a stylish toybox that will mean no more brick-strewn floors.
As if you weren't already impressed - turn Taylor's lid over to reveal a beautifully constructed wooden tray, which means you've got somewhere to put your cup of tea and slice of cake (or glass of wine once the kids have gone to bed and the Lego is safely stored away). You can choose from three types of wood for the tray; Vintage Oak, Washed Oak or Walnut - which means you can match the interior of your footstool to the legs on your sofa.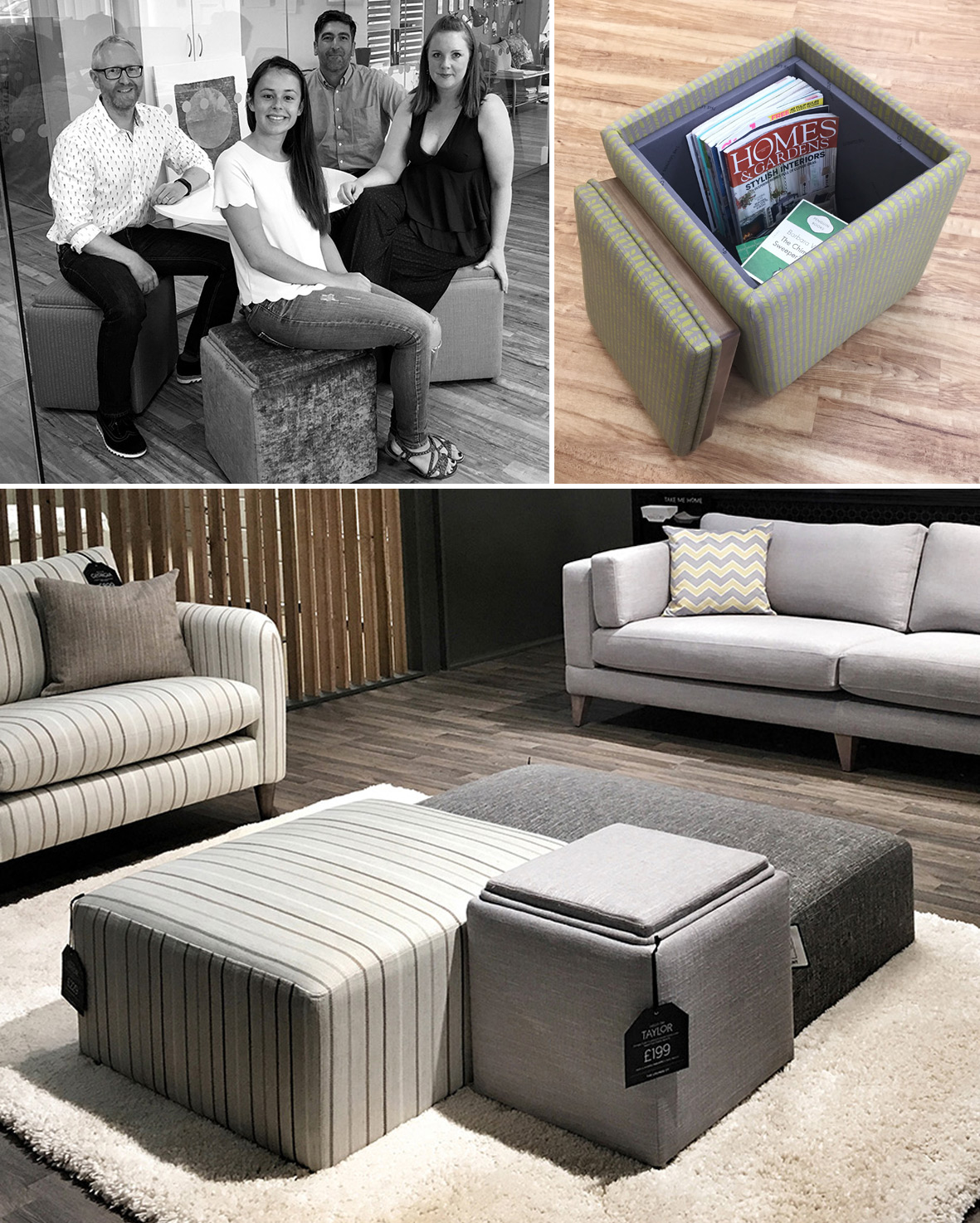 Clockwise from top left: 1. We've made meetings much more stylish in The Lounge Co. office. 2. A stylish storage solution. 3. The contemporary footstool display in Park Furnishers, Bristol.
Stylish and practical - what's not to love?
Convinced? Just in case you need more persuasion, here are 101 (well 8) reasons why your home needs the Taylor Storage Footstool:
1. It makes a great occasional seat. We actually use them in our office around our meeting table.
2. Taylor is perfect for smaller rooms. Its width and depth is only 42cm, which means it will fit into the most compact of corners.
3. It's a stylish side table, finished with a beautifully crafted wood in a choice of three finishes.
4. It's a clever, hidden storage solution, so you can keep you home tidy whilst looking stylish.
5. It can be a work of art. Why not combine with other footstools to make an attractive and functional display. We love the display in our gallery at Park Furnishers in Bristol. Find you nearest gallery here.
6. Taylor can also be used as a bedside cabinet - perfect storage for your bedtime reading and a midnight snack!
7. It's available in over 100 beautiful fabrics - there's a colour or pattern for everyone. We've chosen some of our favourites below.
8. Taylor is great value - it's made with love in the UK, meaning that you get hand-crafted quality and style from just £189.
Go configure...
What more could you want? We think there's room in every lounge for such a versatile object. Configure your perfect Taylor Storage Footstool here - you'll wonder what you ever did without it!