Posted 08.10.18
Super Velvet to the Rescue!

A lot of life happens on your sofa. It's the centre of the home, a hub for the family. Whether you're binge-watching your favourite TV series, having a well-deserved takeaway, inviting a few friends round for drinks and nibbles or simply having some snuggle time with your loved ones, your sofa puts up with a lot!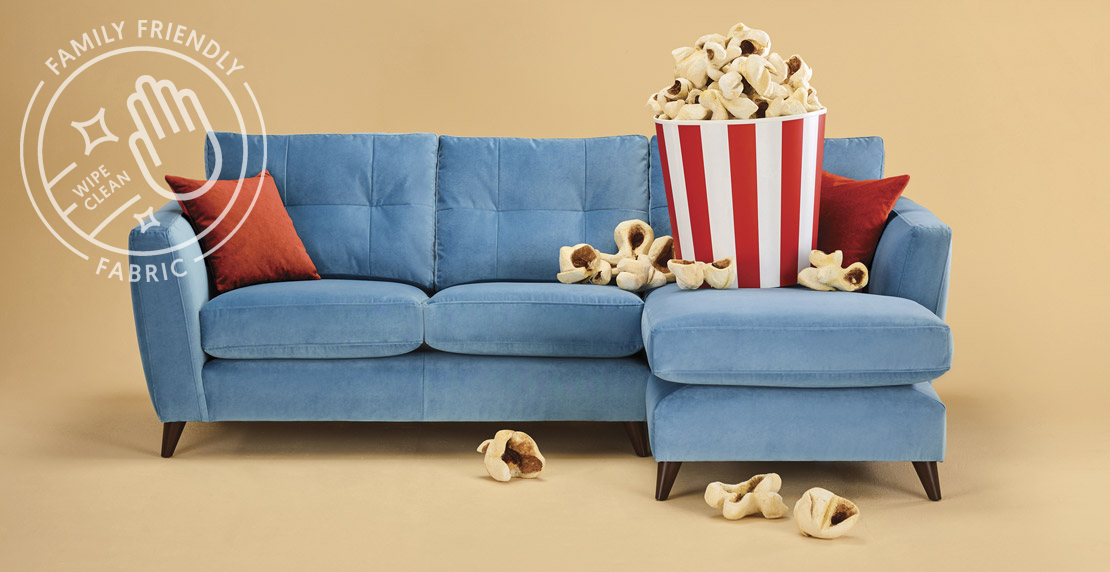 Holly Chaise End Right in Family Friendly Soft Velvet - Blue Larimar
Family Friendly Soft Velvet
Fear not - it's Super Velvet to the rescue! Our brand new collection of Family Friendly Soft Velvets harness the power of Aquaclean® Technology, meaning that you can literally have your cake and eat it.
Unless you're one of those people that keeps the plastic cover on their sofa, the wear-and-tear of modern family life is going to take its toll. Thankfully, the clever technology in our Family Friendly Fabrics means you can get rid of the majority of stains with a damp cloth.
What is Aquaclean® Technology?
It sounds fancy, but how does it work? Unlike protection that gets sprayed on after the sofa is made, the Aquaclean® treatment system covers every single fibre with an invisible molecular coating meaning that dirt is unable to penetrate the fabric's fibres and will disappear when water is applied. Easy peasy!
In fact it's so easy, even kids can get with the idea as you can see from Aquaclean's brilliant 'Kids Cafe' video. Head to our 'Family Friendly Fabrics' page to discover more and find tips on how to clean your sofa.
16 Covetable Colours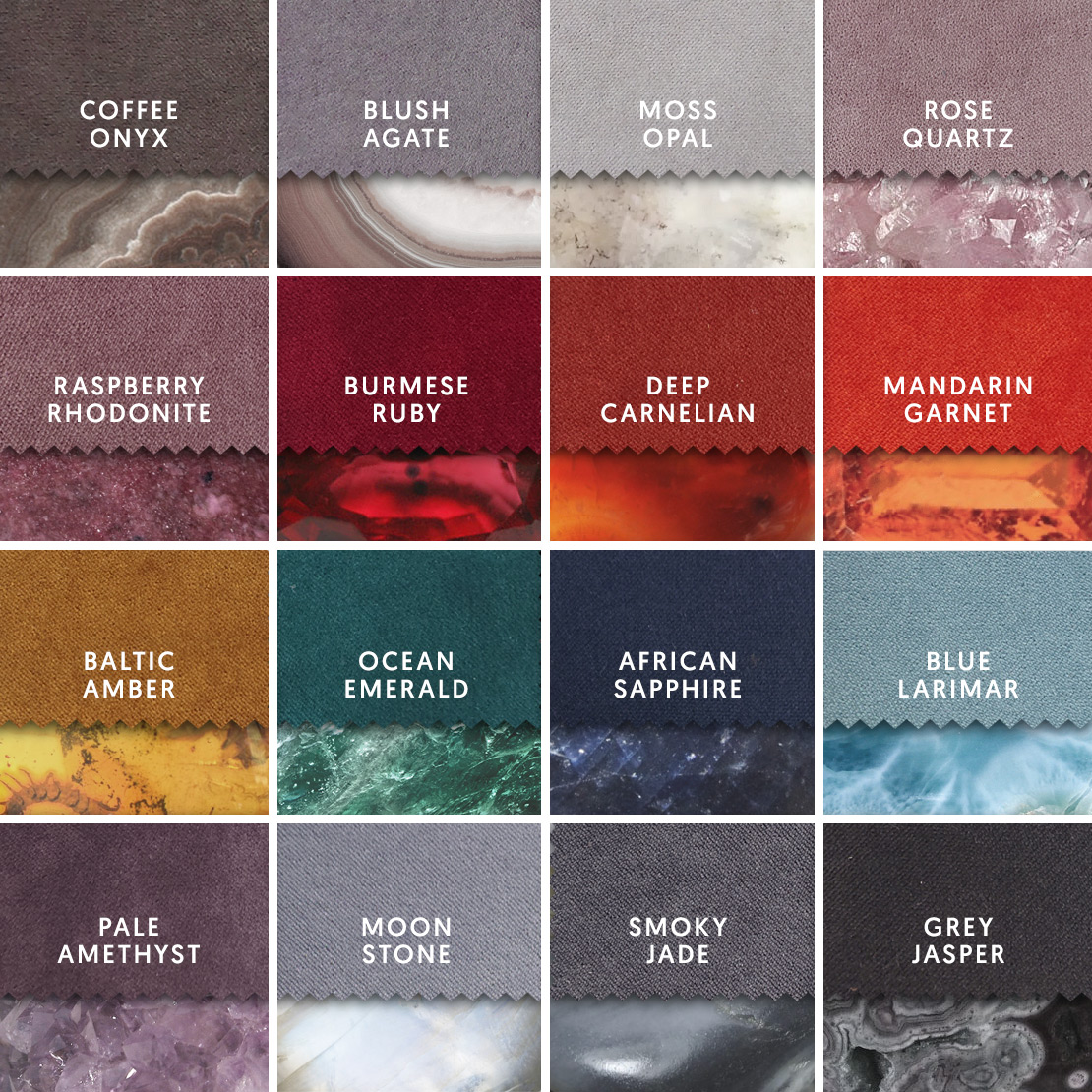 Our new collection of Family Friendly Soft Velvets is available in a range of 16 stunning shades. Inspired by precious gems and minerals, from Moss Opal - a beautifully soft taupe to African Sapphire - a deep shade of Navy Blue, you'll find an array of neutrals, pastels and brights. Which one will you choose? If you can't decide, order up to 8 FREE samples so you can see how lovely they look in your own lounge.
Sumptuous Velvet Sofas
A family friendly velvet sofa? Elegant and inviting, but suitable for a busy, modern home? Yes - you can now have it all! The beautifully soft velvet will look stunning on any of our sofa shapes, contemporary or classic, here are a few of our favourites:

Briony 2.5 Seater Pillow Back in Family Friendly Soft Velvet - Raspberry Rhodonite, Paloma 2.5 Seater in Family Friendly Soft Velvet - Moss Opal

Melody 3 Seater in Family Friendly Soft Velvet - African Sapphire, Rose 2.5 Seater in Family Friendly Soft Velvet - Mandarin Garnet
Life-Proof Your Sofa
Sounds good, doesn't it? It is, you can trust us. We've thrown the scariest of stains at our Family Friendly Fabrics - think red wine and beetroot juice, and we're pleased to say they came out, no problem. In fact, these innovative fabrics are the choice of The Lounge Co. team at home. They just make sense.
If you like the sound of Aquaclean® technology but velvet isn't your thing, we also offer the same treatment in our other Family Friendly ranges; Basket Weave, Kaleidoscope Weave, Soft Chenille and Casual Knit.
So buy your sofa then forget about it. You've got life to live...