Posted 17.11.16
We Say Snuggler...
Snuggler, snuggle chair, loveseat or cuddle chair; it might have a lot of names, but one thing's for sure - it will make a great addition to your lounge. It's smaller than a sofa, but bigger than a regular armchair which means it's a wise choice if you've got limited room.
The widths of our snugglers range from Georgia at 94cm to Sophia at 141cm; even the widest should fit comfortably in the most compact of spaces. A snuggler looks equally as stunning in a larger lounge, paired with it's big sister, as you can see from our gorgeous Georgia lifestyle.

Georgia Snuggler in Farmhouse Stripe and Georgia 3 Seater Sofa in Smooth Leather - Mushroom. Get the look here.
We think the best thing about a Snuggler is that it's big enough for two (if you're good friends and you like to share), but it makes a great oversized chair for one. The perfect place to curl up, get cosy and enjoy a good movie or an engrossing book.
Of course, the idea of a giant, comfy chair all to yourself goes out the window as soon as the kids or pets spot the snuggler! If you can see this happening in your house - how about choosing to upholster in one of our innovative Family Friendly Fabrics? You can find out more about the Aquaclean Technology we use in our Family Friendly Soft Chenille and Basket Weave here.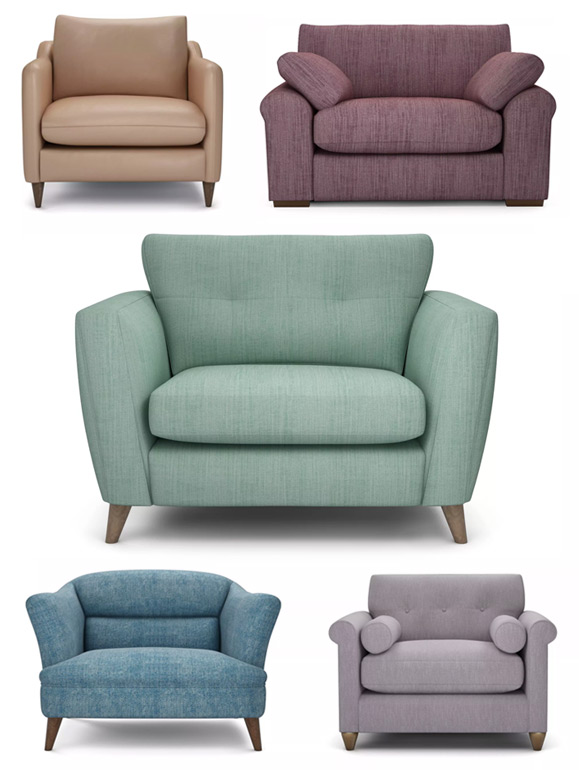 From top left: Georgia, Sophia, Holly, Willow, Phoebe. See all Snugglers here.
At The Lounge Co. we've got 6 stylish snugglers to choose from; Holly, Phoebe, Willow, Sophia, Georgia and our newest addition Violet. Which one is your favourite?
A slim-lined and stylish snuggler, emphasised by the piping details on the arms and cushions. Georgia looks equally fantastic in leather or fabric, and is the narrowest of our snugglers meaning it's great for small lounges.
Big, soft and sumptuous, the Sophia snuggler is perfect for lazy afternoons. Sophia is the widest of our snugglers, but it's cushions are just so comfy, you might not want to share!
A modern snuggler with contemporary design features such as twin-needling and gently pulled in back cushions. Wide enough to accommodate two for a quick cuddle!
Curvy and quirky, the Willow snuggler is beautifully styled and retro-inspired. Willow has a fixed, sprung seat, meaning it's comfortable and supportive too. We think the Willow snuggler, with it's vintage style, would be the perfect choice for a bedroom.
With classic proportions combined with modern tailoring details, the Phoebe snuggler is elegant and timeless. Slim scroll arms but generous seat cushions mean Phoebe is perfect for smaller spaces.

Violet Snuggler in Tweedy Weave - Saffron Buddha
With its high tapered arm and soft rounded lines, Violet has contemporary elegance with enticing comfort. The snuggler offers enveloping support and is the perfect place to cosy up with your favourite book (or bulldog!).
Get snuggling
They look gorgeous, they're practical, they've got the comfort factor and you can choose from 6 shapes in over 100 beautiful fabrics and leathers. A snuggler is a fantastic, modern choice for your lounge. Maybe you should get one for each member of the family, because they might not want to share! Take a look at our choice of stylish snugglers here and discover them for yourself.