Posted 09.06.17
Small is Beautiful
Modern living usually means smaller houses with smaller rooms. But don't despair! If your lounge is little, it doesn't mean you can't have a stylish (and functional) space. Furnishing a small room can be tricky; using every potential square foot is of the utmost importance. Here are some tips on how to make the most of a compact living room…

Chloe 2 Seater in Cotton Linen Weave - Bunny Nose
What sort of sofa would suit a small lounge?
If there's a style of sofa you've fallen in love with, it's likely you'll be able to find it in a smaller size. At The Lounge Co. we offer 7 styles of 2 Seater Sofa (you can find all of our small sofas here), and you'll find a slightly bigger 2.5 Seater Sofa in 12 of our ranges.

Left to right: Holly, Chloe, Poppy, Phoebe, Georgia, Rose (all 2 Seats)
Chloe, our casual classic range, has a 2 Seat Sofa from only £799. Not bad, considering she's designed and handmade by furniture experts in the UK. With a width of just 152cm, the Chloe 2 Seater will fit comfortably into the smallest of lounges. If your space is really limited, our best-selling 2 Seater Holly comes in with a width of just 146cm.
Want something with more of a traditional twist? Rose could be the one for you. Daniela Tasca York, winner of the Great Interior Design Challenge, is a big advocate of Rose. When she visited our Chiswick store earlier this year, she picked Rose in Herringbone - Unicorn Horn, saying "Rose is classically elegant, but not too heavy. Great for a smaller room, especially in a light, neutral fabric." See Daniela configure Rose here.
Rose 2.5 Seater in Soft Woven Chenille - Pigeon Foot
But I've got more than 2 people in my family!
A sofa with 2 seats might fit your room perfectly, but what if your family comprises of more than two bottoms? If you haven't got the space for another sofa, there's loads of other options for extra seats: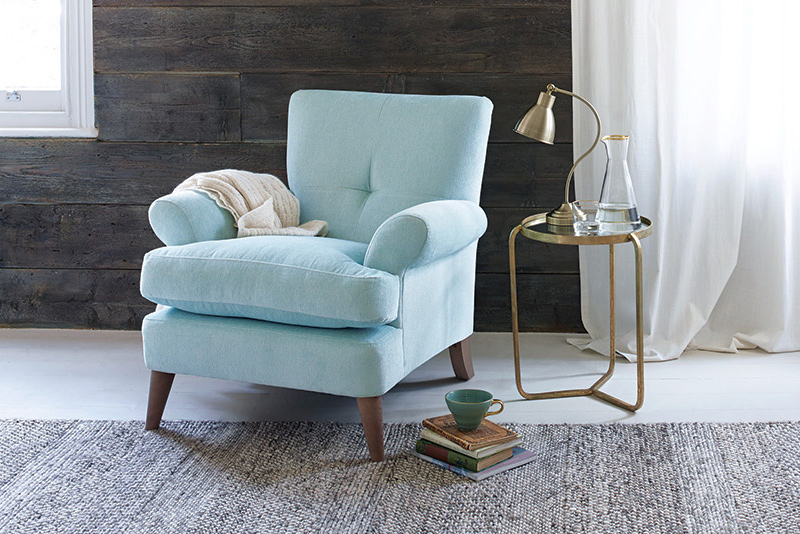 Choose Chairs
Chairs can be much more versatile than sofas - they take up less space for starters, and are much easier to move around and push into otherwise wasted corners. We've got a fantastic collection of accent chairs to choose from, including the gorgeous new Joshua (shown here), which will be available from late June. If you've got a bit more space and want another seat to match your sofa, we'd recommend a Snuggler - big enough for two small people or a great oversized chair in which to curl up and chill out.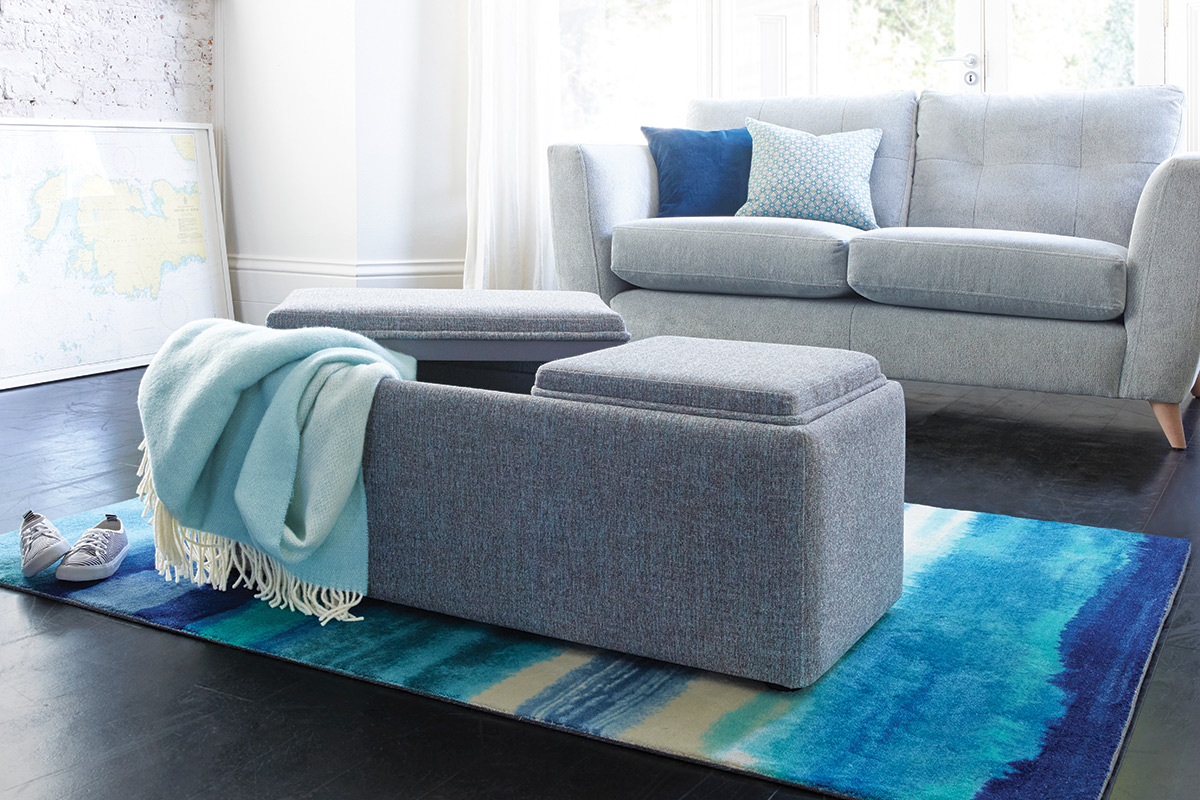 Go Multi-functional
In a small lounge, space is at a premium, so you need to be smart with your storage. Discover the joys of our Taylor Storage Cube and Bench; multi-functional heroes that you'll wonder what you ever did without! Not only are they great as an extra seat, they're perfect for storing books, throws, kids toys or a secret stash of biscuits! Turn the square lid over to reveal a beautifully constructed wooden tray, which means you've got somewhere to put your cup of tea. Shop our fantastic footstool collection here.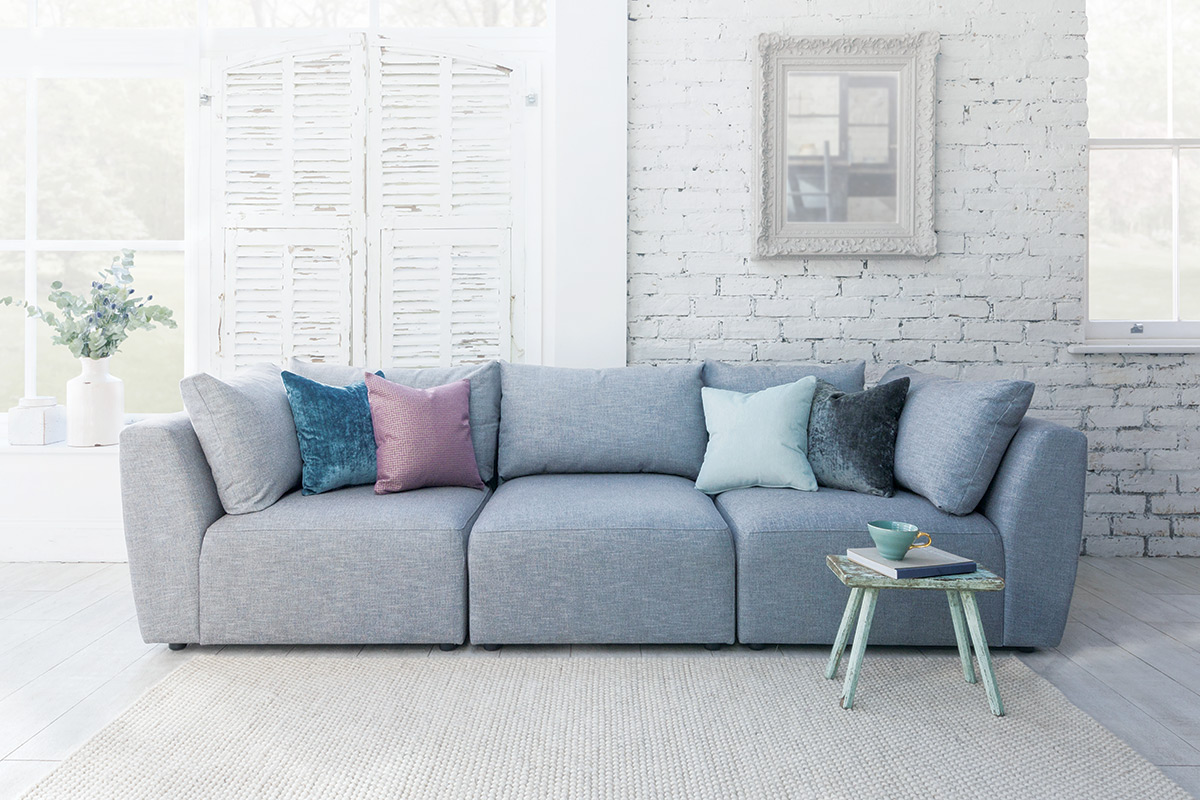 Consider Modular
Sectional sofas can actually work quite well in small spaces. Because of their versatile nature, you can tailor them to fit the space you have - perfect for making the most of pesky corners. For example, you could make a small corner sofa from a corner unit and two end pieces; maximum seating for a width and depth of just 176cm. At The Lounge Co. we offer 2 modular ranges; Lola and Lottie. Both include a footstool, which means you can extend your sofa when needed or simply use it as a coffee table.
What else can I do to create space in a small lounge?
You've got your sofa sorted, so here's some interior design ideas to make the most of the rest of your space…
Use Natural Light
Natural light is a small space's best friend. Maximise it by using mirrors to bounce the light back into the room. Also, consider voiles instead of heavy curtains to let the light flood in.
Emphasise Height
Use wall space to make your lounge feel bigger. Create a group of framed pictures or mirrors that reaches up to the ceiling, this will draw your eye up and open up the room.
Don't be Scared of Colour
A lack of square footage doesn't mean you have to settle for magnolia walls. Darker colours can actually make walls recede. And a pop of colour or pattern on a sofa or chair will add focus to your little lounge.

Pictures sourced from Pinterest. Discover our 'Small Spaces' pinboard here.