Posted 14.06.17

Spring has given way to Summer, and now we're dreaming of long, lazy days drenched with sunshine, escapes to tropical climes and sipping cocktails by the pool. Embrace the warmer weather, and bring Summer into your home with vibrant fabrics, tropical patterns and bright accessories.
Even if we get the typical 'British Summer' this year, you can still enjoy sunshine-filled vibes in the comfort of your lounge, safe in the knowledge that your gorgeous British-made sofa is handcrafted with love and guaranteed for 10 years.
Help! Bright colours scare me
Mild-mannered magnolia and plain, neutral fabrics are an easy and classic option, but sometimes it's good to be brave; break out of that beige comfort zone and the harness power of colour!
Main image: Poppy 3 Seater in Velvet Touch - Dragon Eye. Other images sourced from Pinterest.
Fear not - you don't have to paint your walls to add vibrancy to your lounge. A pop of colour can come from your sofa, chair or accessories. In fact, if your walls are white or a soft shade of grey or cream, it makes it easier to pick a bright fabric for your sofa without fear of it clashing. Velvet is a popular choice for a striking sofa; our best-selling Velvet Touch fabrics come in a range of mouth-watering shades and are in Fabric Band A - meaning not only will your sofa be beautiful, it won't break the bank. Love velvet sofas? Explore our stylish range here.
If velvet isn't for you, we've got a copious collection of bold, bright colours. Here are a few of our favourites: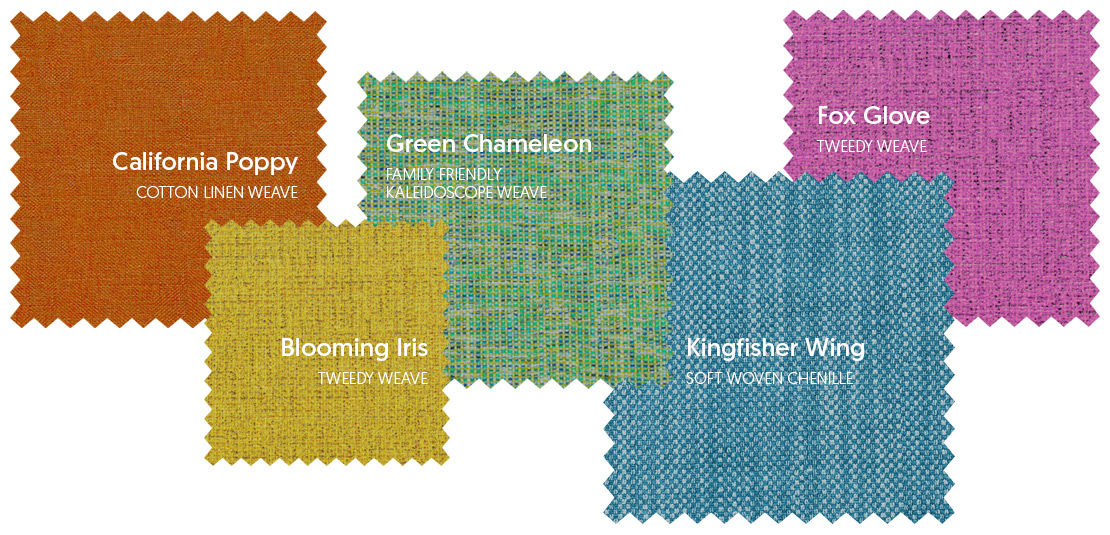 If you're looking for something that's easy to care for, check out our new Family Friendly Kaleidoscope Weave range - fabrics with a multi-coloured yarn in the construction which adds subtle pops of colour. Find out more about this innovative collection here.
Want to see how these fabrics would work in your home? You can order up to 8 swatches here and have them delivered for free.
I really want a neutral sofa. How else can I add colour?
Ok, we understand, a neutral sofa is a wise investment. If you've got your heart set on something understated, you can still add colour with carefully chosen accessories. How about making a statement with a chair? Our stylish range of accent chairs look fabulous upholstered in bright or patterned fabrics. You could always put your feet up on a vibrant footstool, or if you want to keep the splash of colour to something that is easily updated, cushions or throws are the perfect choice.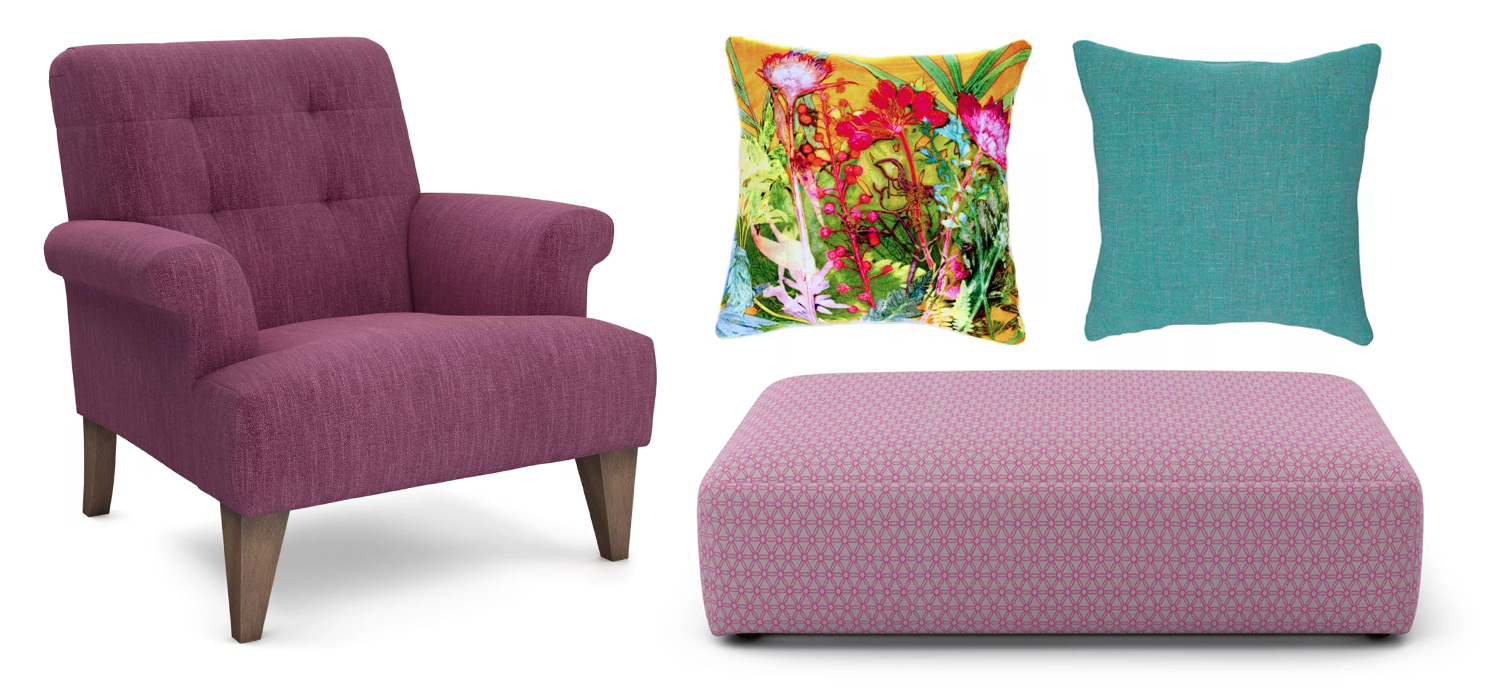 From left to right: Joseph Chair in House Cotton Linen - Cuckoo Flower, Botanical Tropical Cushion, Dragon Back Cushion, Taylor Oblong Footstool in Stargazer - Pink
Anyway, we seem to remember talking about cocktails! Once you've chosen your sofa, sit back and relax; we've chosen three of our favourite Summer-inspired drinks to get you in the holiday spirit…

Love Potion - Bright and bubbly; a mixture of prosecco and blackberries. Find the recipe here.

Pineapple Ginger Mojito - Sweet and spicy; a delicious twist on the classic cocktail. Find out how to make it here.

Frozen Negroni - Fresh and fruity; a frozen cocktail made with blood oranges. Watch the 'how to' video here.
Choose your tipple of choice and head to Pinterest to explore our 'Shades of Summer' pinboard for more interior inspiration. Be bright. Be bold. Be brave...