Posted 15.03.18
The Power of Purple

Every year, Pantone - the cardinals of colour, choose their 'color of the year'. Their choice captures what is trending in design as well as being a reflection of what is going on in the world as a whole.
This year, the 'Pantone Color of the Year' is a dramatically provocative and thoughtful shade of purple, PANTONE 18-3838 Ultra Violet. According to them, "Complex and contemplative, Ultra Violet suggests the mysteries of the cosmos, the intrigue of what lies ahead, and the discoveries beyond where we are now." A little cryptic maybe, but the colour purple with historical links to mysticism and energy, is undeniably on-trend this season.
The Power of Purple
Purple might not be your first choice when it comes to sofas, but it's worth considering - we think you'll be pleasantly surprised.
With it's regal connotations, it will add sophistication and elegance to your home. Dark purple hues will add drama to your lounge, whereas lighter shades evoke a feel that is more soothing and relaxing.
Whichever shade you choose, a purple sofa will make a stylish statement.
Pick a Purple
Lavender, lilac, damson, plum, amethyst or aubergine; Ultra Violet isn't the only shade of purple at your disposal. At The Lounge Co. you'll find a beautiful edit of purples; from smooth velvet to soft chenille and even family friendly fabrics, there'll be a purple that's perfect for you.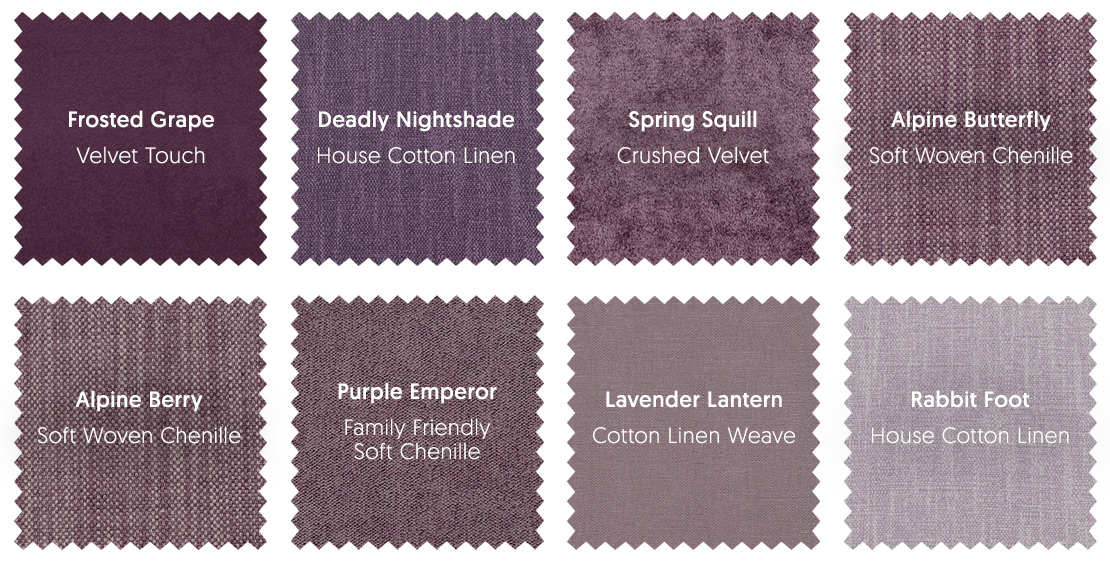 Want to see how purple is going to look in your lounge? You can order up to 8 swatches for free, allowing to compare and contrast in the comfort of your own home.
Why Not Start Small?
If a purple sofa is one bold move too far, why not introduce this gorgeous shade in smaller, bite-sized accessories. Our cushions start from just £40 and are a great way of introducing a pop of colour into a neutral interior. Our best-selling Paradise Bird - Mulberry will also add a punch of bold pattern. Feeling a little more daring? Why not try a footstool or accent chair in a gorgeous purple hue.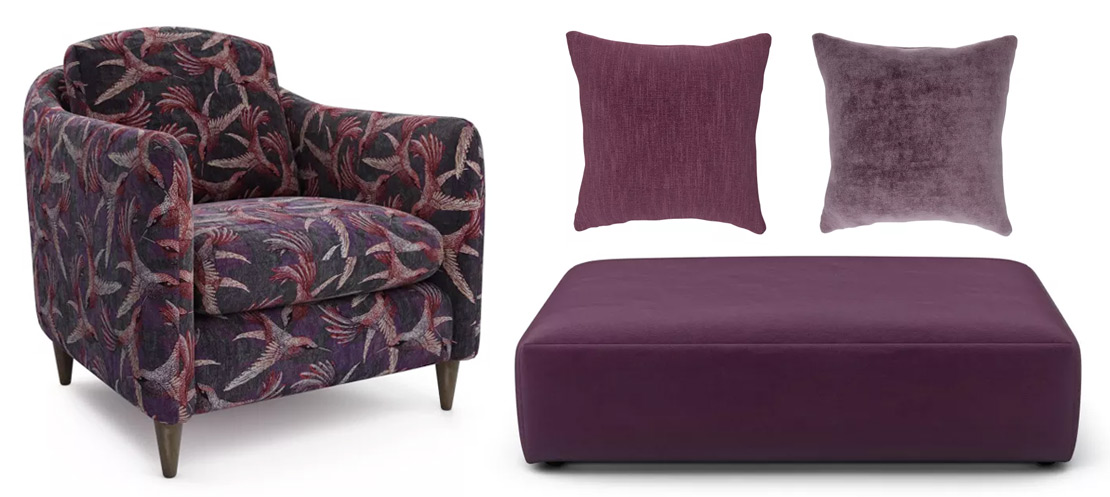 Clockwise from left: George Chair in Paradise Bird - Mulberry, Cuckoo Flower Cushion, Spring Squill Cushion, Taylor Oblong Footstool in Velvet Touch - Frosted Grape
Purple doesn't rhyme with anything!
It's true! You won't find a word in the English dictionary that rhymes with purple. Luckily though, you won't find the same problem with colour partners!
Purple is surprisingly versatile; match with a variety of shades to create interesting colour combinations. Here are some of our favourites.
1. Purple and Grey
2. Purple and Cream
3. Purple and Gold
4. Purple and Turquoise
5. Purple and Blue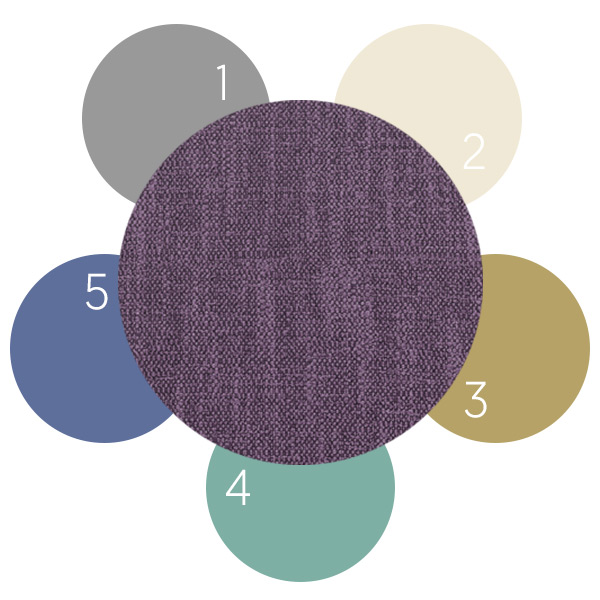 Need some more ideas of how you can incorporate purple into your home or simply want to drool over some seriously stylish interiors? Join us on Pinterest and discover over 50 Pinboards, full of home trends and interior inspiration...