Edited 12.11.18
Leather Luxe
There's something innately luxurious and stylish about leather. Furniture upholstered in leather has a sophisticated, timeless quality that is a fantastic investment buy. Because leather is a natural product, its tone and texture lends itself to most styles of interior, and is easy to accessorise with brighter colours throughout the seasons for an easy update.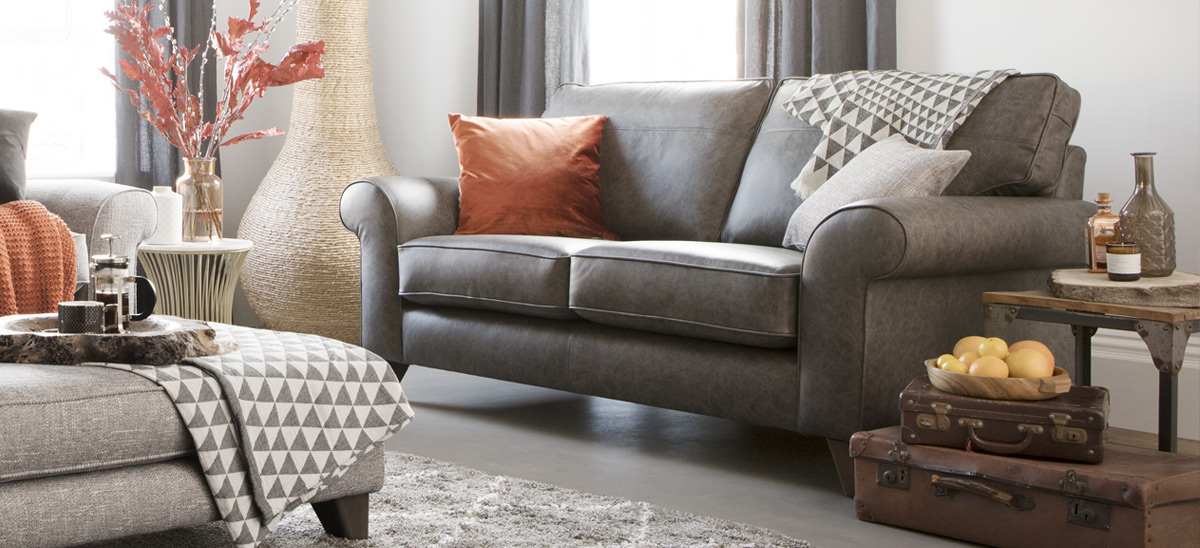 Sofa: Penelope 2.5 Seater in Vintage Leather - Granite, Footstool: Penelope Footstool in Urban Tweed - Corner Stone
At The Lounge Co. we offer leather options on seven of our ranges: Penelope, Holly, Chloe, Georgia, Josie, Lola and Sophia - you can view all of our gorgeous leather sofas here. You can also choose leather on five of our stylish accent chairs: George, Joseph, Jacob, Floyd and Hector.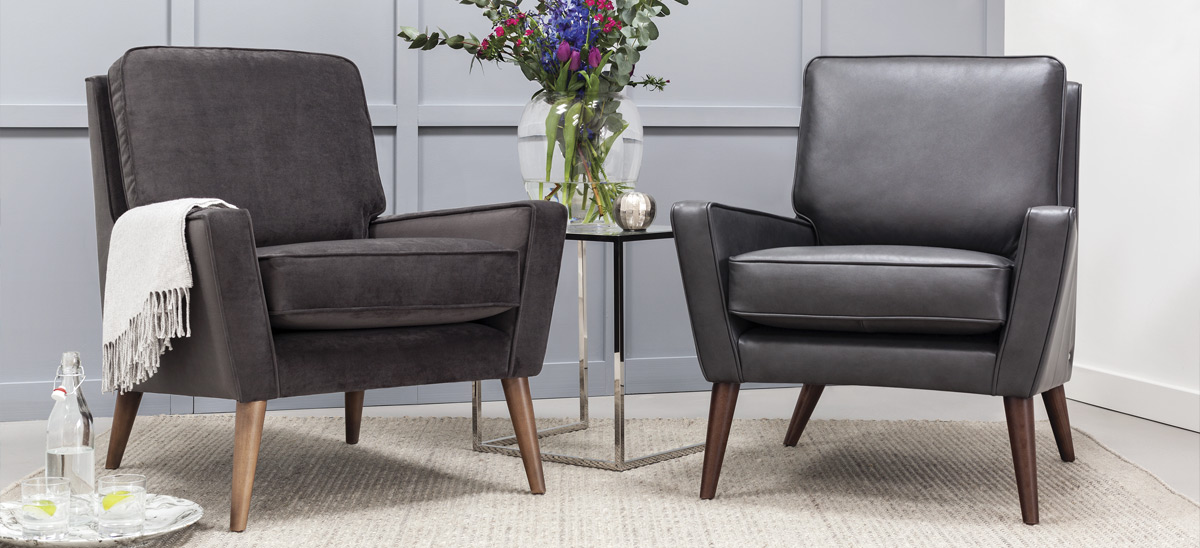 From left: Hector Chair in Velvet Touch - Slate Shadow, Hector Chair in Classic Leather - Raven
What Types of Leather do You Offer?
At The Lounge Co. we offer two types of leather; Vintage and Classic. Both are great quality, stylish leathers that are durable and easy to take care of...
Vintage Leather
A beautiful semi-aniline leather which is bursting with character and vintage looks. Its natural marks and texture allows it to age wonderfully and only get better with time.

Classic Leather
A butter-soft, supple leather with a contemporary feel that oozes Italian style. Offered in a palette of sophisticated colours that will stand the test of time.

Leather is something that you need to touch and appreciate. That's why we'll deliver up to 8 swatches for free; see them in your own home to decide which is the right one for you.
Why Should I Choose Leather?
Style - Leather looks as stunning on traditional styles as it does on more contemporary shapes. That means you can choose a sofa style that fits the decor of your lounge. Our Classic Leather looks perfectly at home on more traditional styles such as Chloe and Josie, whereas the Vintage Leather, in more contemporary shades, looks great on the cleaner lines of Georgia or Penelope.
Comfort - There's no point in having a stylish sofa if it isn't comfortable! Leather is a natural fabric; its soft nature makes it more appealing to sit back and relax on. It absorbs oils from your skin, which means the leather will get better and better over time.
Durability & Longevity - Leather is a naturally hard-wearing material, and is surprisingly easy to care for (see below for our top tips). A great leather sofa will last for decades, which means it's worth spending a bit more on to get something that you will love forever.

From left: Holly 3 Seater in Classic Leather - Latte, Josie 3 Seater in Vintage Leather - Bourbon, Georgia 3 Seater in Vintage Leather - Shadow
How Do I Look After My Leather Sofa?
Leather can be more durable and long-lasting than fabric if you follow a few simple tips to keep it looking and feeling good...
Avoid exposing your sofa to strong sunlight for long periods of time, for example in a conservatory or a sunny bay window, as the colour may fade and leather may deteriorate. Heat from radiators may also have the same effect so please allow for a bit of space between the two.
If it becomes the victim of accidental spills and stains, gently wipe them off with a damp cloth. We'd recommend you don't rub the leather, as this could damage the surface. Pet hair and dust can be removed by regular cleaning with a duster or soft brush.
To keep your sofa or chair in tip-top condition, avoid using any off-the-shelf leather cleaning products, as they may damage the leather.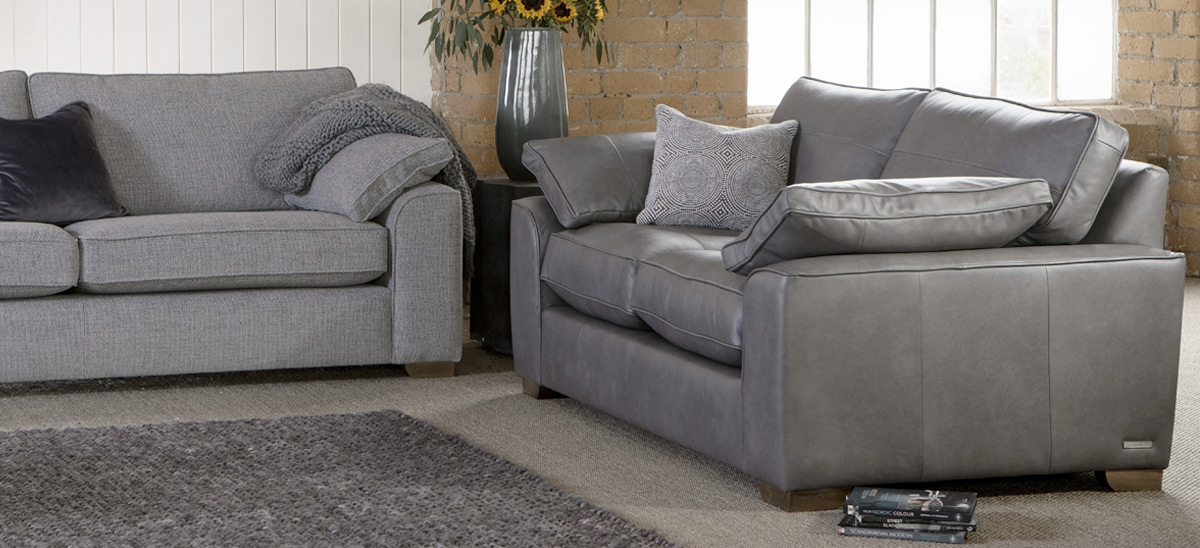 From Left: Josie 4 Seater in Family Friendly Basket Weave - Wolf Paw, Josie 2.5 Seater in Classic Leather - Ash
Leather Inspiration
For more interior inspiration, head to Pinterest and discover our 'Leather Luxe' pinboard or explore our collection of best-selling Leather Sofas.