What is Japandi?
One of the biggest interior trends for 2021 is a surprising clash of cultures; the collision of Japanese and Scandinavian aesthetics gives birth to 'Japandi'.

You might not think that these two styles have a lot in common, but you'd be surprised! Both focus on simplicity and natural tones and materials. Bringing the two looks together gives you the best of each and creates a harmony of elegant minimalism with a rustic twist.

The colour palette seen in the Japandi trend is one of neutral shades ranging from cool to warm. From crisp greys to earthy browns and a dose of black thrown in to add drama, the tones are calm and relaxing but warm and inviting. Mix and match to create a holistic look. If any of our fabrics take your fancy, you can order up to 8 swatches for free.
How do I create Japandi style?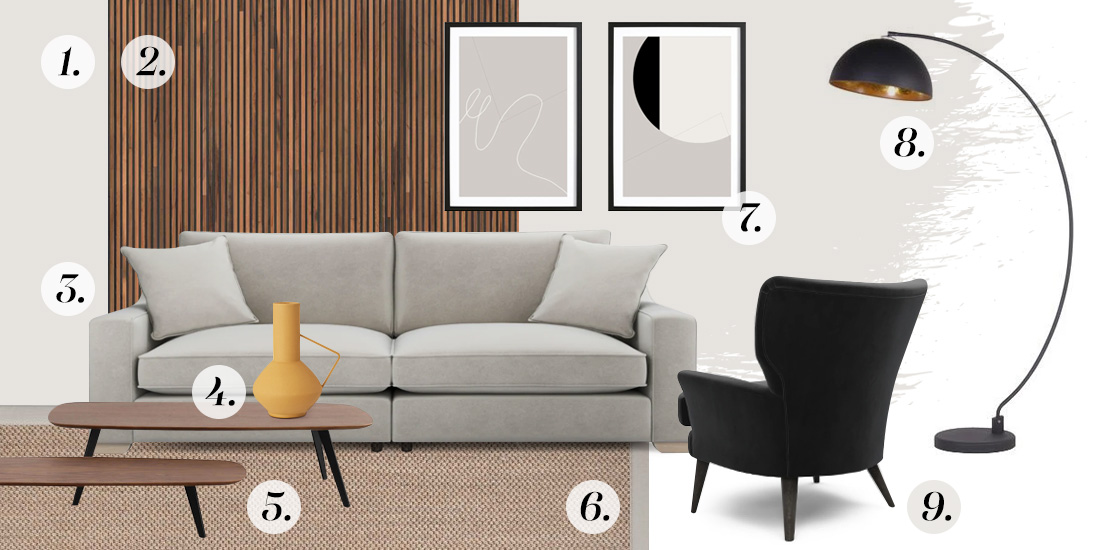 1. Wevet Matt Emulsion by Farrow & Ball. 2. Timber Strip Wallpaper by NLXL. 3. Imogen 4 Seater in Moss Opal by The Lounge Co. 4. Yellow Metal Vase by Att Pynta. 5. Coffee Tables by Nest. 6. Sisal Rug by the Rug Seller. 7. Framed Prints by Juniqe. 8. Arc Floor Lamp by Shropshire Design. 9. Noah Chair in Witching Hour by The Lounge Co.
There are no real rules when it comes to Japandi; it's the eclectic mix of two cultures which creates the sweet spot. Form and function are equally as important. Shapes are clean and organic and furniture tends to be low to the ground. We've paired a low-slung modern sofa with a curvaceous accent chair and have accessorised with natural materials; a sisal rug, wooden panelling and modern ceramics.
What makes a Japandi sofa?

Mallory 4 Seater in Family Friendly Kaleidoscope Weave - Porcelain Crab and Imogen Corner Sofa in Family Friendly Cotton Touch - Earl Grey.
For a sofa suitable for the Japandi trend, think clean lines, no fuss, neutral fabrics and ergonomic comfort. Perfect candidates include the Mallory 4 Seater in Porcelain Crab and the Imogen Corner Sofa in Earl Grey. Texture and warmth can be added with a linen throw or sheepskin cushion.
Accessorising the Japandi look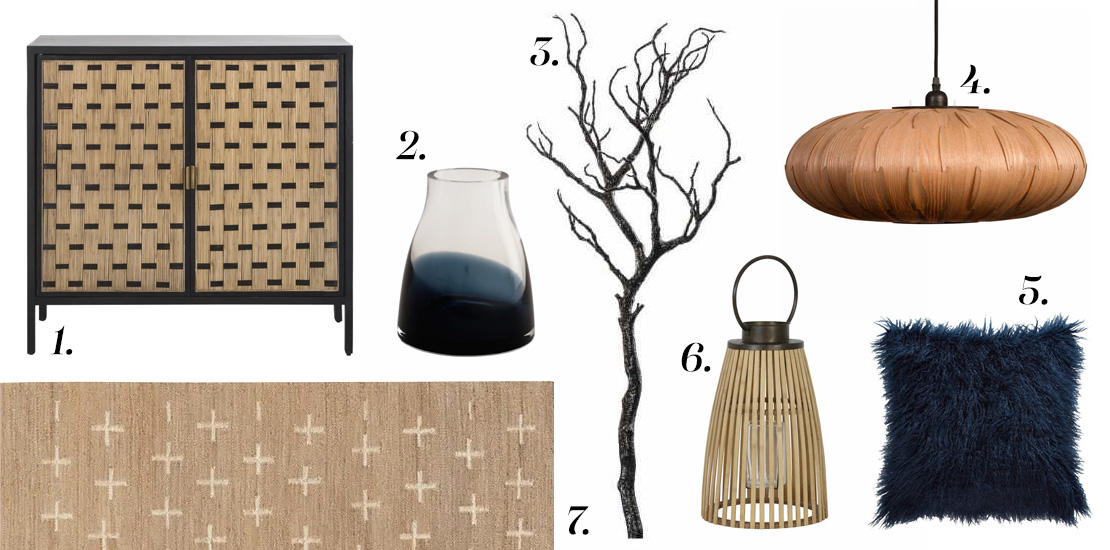 1. Canework Sideboard by Maisons du Monde. 2. Glass Vase by Nordic Nest. 3. Faux Branch by Phoenix Interiors. 4. Oval Pendant Light by Dutchbone. 5. Faux Mongolian Cushion by Very. 6. Bamboo Candle Lantern by Cherish Home. 7. Cross Jute Rug by Bombinate.
Complete the Japandi look with accessories that have hints of both Scandinvian and Japanese culture. Have you heard of Wabi-Sabi? It's a Japanese idea of focussing on 'less-is-more' while taking pleasure in the imperfect. Combine this with the Danish 'Hygge' mentality and you've got a style ideology that's easy-going and elegantly understated.
Get more Japandi interior inspiration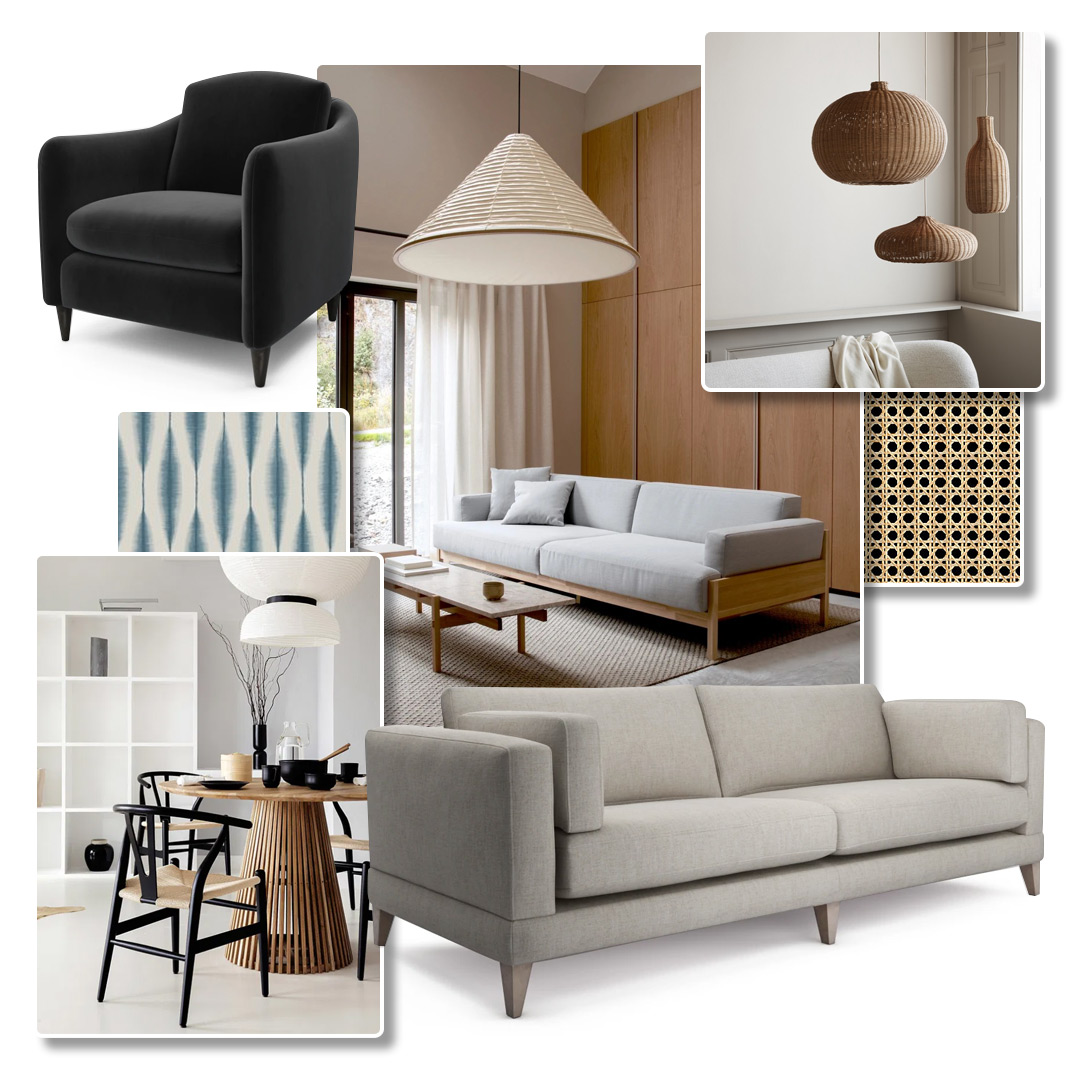 Mallory 4 Seater in Family Friendly Kaleidoscope Weave - Porcelain Crab.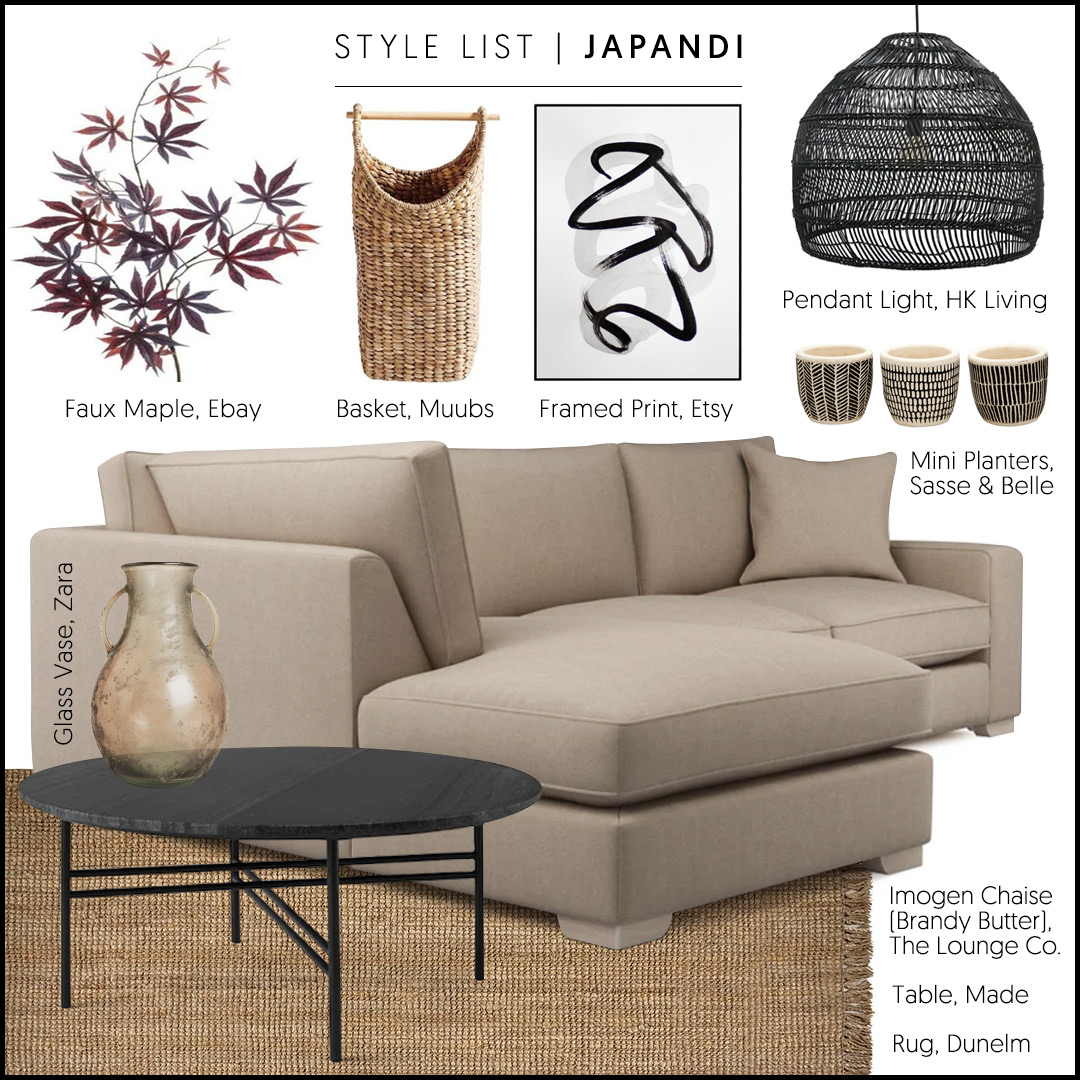 Imogen Chaise End in Family Friendly Cotton Touch - Brandy Butter.
Check out our Japandi pinboard for more inspiration on this season's key trend. Make sure you follow us to get your fill of beautiful homes and the latest interior trends.