Posted 20.10.16
How to 'Hygge'
Have you heard of Hygge?
Pronounced 'hoo-ga', Hygge is the increasingly popular Danish concept of enjoying the simple pleasures in life - being warm, happy and cosy. Although there is no direct translation, it encapsulates a way of life which has made the Danish, according to the World Happiness Report 2016, the most content nation in the world. Hygge alludes to a feeling of cosiness and contentment. It's about embracing a way of life that surrounds yourself with familiarity, comfort and wellbeing.

Sophia 4 Seater Sofa in Family Friendly Basket Weave - Bunny Tail. Get the look here.
Introducing Hygge into your home
Your home should be a haven, somewhere you feel relaxed, warm and content. There's nothing better than a big, comfy sofa. We'd recommend our gorgeously sumptuous Sophia or how about Lola - our modular sofa range that's soft and deep. You can add as many seats as you like which means there's plenty of room to stretch out, or fit all your loved ones around you. Adorn your sofa with cushions and throws in soft textures such as velvet and wool, pull on your favourite socks or slippers and indulge in a homemade hot chocolate. Turn off the lights and use candles instead - we love warm scented candles such as vanilla, cinnamon or fig.

SLOW DOWN
Take a deep breath and slow down. Our lives can sometimes become overwhelming with the amount of data we have to process. Make sure you take a lunch break and turn your phone off for half an hour.
GET OUTSIDE
Hygge is all about balance, so as much as it's appealing to spend all of our time curled up on the sofa, it's good to get out in the open air too. Remember how much fun it was to ride a bike as child? Get back on it...
START BAKING
Baking is an activity that the whole family can do together. The smell of freshly baked bread in the house is the epitome of Hygge, and can give you a real sense of contentment and accomplishment.
FEED YOUR FRIENDS
We all know that being surrounded by the people you love makes you feel good. Invite your friends over, sit around the table, share your homemade bread, talk, laugh and feel fulfilled.
READ A BOOK
Sometimes, being alone can achieve as much of a feeling of togetherness as being with friends. Make time to turn off the TV and pick up a book. It's great to escape, even if it's for 20 minutes.
It's time to snuggle up on the sofa
Sounds good doesn't it? Who wouldn't want to be more content with their life. Simplicity is the key with Hygge - it's about making things easier and being happy with what's around you; appreciating the small joys in life. Hygge isn't about extravagance, but is about the occasional indulgence. Time for a Danish pastry...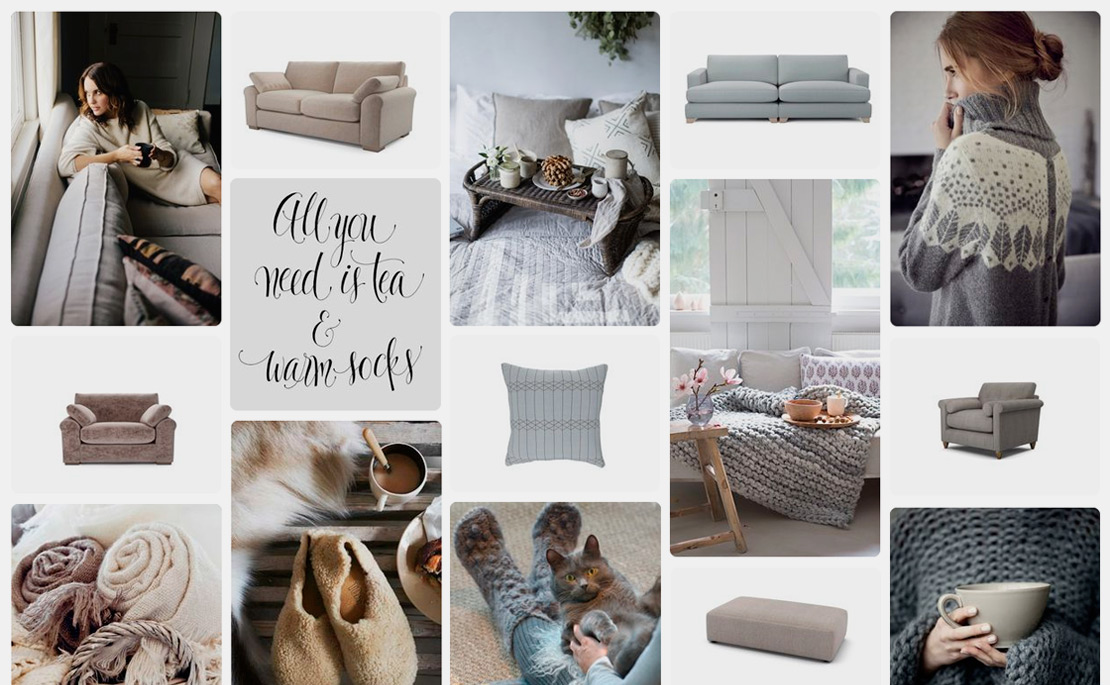 Make yourself a cup of tea, take a seat and head to Pinterest to find more inspiration on our 'Hygge' pinboard.