Posted 06.10.16
Gillian Arnold
"Never cut yourself out of the natural beauty of the world." It's the Gillian Arnold mantra and the inspiration for her exclusive range of cushions designed for The Lounge Co. Botanical Dandelion, Botanical Teal and Botanical Tropical; bold, striking and sophisticated – and all heavily influenced by Mother Nature.
Gillian's unique work is composed from plant life found growing wild in the UK. She uses a unique mono-print process she's been developing over the past 20 years and these compositions adorn her range of artwork, jewellery and homeware.
We caught up with Gillian at her base in the north east to discuss her range, building a business, accessorising celebrities, design tips and the power of plants…

From left: Botanical Teal Cushion, Botanical Dandelion Cushion and Botanical Tropical Cushion. Find them here
Tell us about your business, Gillian
I started selling my art nearly six years ago at Greenwich Market and everything has really grown from there. Moving into more and more products and developing a full interiors range from soft furnishings to wallpaper, developing a strong online retail presence and stocking over 150 shops nationwide has seen my business grow from a stall to a brand with our own workshops, offices and most recently our very own flagship store. We have seen our jewellery in newspapers on the wrists of celebrities like Denise Van Outen and our products have been featured in countless national magazines.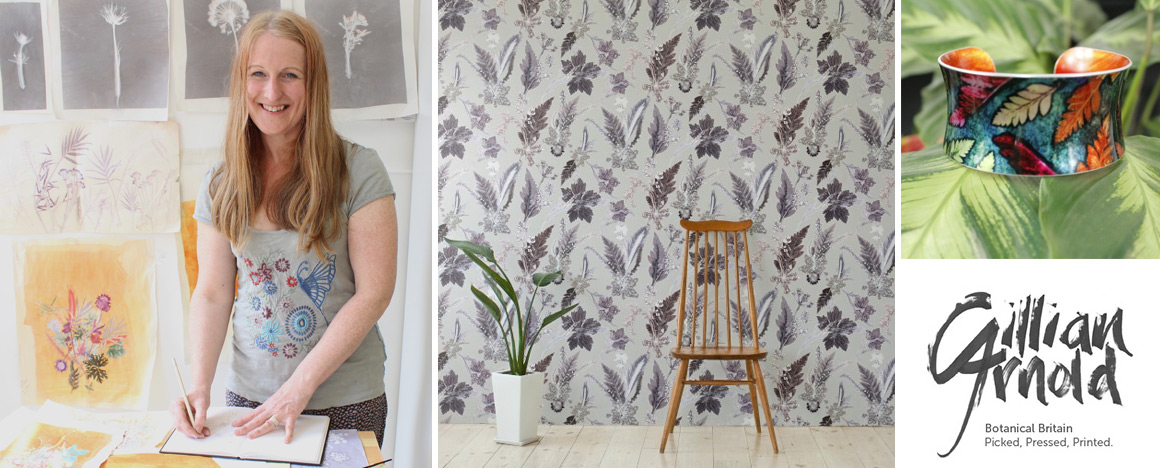 Gillian Arnold in her studio and a selection of her stunning products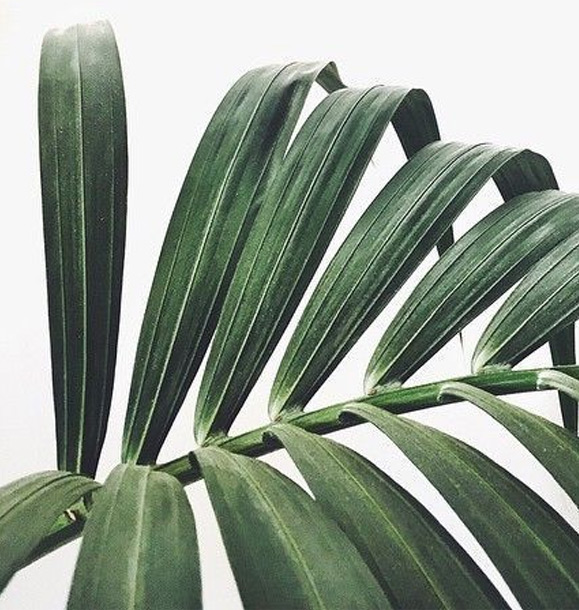 Palm leaves were an inspiration for Gillian's Botanical Teal Cushion
Where did you get your design inspiration for the cushions that feature in The Lounge Co collaboration?
My Botanical Dandelion design is a classic black and white design with touches of monochrome throughout and a distinct air of sophistication. It's easy to become entrapped in these stunning ethereal landscapes of wild plants which have been handpicked and pressed to perfection and preserved for generations to come.
With my Botanical Teal design, I hoped to conjure up notions of the exotic and tropical, the palm fronds elevate you into a decorative botanical bliss. They look striking against darker furniture and blend seamlessly into paler as the subtle mix of gentle pale green tones create a luxurious and sophisticated look.
Lastly my Botanical Tropical cushion is a striking design that captures the majestic way in which we remember those blinding hot summer days of our youth. A bold combination of sun drenched yellows and burnt pink tones that bleed into brilliant white.
Do you have a favourite?
Mixed patterns have been a huge trend recently with people seeking abstract colours that have been nothing short of daring in both their home interiors and fashion. So I'm going to be a little cheeky and say…all three.
What do you think of The Lounge Co and its range of products?
Any design outlet that shares our own ethos about being proudly made in the United Kingdom and working with artisans and designers here in the UK has already won me over.
What I love specifically about The Lounge Co, is the customisability of each chair and how much choice and selection you have to really make your sofa feel like your own. Personalisation is a huge part of what people want in their décor and The Lounge Co.'s huge range of styles, fabrics and accessories truly brings each customer into the design process, creating a unique and lasting experience.
Do you have a favourite from our range?
'Noah' from the accent chair range is certainly of my favourites. It's a very fresh twist that hints at some timeless design elements without being too obvious. It's draped in that gorgeous off purple velvety fabric on the website that just begs people to sit down and do nothing but enjoy that moment.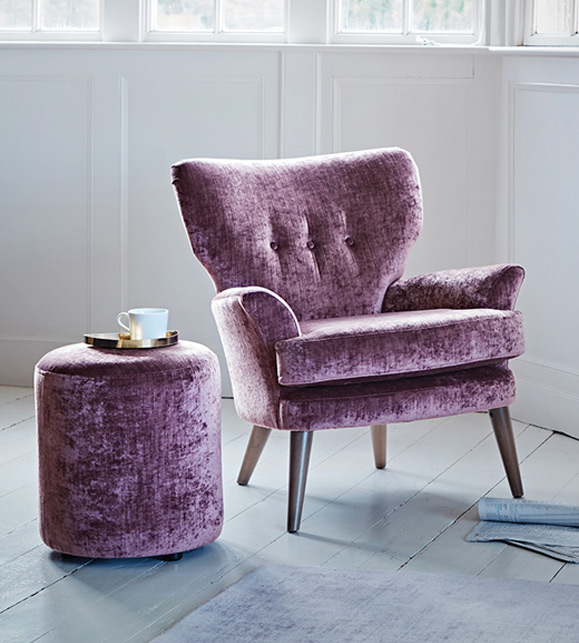 Gillian's favourite - the Noah Chair in Crushed Velvet - Spring Squill
How would you describe the interior style of your own home?
As a mother of three lovely but excitable children all under the age of five, having an over-styled under-functioning house isn't exactly on the cards any time soon. I have a beautiful family home, we have elements of nature absolutely everywhere which keep me inspired throughout the day and I have my studio where I can disappear into and spend countless hours designing.
To anyone overawed at the prospect of decorating their lounge, what advice would you give?
Never cut yourself out of the natural beauty of the world. Escapism is an ever-popular term being used in the design world as we grow more attached and dependent on technology. In cities you can go days without making a real connection with nature.
Think about your day, how and when you relax and where you do it. Deep sofas, large arm chairs and beautiful soft fabrics will go a long way to making your home feel more like a haven. You can also re-connect with nature by thinking about chunky knit woollen pieces, tropical and exotic floor cushions, coordinated floor lamps and beautiful rugs. Mostly just find something that makes you feel as good as it looks.
Oh, and always measure twice.
Any interior trend tips for 2017?
Natural and botanical design may be heading for a much more aquatic feel as blues, teals and deep greens are growing ever popular and on trend for 2017. On land our earthly tones are certainly heading into terracotta territory with yellows, beiges and bursts of gold creating a wonderful feeling of decadence. As far as tips go – be brave! Interior design in 2017 is looking bold, botanical and fearless of colour.
Get two FREE Botanical Cushions – or any other pair from our range – with every sofa purchase. Visit our offers page for more information.