Posted 10.05.18
Furniture in Fashion
High fashion is the birthplace of emerging trends. From the down-right wacky to the eminently more wearable, trends start at that point and are gradually filtered down, through ready-to-wear collections and the high street, through to furniture and homeware.
We've chosen the most stylish trends of Spring/Summer '18 and shown how catwalk couture can translate into your own home. After all, it's nice to know that your sofa is in fashion!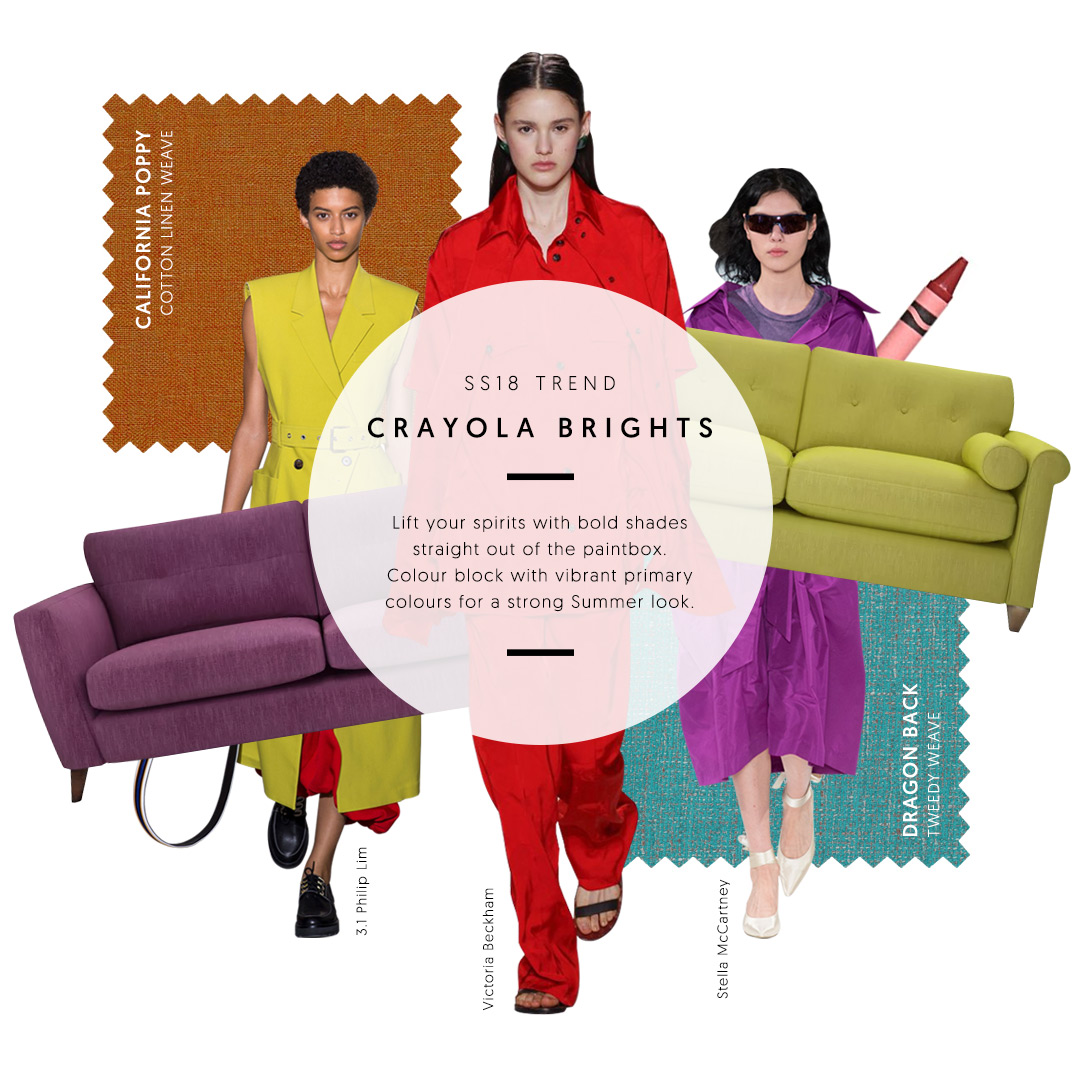 CRAYOLA BRIGHTS
Primary shades, straight out of the paintbox, made a bold statement on the catwalk this season. One bright colour, head to toe, was seen at the Victoria Beckham and Stella McCartney shows, whilst Philip Lim used colour blocking to great effect.

From left: Zoe 3 Seater Sofa in Tweedy Weave - Fox Glove, Cushion in Scion Kateri - Lime, Noah Chair in Tweedy Weave - Saffron Buddha, Harrison Circle Footstool in Soft Woven Chenille - Kingfisher Wing
At home, neutrals are an easy choice, but this season it's time to ditch the magnolia and be brave! It's surprising how much joy colour can bring into an interior. We'd suggest picking one vibrant tone and keeping everything else a little more muted. If a bright sofa is a step too far, you can add colour in the form of an accent chair or scatter cushions.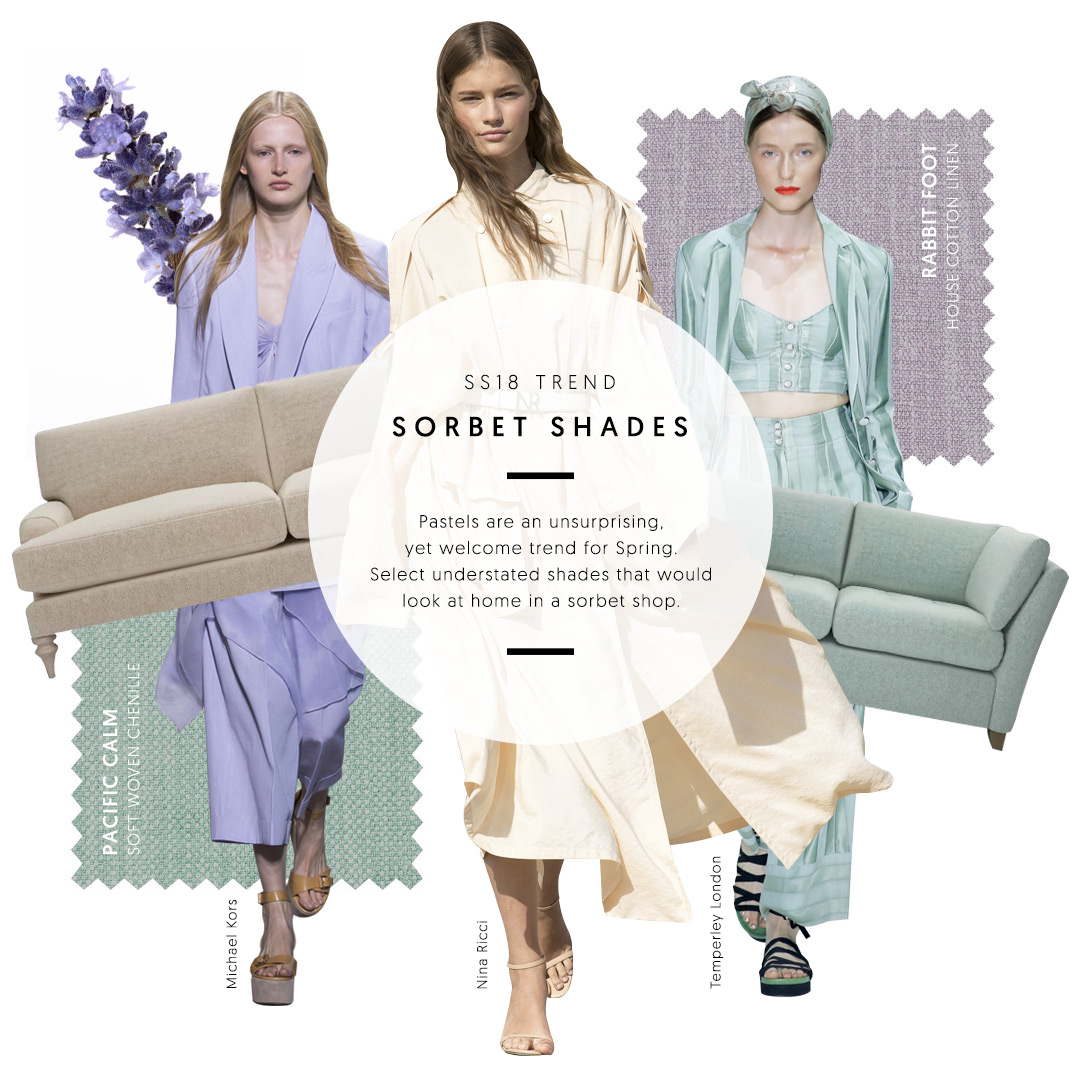 SORBET SHADES
Yearning for colour, but brights are just a bit too much? Spring saw the emergence of muted pastels with a retro vibe. Michael Kors and Nina Ricci both showed floaty fabrics in sorbet shades. Alice Temperley, on the other hand, opted for vintage inspired stripes.

From left: George Chair in Family Friendly Soft Chenille - French Macaron, Taylor Square Footstool in Tweedy Weave - Goat Beard, Phoebe 3 Seater Sofa in House Cotton Linen - Rabbit Foot, Cushion in Cotton Linen Weave - Storm Cloud
Think lavender, vanilla and mint. Understated yet refreshing tones that will elegantly add a splash of colour to your lounge. Easy to integrate into a neutral room; pastels are soft and stylish without being saccharine sweet.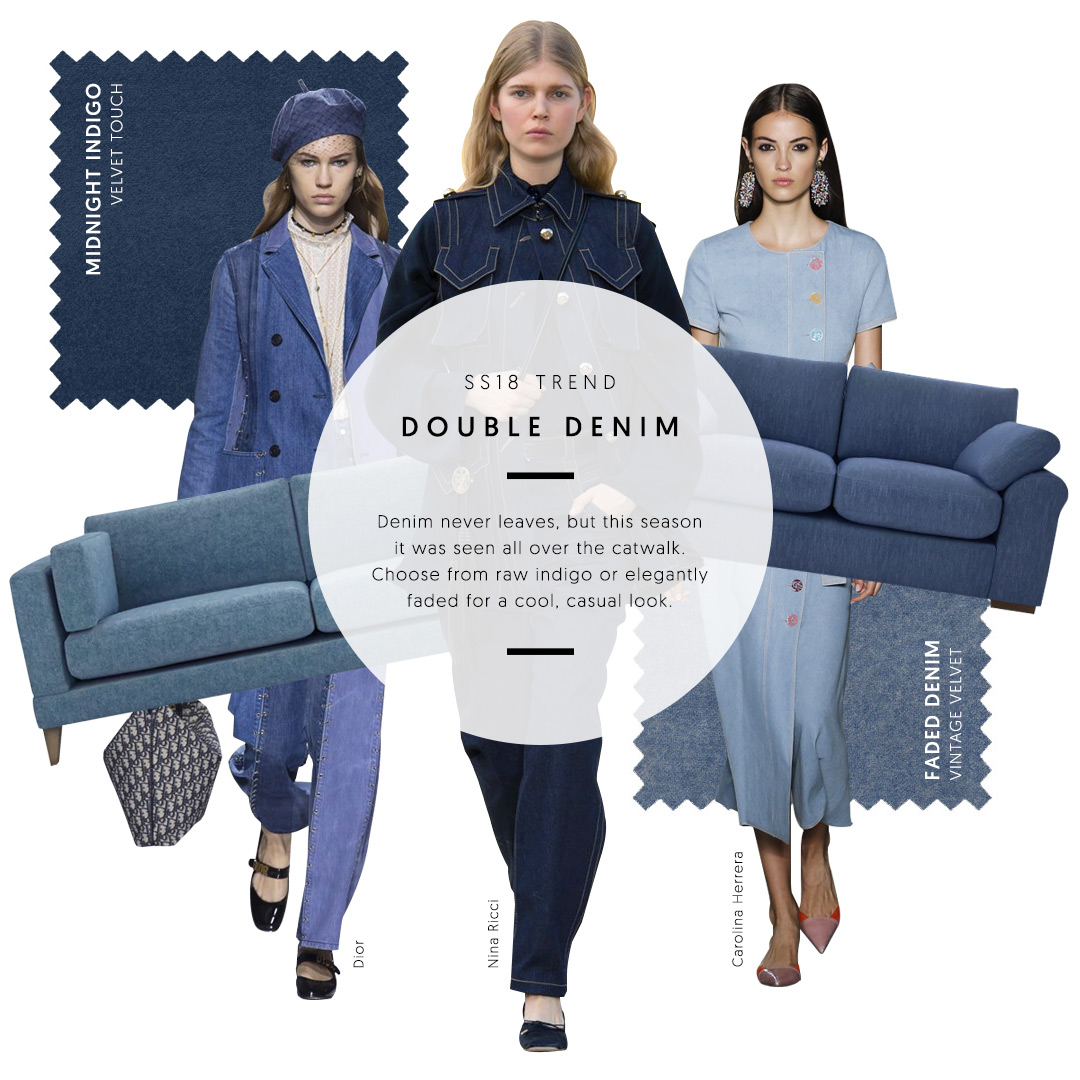 DOUBLE DENIM
Denim is a style staple that never really goes out of fashion. This season, however, denim has really taken the catwalk by storm. It was seen, in its varied shades, as top-to-toe looks in the shows of Dior, Nina Ricci and Carolina Herrera.

From left: Cushion in Family Friendly Basket Weave - Juniper Berry, Rose 2 Seater Sofa in Vintage Velvet - Faded Denim, Taylor Storage Cube in Cotton Linen Weave - Peacock Plume, Joseph Chair in Family Friendly Soft Chenille - Atlantic Denim
Denim, with it's laid-back vibe and qualities of both strength and comfort, has translated perfectly into the home; choose from vintage inspired light-wash or deep dark indigo.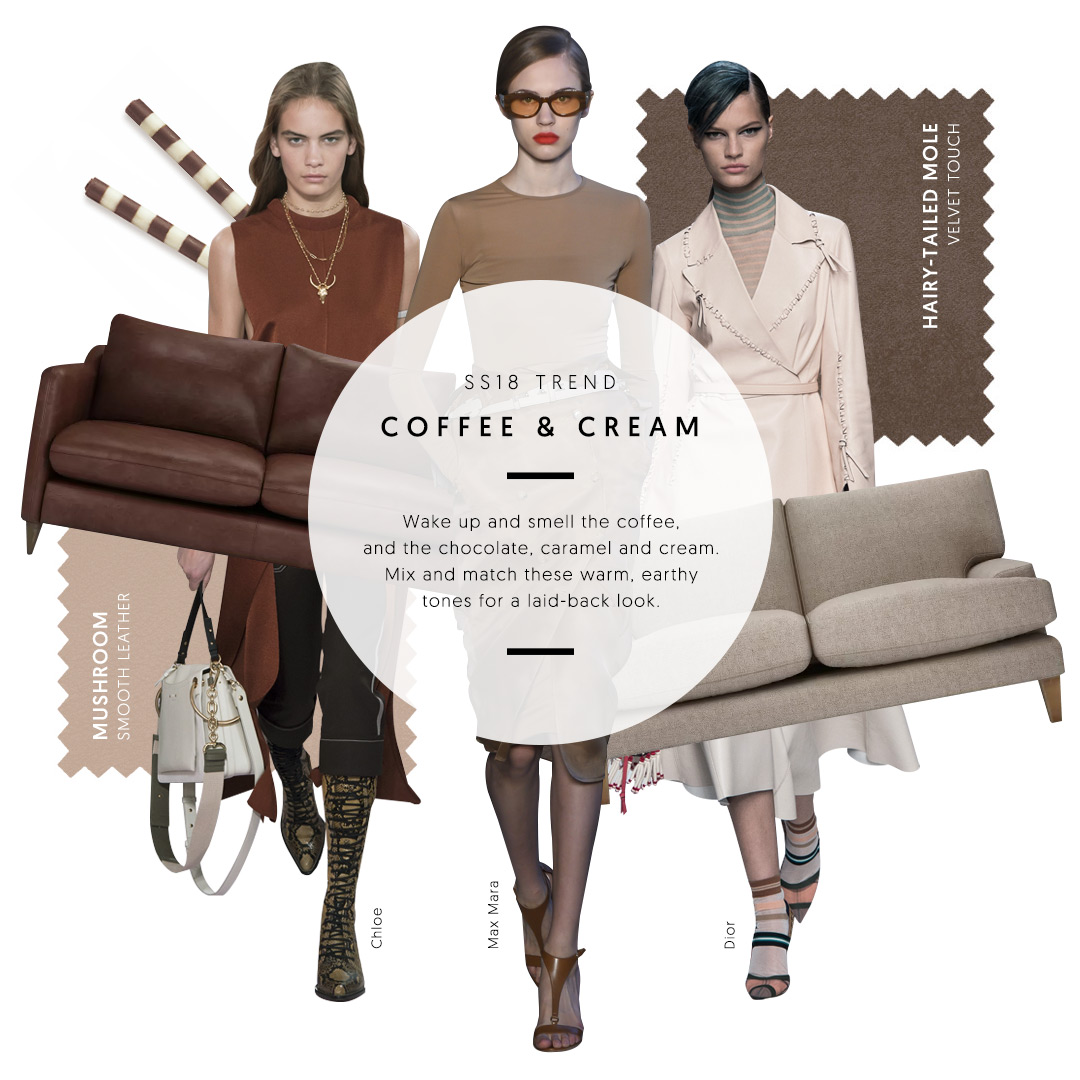 COFFEE & CREAM
Inspired by the culinary tones of coffee, cream, caramel and chocolate, dreamy looks with earthy roots were seen on the catwalk for Chloe, Max Mara and Dior. These versatile, coffee shop colours appeared as leather, silk, wool and jersey.

From left: Georgia 2 Seater Sofa in Distressed Leather - Oak, Cushion in Crushed Velvet - Monkey Tail, Joshua Chair in House Cotton Linen - Harvest Mouse, Harrison Oval Footstool in Soft Woven Chenille - Dove Cloud
For an easy and elegant seasonal update, add some brown! Perhaps not normally your go-to shade, brown is earthy and rich, yet calming and neutral. Make a statement with deep, vintage-inspired leather or keep it light with more creamy tones in soft chenille.
Choose the colour that's right for you
If you're inspired by our SS18 looks, then you can select up to 8 free fabric samples to study in more detail in your own home. Whether you opt for brights, pastels or earthy neutrals, you'll find your perfect colour at The Lounge Co.