Posted 24.11.16
A Sofa Fit for the Family
Many say that the kitchen is the heart of the home, but we believe it's the sofa! It's somewhere the whole family gathers, spends time together, relaxes and enjoys themselves. Apparently we spend around 17 years of our lives sat on a sofa, so it's worth making sure you buy the one that's perfect for you and your brood. A good family sofa is a real investment, so browse our top tips for finding 'the one'.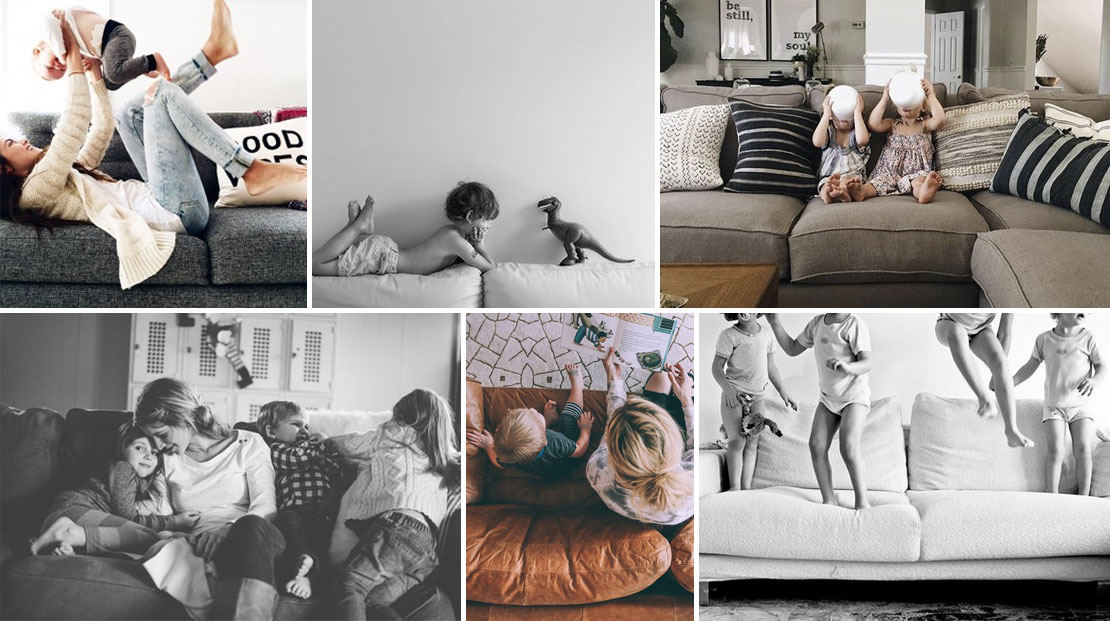 Lasting memories are made on the family sofa. Images sourced from Pinterest.
Family Sofa Factors
Budget
We understand that money can sometimes be in short supply when you've got a family to look after. At The Lounge Co. our prices are 'believable' - we offer fantastic value every day, with the same prices wherever you go, which means there's no need for embarrassing haggling. Our 2 Seater Sofas start from just £799; pretty amazing really, considering all of our furniture is made with love in the UK and is delivered for free if your order is over £300. If you're after something a bit bigger than a 2 Seater, our Chaise End Sofas start at £1,299 and you'll find Corner Sofas from £1,699.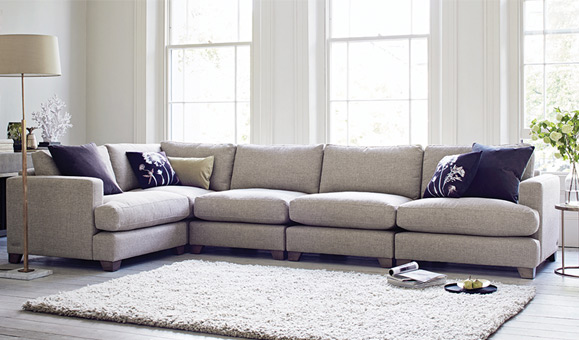 Lola Corner Sofa in Tweedy Weave - Mouse Belly. Get the look here
Size and Shape
We're sure to have a sofa that will comfortably fit every member of your family. We've got a choice of five 4 Seater Sofas - just right for mum, dad and a couple of little people! If you're looking for a bit more room then our Corner Sofas could be the solution; making the most of the space in your lounge and providing a place on which to stretch out and put your feet up.
Need more versatility with a growing family? Our modular sofa, Lola, has been designed with modern living in mind. You can choose from left and right hand units, chaise end and corner units plus a footstool, meaning that you can tailor Lola to your specific living space. You can add or remove units at any time, as they're simply connected with easy-to-use brackets on the base, and reconfigure the layout depending on the size and shape of your room.
Fabric or Leather?
The choice of fabric for your family sofa is key. You want something hard-wearing and easy to clean, yet beautiful and comfortable. At The Lounge Co. we offer a fantastic choice of fabrics including velvets, tweeds, linens and cottons, but for a family sofa that is going to last, we'd highly recommend our innovative Family Friendly Fabrics. Our Family Friendly Basket Weave and Soft Chenille are available in a range of stylish shades and use Aquaclean® Technology, meaning you can clean household stains with just water. Sounds good doesn't it?! Want to know more about how Aquaclean® works? Find out here.
Leather is a more expensive option, but it can be a great choice for a family sofa. Leather is a naturally hard-wearing material, and is surprisingly easy to care for. Our two leathers, smooth and distressed, are both semi-aniline, which is more hard-wearing than full-aniline whilst still retaining a natural appearance. Increased durability is provided by the application of a light surface coating which contains a small amount of pigment, which also makes it easier to clean. Discover more about the leathers we offer here.

Protection
Because a family sofa is a big investment, we also offer extra peace of mind of with PremierCare Protection. The protection covers your furniture for 5 years, making sure its appearance is not spoiled by everyday accidents such as household spills, rips, tears or burns. And with a house full of busy people (and we know the dog loves sitting on the sofa too) it's an idea worth thinking about. Find out more here.
Quality
The Lounge Co. is part of Sofa Brands International - a group who have been making great sofas and chairs for years. In fact, Parker Knoll - one of our sister brands - was established in 1869. That means we've got nearly 150 years' experience at our disposal. All of our furniture is designed and made by expert craftsmen in our purpose-built factory in the North of England; we're so confident in our quality, we've given all of our sofas and chairs a 10-year frame guarantee. That's great peace of mind for you, after all a sofa needs to cope with the rigours of everyday family life. Read our blog about quality and craftsmanship to find out more.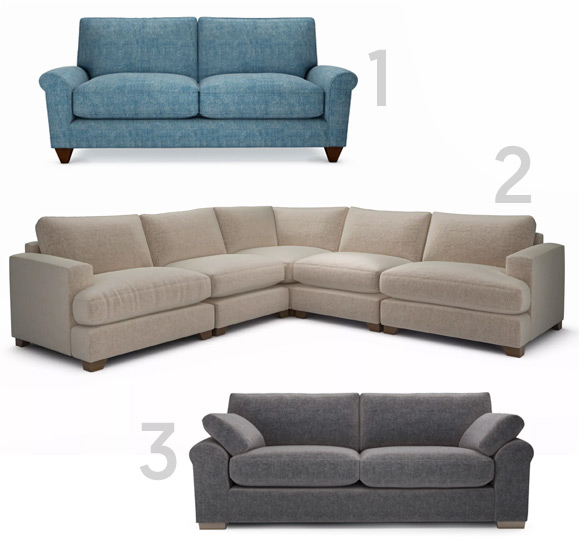 Our Top Three Family Sofas
A deep, soft and incredibly comfortable range with a nod towards the casual classic. Chloe is a well designed family sofa that won't go out of fashion, and with a 2 Seater from just £799, it's not going to break the bank.
A great choice if you want versatility for a growing family. Tailor Lola's modular units to fit your lounge and your life perfectly. Available from £898 for a 3 Seater Sofa.
Big and comfy, soft and sumptuous; the perfect family sofa for lazy Sunday afternoons. A great choice for kids, although we can't guarantee they won't want to jump up and down on it!
So choose your favourite sofa, get the family together and start making some memories...
To see some of our bestselling family sofas, click here.