Posted 27.04.17
Fabulous Footstools
Taylor Storage Bench in Family Friendly Kaleidoscope Weave - Inkcap Mushroom
br>
Footstool. Not really a word that conjures up a notion of style, elegance or modernity. Don't be fooled! The utilitarian name belies the positively plentiful uses of this fabulous piece of furniture.
Stylish, yet versatile and practical, our range of footstools are a great way to add colour and texture to your home. Use them as extra seats or simply for putting your feet up. At The Lounge Co., we've got a great choice of footstool shapes and styles...
Our range of Taylor Footstools are square in shape. Their neat upholstery and clean lines would suit a modern home, and the stylish simplicity of their design means that they would complement any sofa.
The newest addition to the range is the Taylor Storage Bench, big brother to our best-selling Taylor Storage Cube. Not only is it great as an extra seat, it's perfect for storing books, throws, kids toys or a secret stash of biscuits! Turn the square lid over to reveal a beautifully constructed wooden tray, which means you've got somewhere to put your cup of tea. The footstool is available in over 100 beautiful fabrics and you can choose from Vintage Oak, Washed Oak or Walnut for the tray. Shop Taylor Storage Bench here.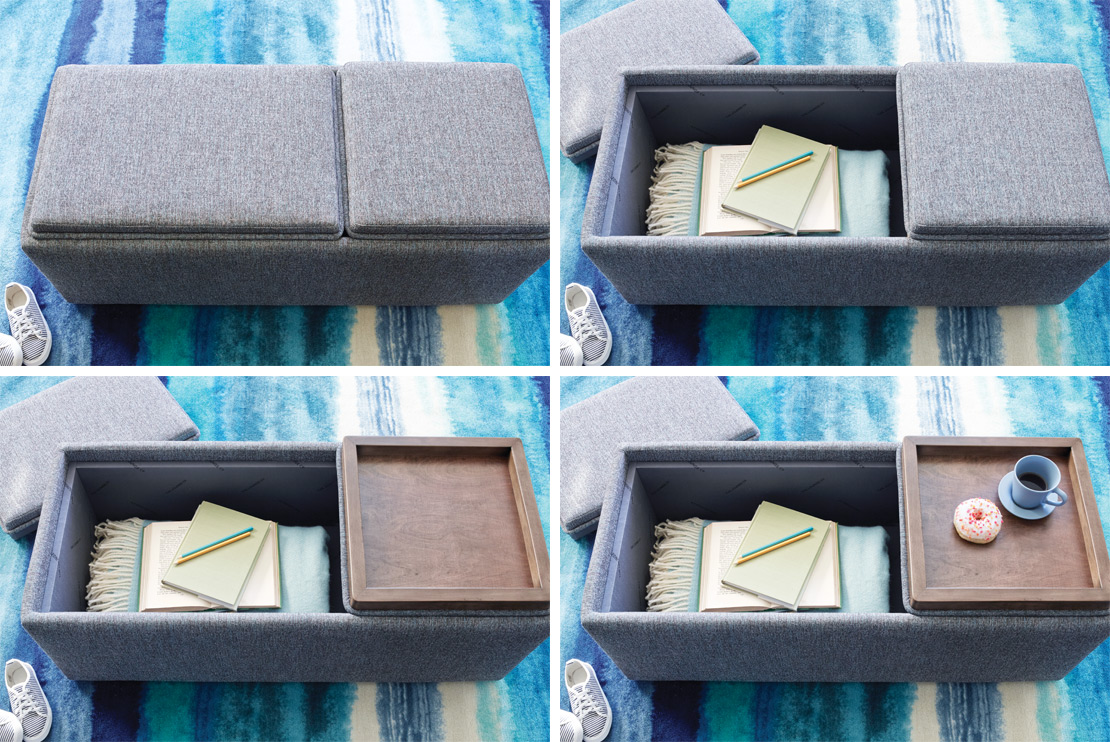 Perhaps you'd prefer the Storage Cube - maybe you've got limited space, or want to use it as a side table next to your sofa? The extra storage space is invaluable, but there are so many more reasons to make it a part of your lounge. Read our 'Multi-talented Taylor' blog and discover the 101 reasons (well 8) why your home needs this innovative product.
Alongside our storage footstools, the Taylor range also includes a square and oblong shape.

From left to right: Taylor Storage Bench in Soft Woven Chenille - Pigeon Foot, Taylor Storage Cube in Crushed Velvet - Spring Squill, Taylor Square in Family Friendly Basket Weave - Bluebird Feather, Taylor Oblong in Soft Woven Chenille - Pacific Calm.
Configure your perfect Taylor here.
Our circular Harrison Footstools come in a range of widths and heights. Their elegant curves will add softness to your lounge, and they make a great statement piece when upholstered in one of our accent fabrics.
Harrison Circle Footstool in Stargazer Blue
If you love colour but aren't quite brave enough to choose it for your sofa, a footstool clad in a vibrant hue is a great way to add a splash to your lounge. Even better, combine with cushions in matching or complementary fabrics to carry the colour scheme through the room.
Harrison is available as a tall, circle or oval footstool. The tall is slim and neat, and would make a great alternative to a side table. The oval is large and low, and is a modern twist on a traditional coffee table; just add your favourite books and a tray for your drinks.

From left to right: Harrison Tall in Herringbone - Unicorn Horn, Harrison Circle in Stargazer Blue, Harrison Oval in Tweedy Weave - Dragon Back.
Create your perfect Harrison here.
Don't forget about Lola and Lottie! Both are modular sofa ranges which include footstools.

Although they are part of modular collections (find out more here), there's no reason you can't buy a Lola or Lottie footstool on it's own, if it's the style you're looking for.
Lola has a traditional edge, and unlike our other footstools it has wooden feet; choose from Vintage Oak, Washed Oak or Walnut. Lola is available in over 100 beautiful fabrics and makes a comfortable seat or elegant occasional table. If you like the look of Lola, use the footstool with the other sofa modules to create a versatile Chaise End. Create your perfect Lola here.

From left to right: Lola Footstool in Soft Woven Chenille - Dove Cloud, Lola Footstool in Crushed Velvet - Monkey Tail, Lottie Footstool in Soft Woven Chenille - Alpine Butterfly, Lottie Footstool in Velvet Touch - Mulberry Juice.
Lottie is our newest sofa range, she's low and contemporary with clean tailored lines. The Lottie Footstool is simple, stylish and comfortable; beautifully formed with premium materials to match the other Lottie modules. She's the perfect height to turn your sofa into a chaise, or simply to use as a table. We'd recommend choosing a Family Friendly fabric, just in case you spill your coffee! Discover more about Lottie here.
Stylish, versatile and practical, handcrafted with love in the UK and with a 10 year frame guarantee. What more could you want? Put your feet up and discover our complete collection of footstools here.