Posted 10.01.18
Denim Blues
We've all got a favourite pair of jeans, usually the oldest ones in our wardrobe that have seen better days, but we can't bear to part with. There's something intrinsically cool, yet warm and comforting about denim.
Invented by Jacob Davis and Levi Strauss in 1873, jeans were originally designed as workwear, but during the mid 20th Century their increasing popularity has meant they are now a casual staple in most people's wardrobes.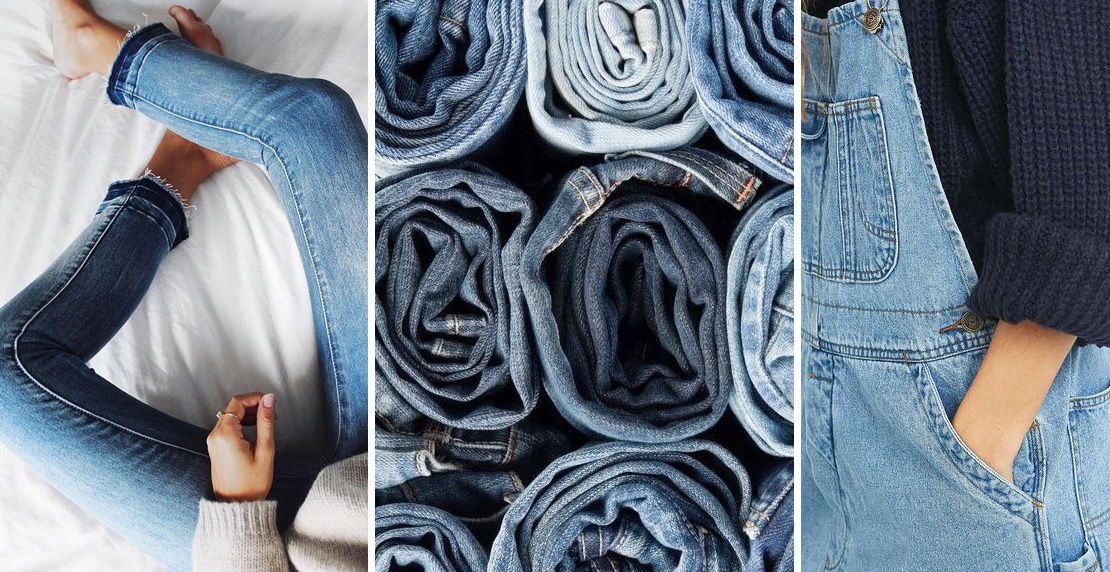 So denim, with it's laid-back vibe and qualities of both strength and comfort, has translated perfectly into the home; a trend which we've seen growing for the past few years.
Choose a Blue Hue
Ok, you might not actually want a denim sofa, but at The Lounge Co. you'll find a stylish range denim-inspired shades in a range of fabrics including cotton, linen, velvet and chenille. Here are some of our favourites: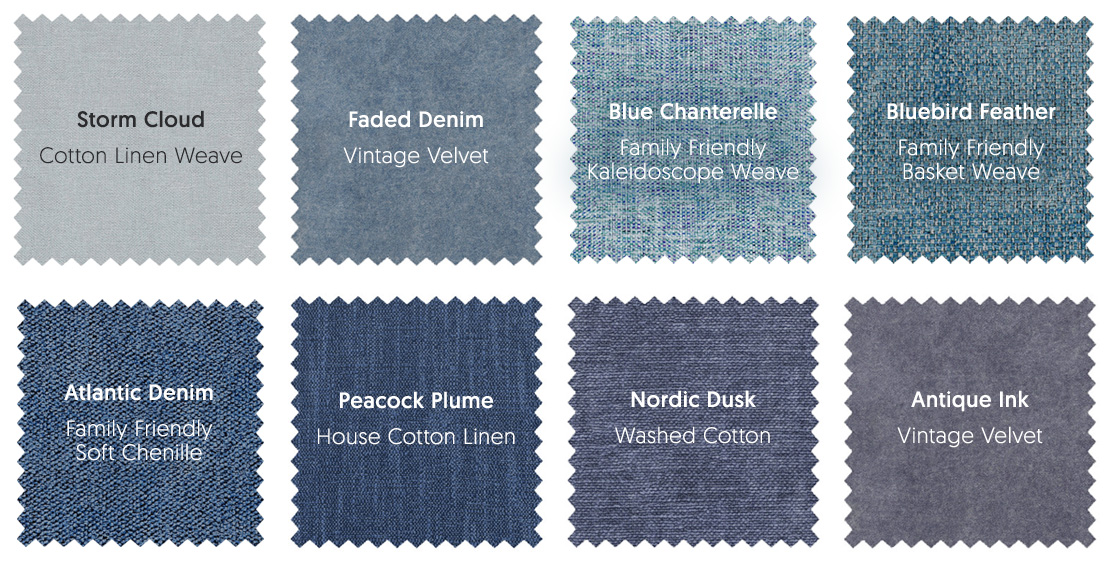 See one you like? You can order up to 8 fabric swatches, delivered to you for free.
Whether you're a fan of a light washed jeans or prefer a deeper indigo, you'll find a fabric that matches your taste in denim. Our ranges of Vintage Velvet and Washed Cotton have that coveted 'lived-in' look that will give your sofa a casual edge. If you your sofa has to withstand the wear-and-tear of family life, our range of Family Friendly Fabrics provide a selection of cool blues that can be cleaned with just a damp cloth.
Accessorising Denim Blue
Faded blues are cool and calming, and work well in both modern and traditional interiors. Here are a few ideas of how denim shades could fit into your home: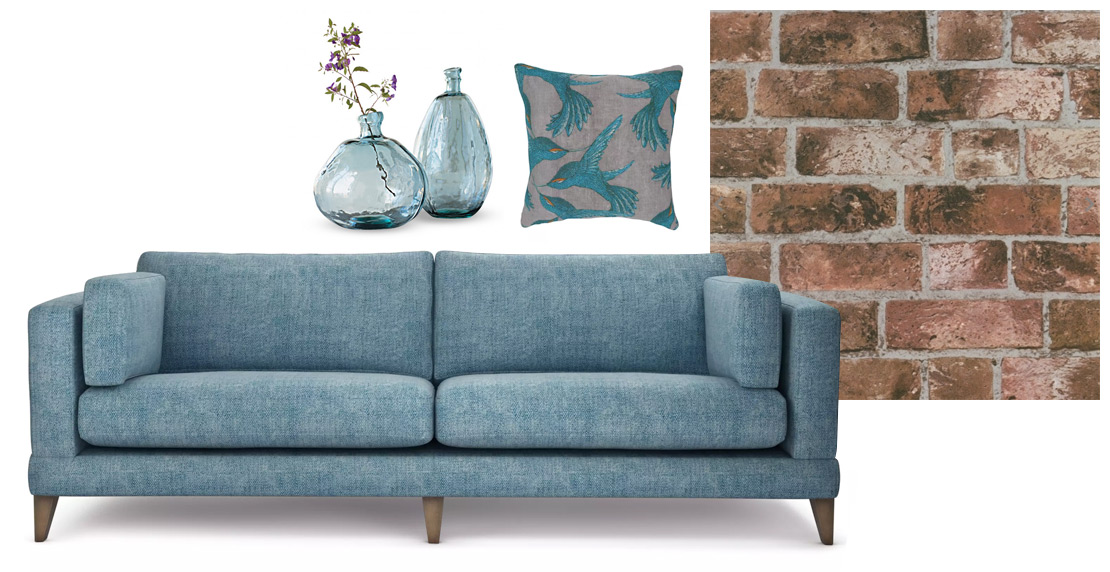 Loft Living
Denim blue is perfectly at home in a laid-back loft apartment; modern with industrial influences and plenty of natural light.
If you haven't got a loft, but want the look, you can find realistic looking brick wallpapers - ideal for a feature wall. Accessorise with modern patterns and natural textures.
Traditional with a Twist
Denim might not be synonymous with classic interiors, but a soft blue hue can add a relaxed tone to a more traditional theme.
The combination of blue and cream is a stylish one; just think of the classic tones of a Wedgewood vase. To add some depth to the look, add cushions in a darker shade of blue.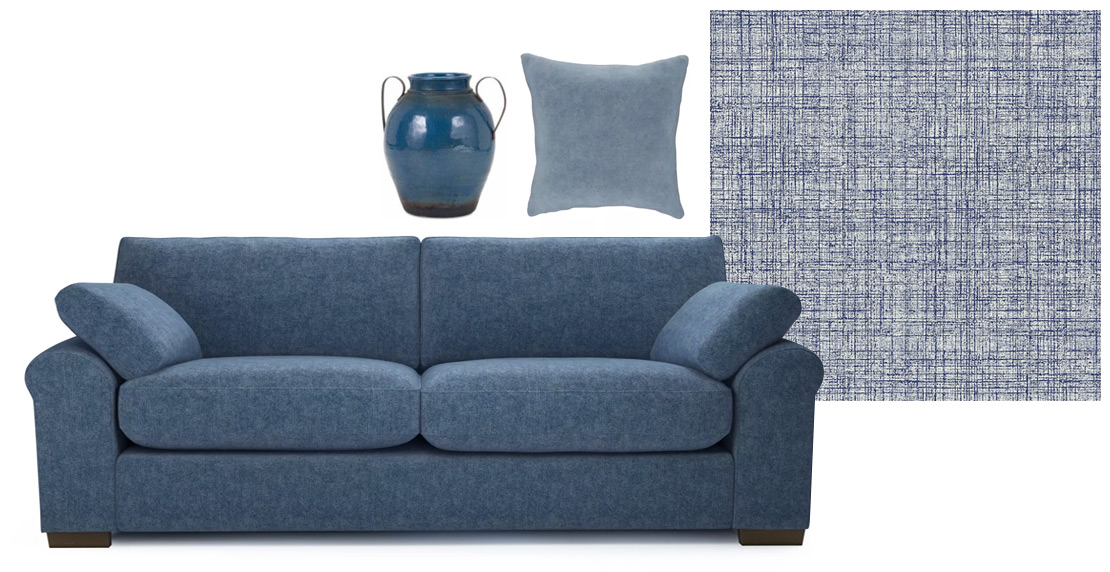 Double Denim
If you're a lover of denim in all its shades, then commit to a double (or triple) denim look!
Opt for grey-blue walls or this stylish, retro-inspired Khadi wallpaper by British brand Scion. Add in different shades of blue in the form of cushions and accessories for a look that is cool and tranquil.
Sofa: Sophia 4 Seater in Family Friendly Soft Chenille - Atlantic Denim. Cushion: Faded Denim.
Denim Inspiration
The perfect mix of fashion, function and form. Who wouldn't want their favourite jeans translated into their lovely new sofa? (Plus a roast dinner won't make your sofa seem a bit tight!)
For more interior ideas on how to introduce denim shades into your home, check out our 'Denim Blues' pinboard: