Posted 15.05.17
Daniela Tasca York

We were lucky enough to have the winner of this year's Great Interior Design Challenge, Daniela Tasca York, pay a visit to our Chiswick store to offer her expert advice and pick her favourites from our collection.
Daniela began her career in the world of fashion, but during her time living in the Mediterranean she embraced interior design. After returning to the UK, Daniela decided to enter The Great Interior Design Challenge. Now, after being crowned winner of the 2017 show, Daniela has gone on to work alongside Kelly Hoppen, assisting with client projects, styling, and consultation. You can find out more about Daniela here.
Daniela's Interior Design Tips
Daniela was kind enough to share some of her interior design secrets with us. Here are her top tips: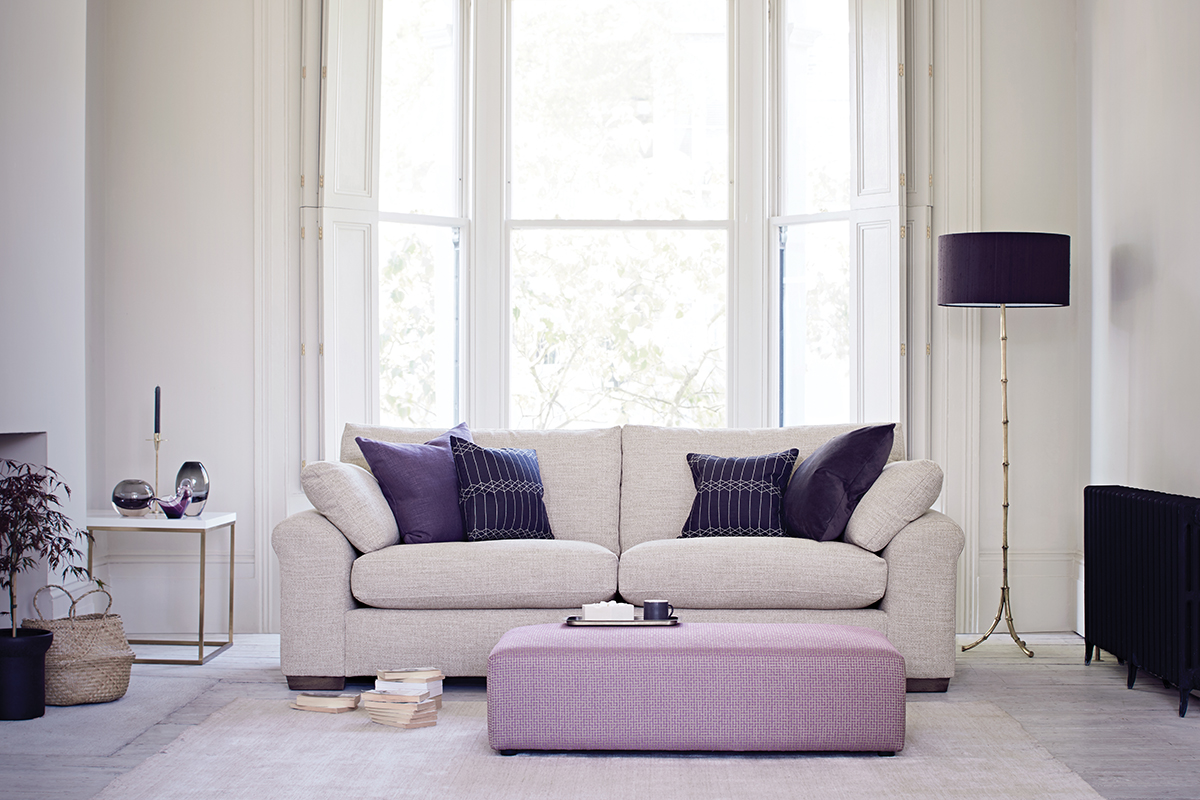 Keeping your walls, floor and sofa neutral is a clever way to extend the longevity of your lounge. Take our sumptuous Sophia sofa as an example; upholstered in the beautifully neutral Family Friendly Basket Weave - Bunny tail, we've added colour with cushions in deep shades of blue and purple. A lamp, and footstool in a subtle purple pattern complements the look.
Daniela is a big fan of using artwork to introduce colour and pattern. Look out for 'affordable art fairs' to get something original and unique that won't break the bank.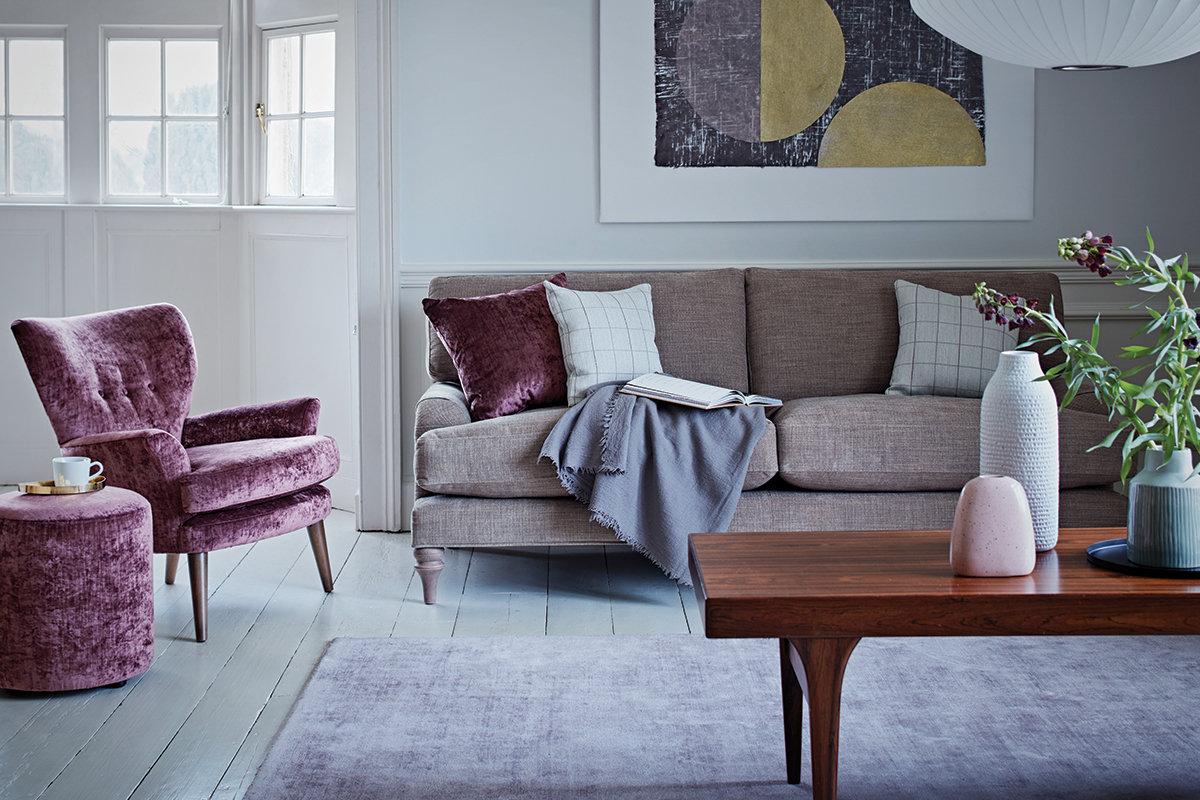 According to Daniela, carpets have had their day! Opt for the more versatile and stylish solution of wooden flooring. If you want to keep your room light and bright, why not paint your floorboards white, and get the look of our sophisticated Rose lifestyle. Haven't got an original wooden floor? Wood-effect laminate is a great alternative; realistic looking and easy to clean.
Keep your feet warm by adding a large rug that complements your sofa. It'll also add a touch of colour and texture to your lounge.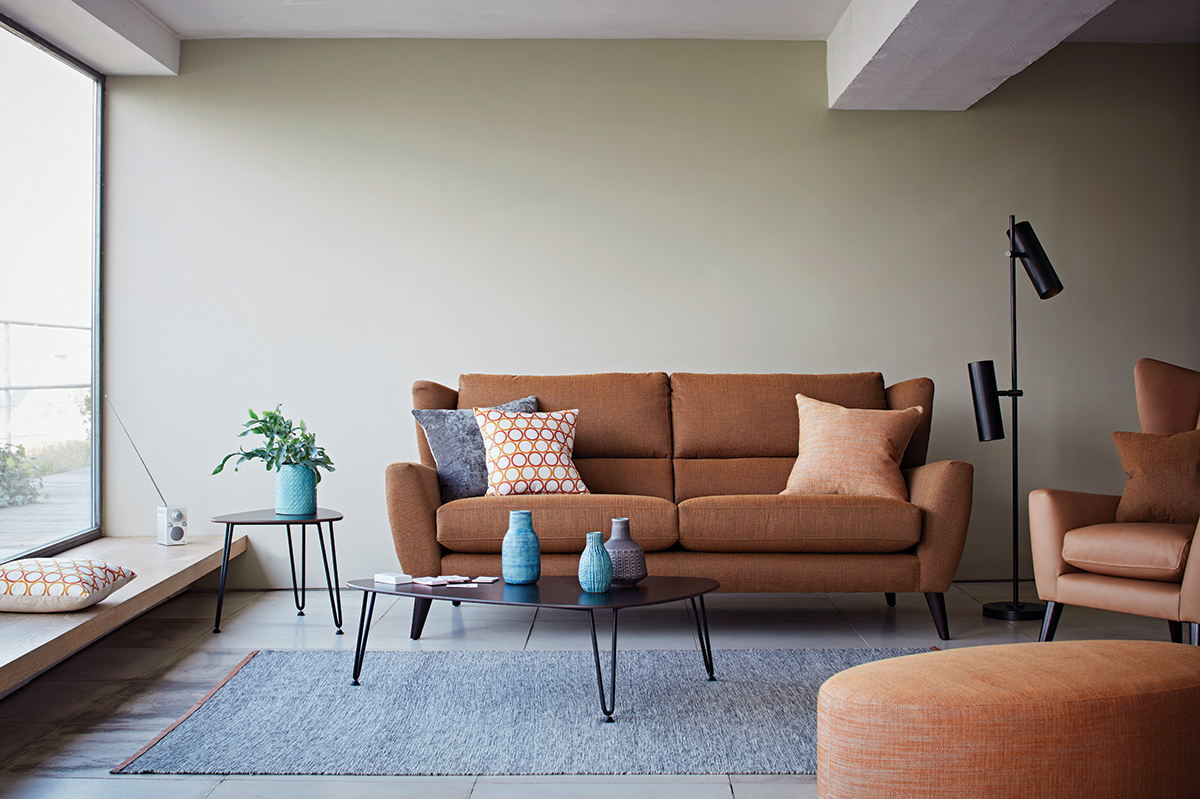 Ebay isn't just about second-hand clothes, it's a treasure-trove of unique home accessories and vintage finds. You'll also find samples and end-of-line items which means you can still create a stylish lounge on a budget.
If you're a fan of the Mid-Century look as shown in our Florence lifestyle, scour ebay for original vintage items as well as modern copies. Small accessories such as vases and cushions can make all the difference in creating a retro-inspired look.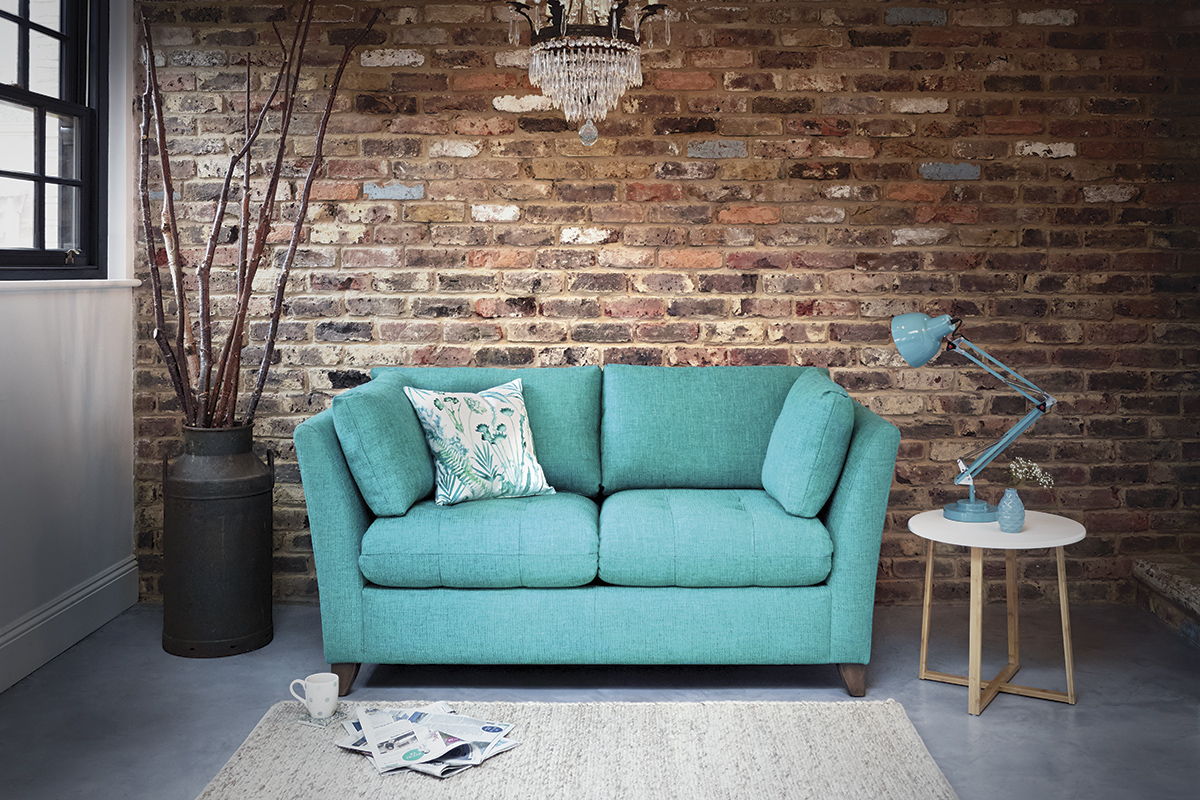 Daniela recommends splurging on a great quality piece of furniture and accessorising with cheaper items from the High Street.
When you buy from The Lounge Co, you'll get a quality sofa, made with love in the UK by expert craftsmen, delivered for free and wrapped up with a 10 year frame guarantee. Finish your room with great value, on-trend items from high street shops or even supermarkets, meaning that if you want to change the look, it won't cost the Earth.

Pinterest is an invaluable tool when you're planning your home decor. Create a different board for each theme you like, then you can compare ideas and choose your favourite. It's also a great place to store items you've found on websites that you want to buy at a later date. Don't forget to follow The Lounge Co. on 'Pinterest - we've got some stunning boards full of interior inspiration.
You can watch the full video of Daniela's interior tips here.
It's so easy to create your perfect sofa or chair
While Daniela was in our Chiswick store, she chose some of her favourite pieces from The Lounge Co. collection and showed how easy it was to configure them on the kiosk in store.

Daniela's first choice was Lottie; she chose the corner sofa and upholstered in Crushed Velvet - Dragonfly Wing (her favourite colour). Next, Daniela configured her favourite chair, Thomas. She loved the shape and the fact that you can really sink back into it. For Thomas, Daniela chose Velvet Touch - Blue-Coral Snake with Walnut feet. Finally, Daniela chose Rose; a classic shape that's not too heavy - perfect for smaller rooms. She configured Rose in the gorgeous neutral Herringbone - Unicorn Horn with Washed Oak feet.

You can see Daniela configuring her favourite products on our YouTube channel.
Thanks to Daniela for a great day at our Chiswick store. Find your nearest store here, sit test our stylish collection and see how easy it is to create your perfect sofa.