Posted 24.08.16
The Lounge Co. Flagship Store
When it came to creating a physical space for The Lounge Co. to show off our stunning collection, try for size, sit, slump or simply lounge, we thought there might be some fun to have. You'll find our first store and flagship in Chiswick, West London, not far from the common and a stone's throw from the Thames, the past dwelling place of poets Alexander Pope, W.B. Yeats, novelist E.M. Forster and Impressionist painter Camille Pissarro. It's also the start of the North and South Circular, the M4, and 5 minutes walk from the District Line's Turnham Green Station - pretty convenient then.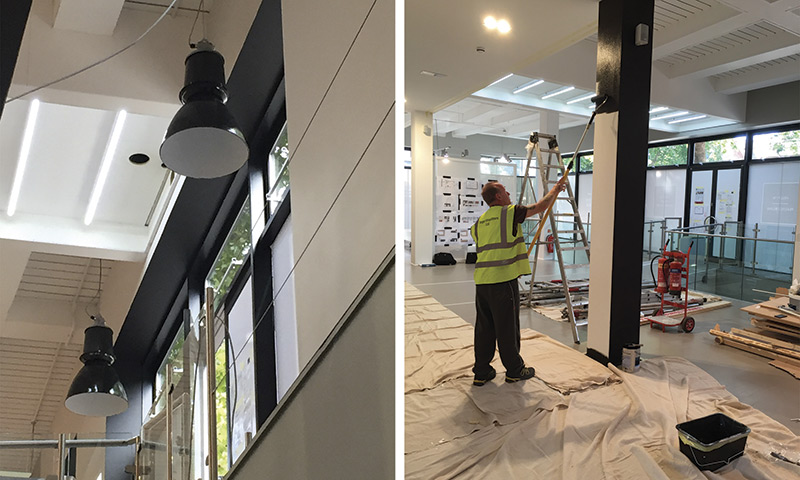 The renovation of The Lounge Co. flagship store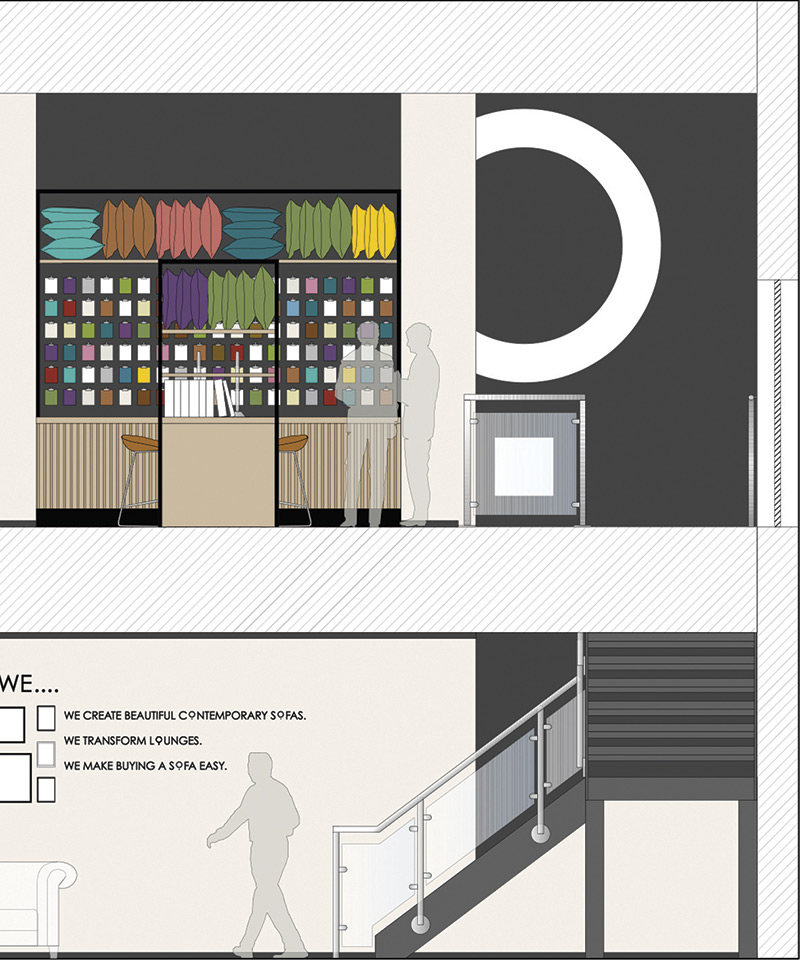 The architect's drawing of the store interior
With three old shops rolled into one there's plenty of space for you to see what we're all about - here you'll find the largest selection of our sofas and chairs, footstools and cushions. Taking the stress out of buying a sofa (not an easy task, granted) you'll find interactive tablets, our Configurator to play with - mixing and matching styles, sizes and fabrics until you find your perfect combination - and lots of lovely people to help you through the process.
We know how important it is to try before you buy, so throwing yourself into these sofas - sitting on them, lying along them, bouncing up and down on them, getting to thoroughly know Phoebe, Mallory, Lola and the rest of the gang is what this place is for. Don't forget to pick up a selection of free fabric swatches to take away and test against your walls, floor, and other bits and pieces, to see how well your new sofa will fit in at home.
Our architects Turner Bates envisioned a simple, streamlined interior, much like our buying process. Drawing on their 25 years experience working on retail projects for the likes of Crabtree & Evelyn, Jack Wills and Marks & Spencer, the team was led by Sarah Acres. 'We worked closely with The Lounge Co. to develop a scheme that would reflect the brand's identity and create a backdrop to show off their range in a warm and inviting space. On entry, you are greeted with two armchairs suspended in mid-air over a void drawing the eye down into the space below. The simple use of painted lines along the ceiling and walls reflects the attention to detail evident in the products. Aside from a beautiful oak welcome desk, the interactive fabric bar and multiple customer order points make it easy to sample fabrics, choose accessories and create beautiful sofas.'
The personal touches are all ours - seek out the wall of The Lounge Co. family photos and discover the faces and forces behind the brand. There's a few funny stories in there, if you dare ask.
Helen English, our store manager, will open the doors for the first time on August 26th, so why not come round to our place for a cuppa and see the range for yourself? You'll find us at 104-108 Chiswick High Road, W4 1PU.