Family Friendly Premium Velvet
At The Lounge Co. we know that a lot of life happens on your sofa. It's the centre of the home, a hub for the family. Whether you're watching the latest movie, having a well-deserved takeaway, inviting a few friends round for drinks or simply having some snuggle time with your loved ones, your sofa goes through a lot!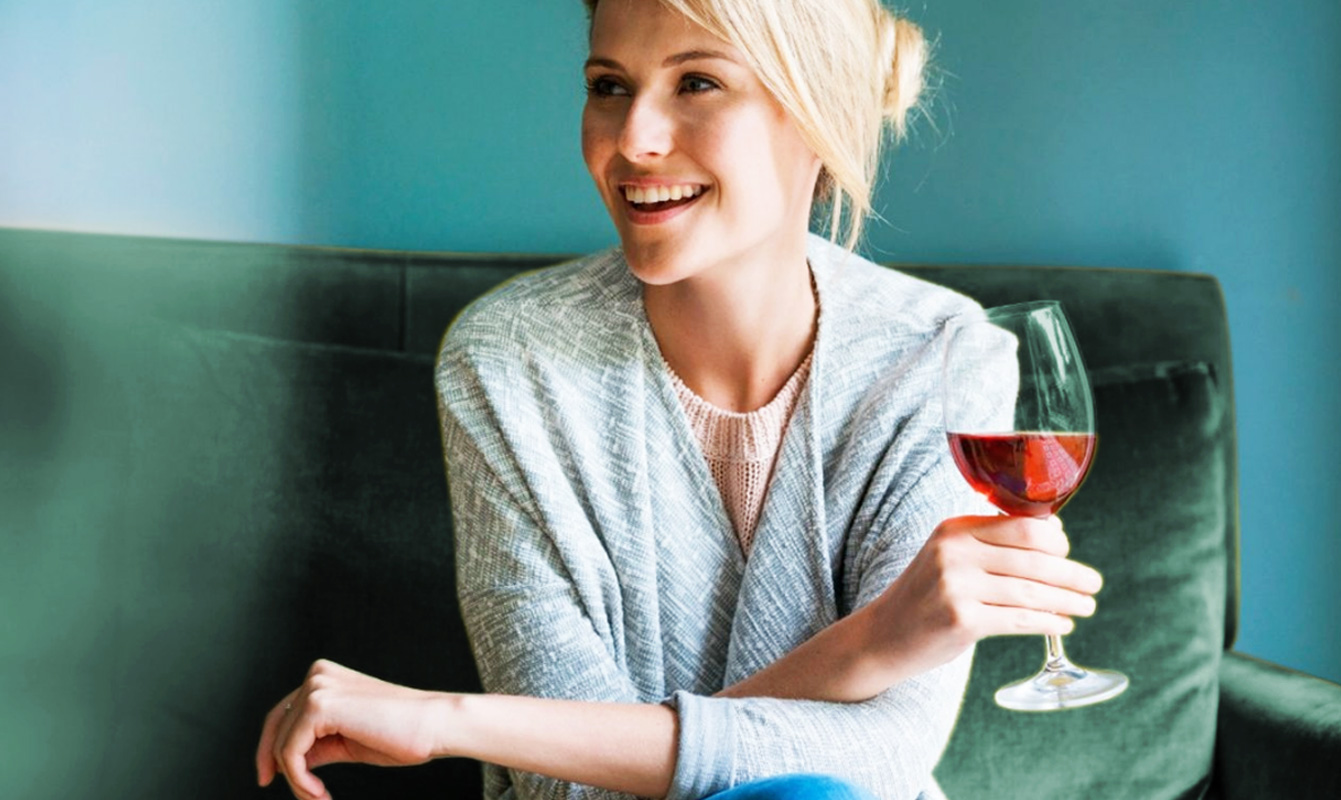 That's why our customers love our range of Family Friendly Fabrics, which use clever stain, odour and moisture resisting technology, making it easy to clean dirt and spills.
The newest addition is our Family Friendly Premium Velvet, six luxurious textured velvets available in timeless tones. Part fabric, part magic, this elegant collection comes with the peace of mind that you can remove everyday stains with just soap and water.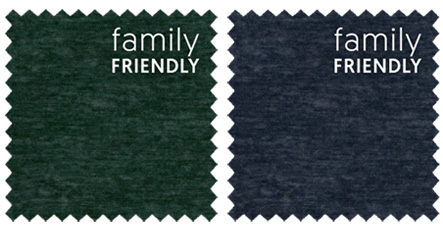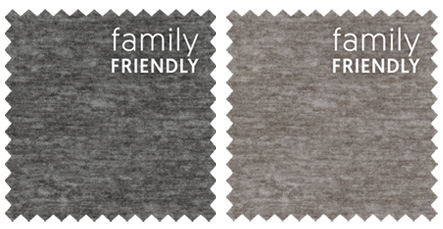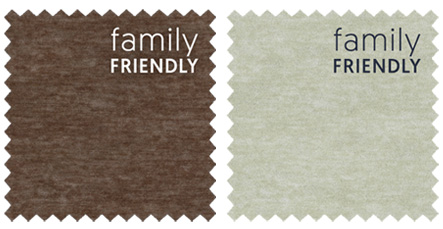 Family Friendly Premium Velvets from left to right: Kitchen Garden, Evening Affair, Family Silver, Dove Cote, Manor House, French Linen
Has the idea of having a velvet sofa in your busy family home always seemed like a pipe dream? Well, it can now be a reality with our sophisticated velvets that are easy to keep looking as good as new.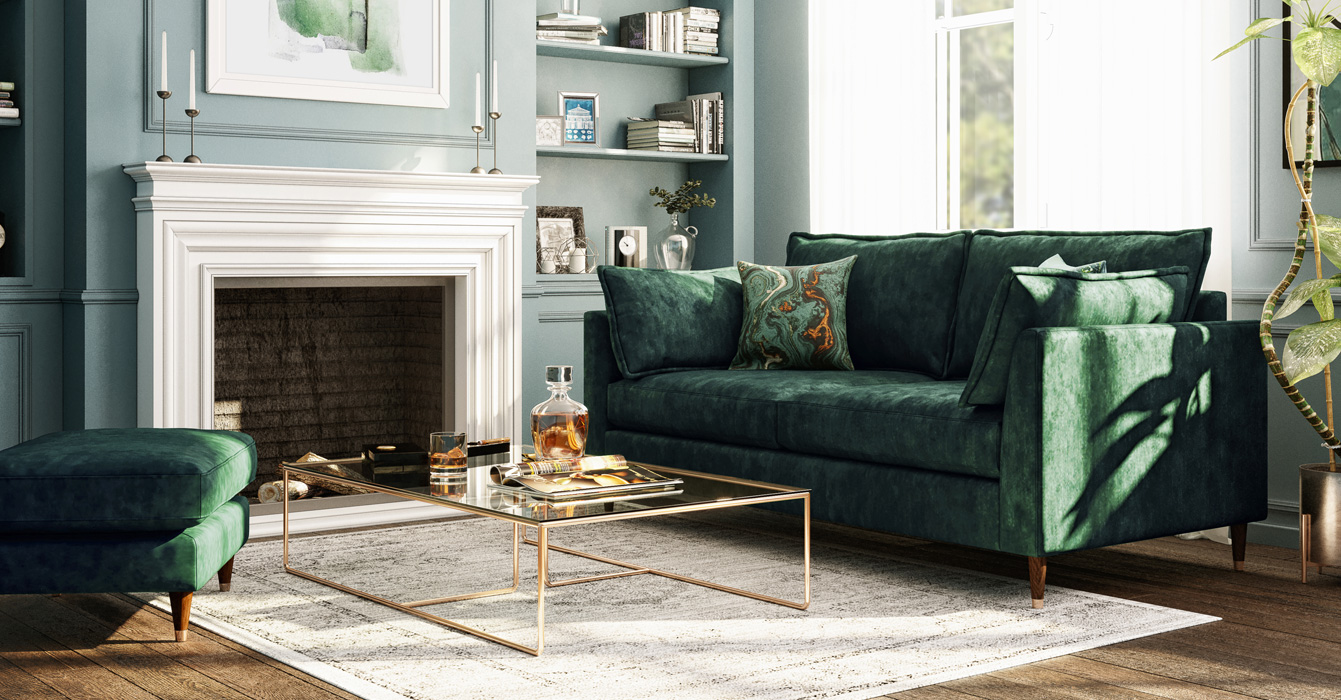 Shown here: Colette Footstool and Colette 3-Seater Sofa in Family Friendly Premium Velvet – Kitchen Garden (exclusive to Furniture Village)
How does Family Friendly Premium Velvet work?
Our new range of Family Friendly Premium Velvets use Crypton Home technology, whose stain repellence and soil release make cleaning up after mishaps easy and painless.
Protection is sealed into every fibre for the life of the fabric, meaning not only are the fabrics durable, but they're also super soft and tactile. The fabrics release both oil and water-based stains and resist the growth of odour causing microbes.
Simple Cleaning
If the worst does happen and you spill something on your lovely new sofa, you can get rid of the evidence in a matter of minutes!
All you need is a clean cloth, soap and water solution and a soft-bristle brush.

1. Wipe away excess mess with a clean, dry towel.
2. Mix a simple soap and water solution. We recommend mixing 1 teaspoon of enzyme laundry detergent with 2 cups of warm water.
3. Apply using a spray bottle and agitate with a soft-bristle brush.
4. Blot with a clean towel.
5. Rinse thoroughly and repeat if necessary.
Family Friendly Interior Inspiration
You'll find our range of Family Friendly Premium Velvets in six classic shades, we've chosen them because they've got timeless elegance that will last from year to year. However, you'll find these versatile colours will fit nicely into even the most current interior design trends...
Biophilic Design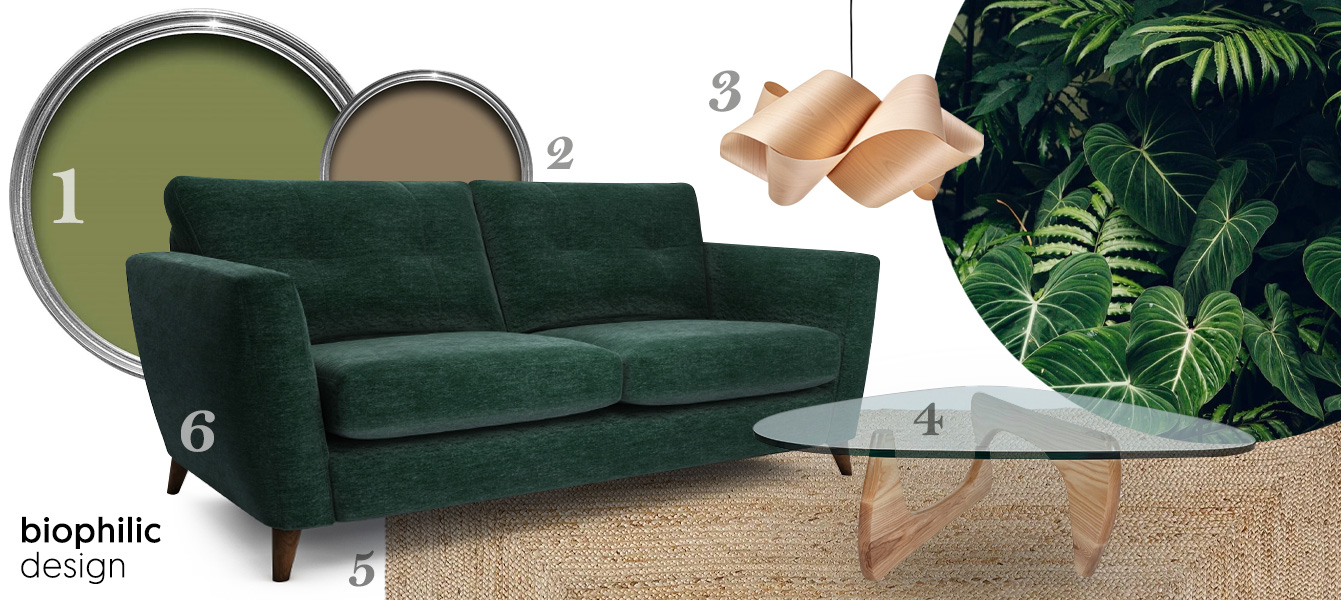 1. Sap Green from Farrow & Ball 2. Broccoli Brown from Farrow & Ball 3. Swirl Wood Pendant from Luminesy 4. Tribeca Coffee Table from Pash 5. Jute Rug from Dunelm 6. Holly 3 Seater Sofa in Kitchen Garden from The Lounge Co.
Biophilic design is a concept used to connect the natural environment to inside spaces. The use of light and space, natural materials and indoor planting helps to bring the outside in. Our Kitchen Garden fabric is a beautiful deep green; a luxurious shade that's inspired by nature and will look gorgeous on your sofa!
Japandi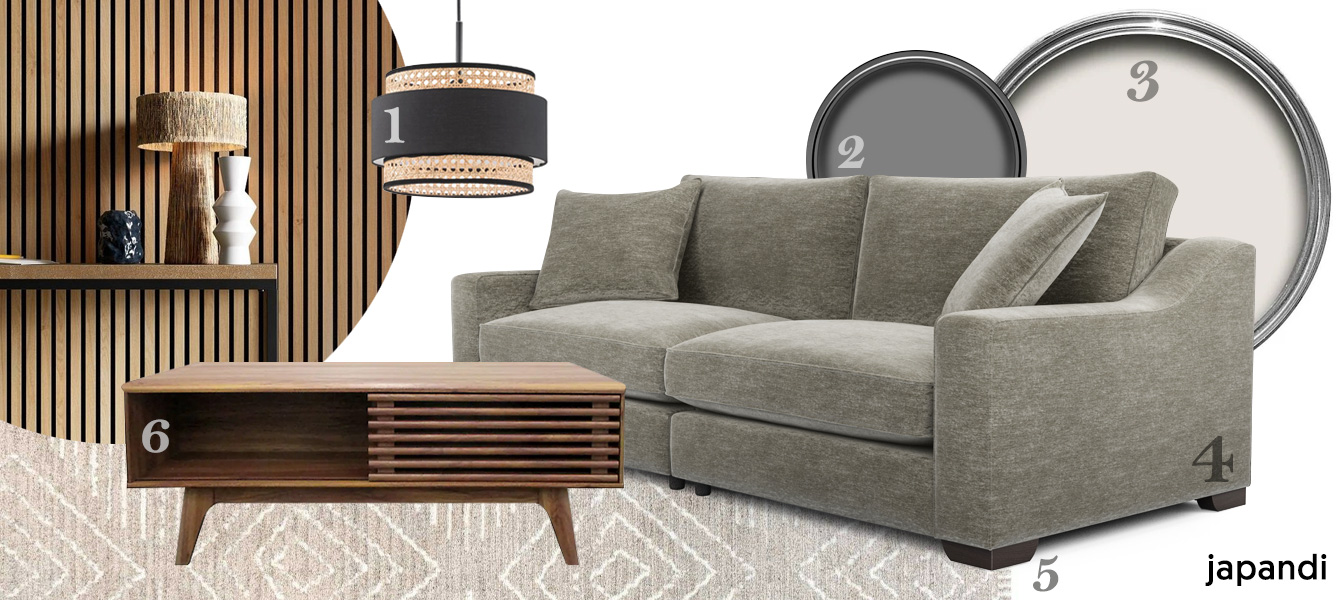 1. Rattan Lampshade from Lights.co.uk 2. Urban Obsession from Dulux 3. Wevet from Farrow & Ball 4. Imogen 4 Seater Sofa in Dove Cote from The Lounge Co. 5. Patterned Rug from Ebay 6. Coffee Table from Wayfair
A big interior trend this year is a surprising clash of cultures; the collision of Japanese and Scandinavian aesthetics gives birth to 'Japandi'. A focus on simplicity and natural tones creating a harmony of elegant minimalism with a rustic twist. Our Dove Cote fabric is a warm, neutral tone that works effortlessly with a palette of cream, grey, black and taupe.
Seventies Style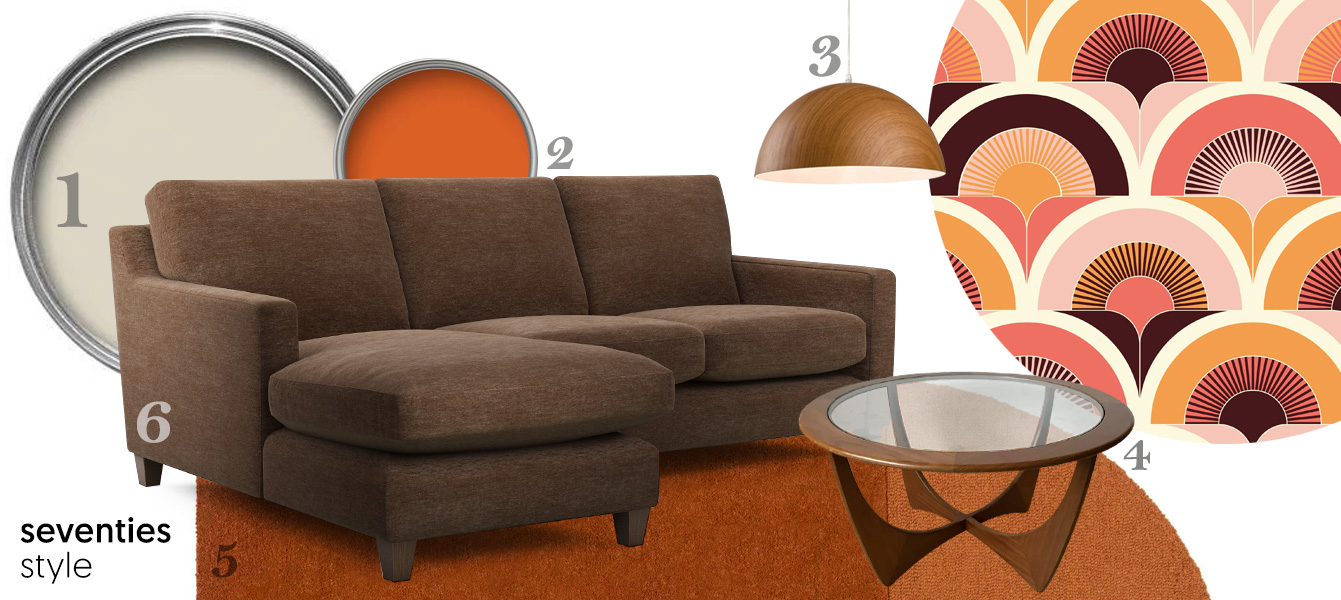 1. Travertina Crema from Fired Earth 2. Charlotte's Locks from Farrow & Ball 3. Wooden Pendant Light by First Light 4. Astro Coffee Table by G Plan (Vintage) 5. Wool Rug by Dunelm 6. Zoe Chaise End Sofa in Manor House from The Lounge Co.
The 1970s is making a big comeback this season. As people are spending more time at home and craving a bit of nostalgia, Seventies style fills us with warmth and happiness. Think organic shapes, sumptuous textures and a palette of earthy tones, naturals and peacock colours.
Our Manor House is a rich chocolate brown that looks groovy as part of a palette of cream, mustard yellow and burnt orange.
Try them for yourself
We think you'll agree that our Family Friendly Premium Velvets are just a little bit magic! Discover them for yourself by ordering up to six free swatches.
Get them home and give them hell – you'll be delighted with the results!