Coffee Table Buying Guide
A coffee table isn't just for coffee! It's an important piece of furniture in any living room or lounge, but with so many styles and options available, it can be tough to know where to start. Here are a few tips on choosing your perfect coffee table: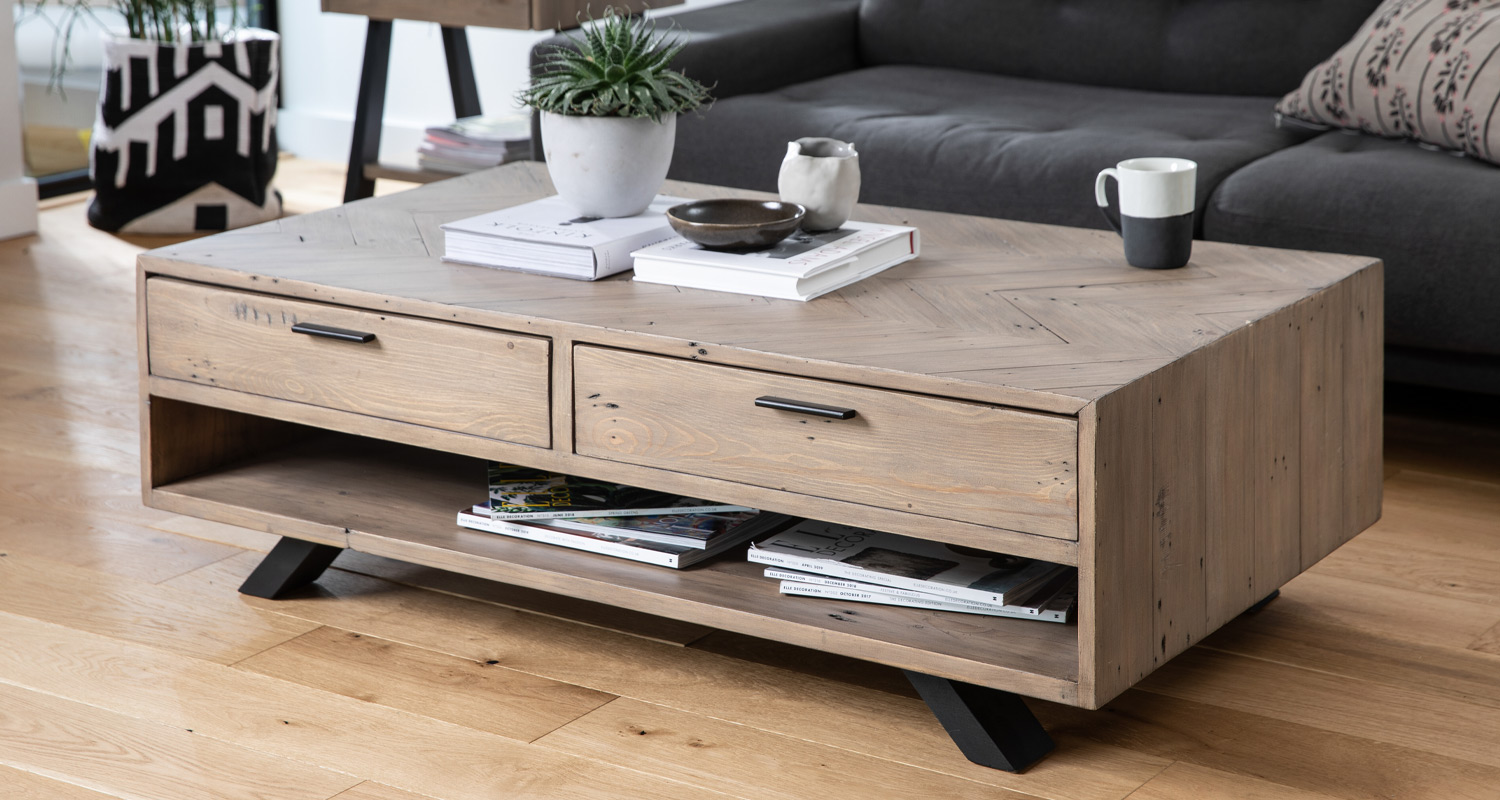 Foundry Reclaimed Timber Coffee Table
SIZE
Your coffee table should be proportional to the size of your lounge and the other furniture in the room. A good rule of thumb is to choose a coffee table that is about two-thirds the width of your sofa. This means it won't dominate but will still be reachable by anyone sat on the sofa. Always measure the available space before you start shopping, this will help you determine the size of coffee table that will fit comfortably in your room. Remember – you need plenty of space around the table to allow people to move freely.
"A coffee table should be about two-thirds the width of your sofa"
HEIGHT
You'll find that most coffee tables are a similar height, but there will be variations. It should be comfortable for you to use; the ideal height for a coffee table is about the same as the seat height of your sofa or chairs.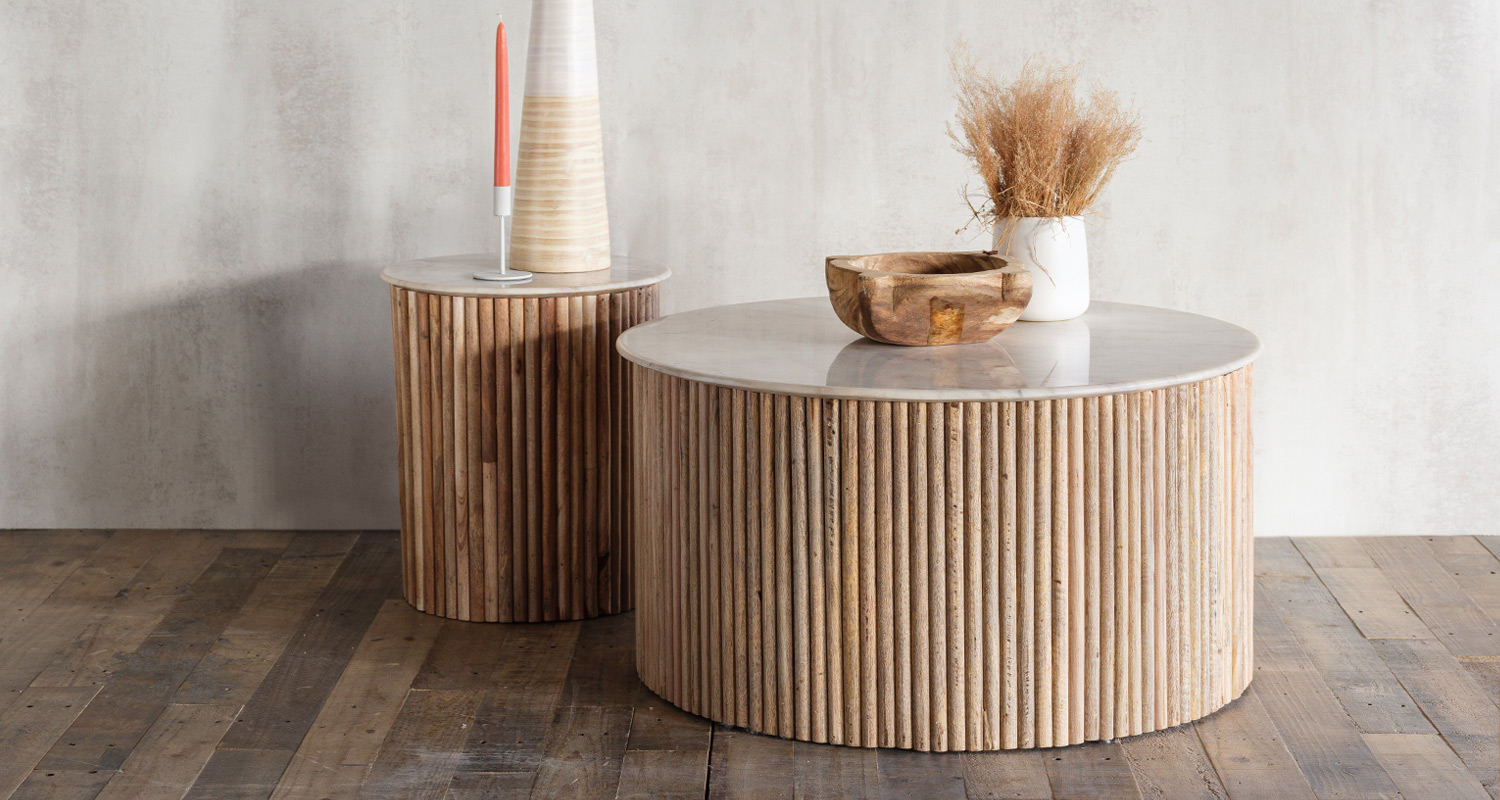 Bailey Reeded Mango Wood and Marble Coffee Table and Lamp Table
SHAPE
The shape of your coffee table can affect the overall look and feel of your living room. Rectangular or square coffee tables work well alongside traditional furniture pieces or interiors with an industrial edge, while round coffee tables can add a playful touch to a modern or Scandi-inspired space.
"Round tables can add a playful touch to your room"
STYLE & MATERIAL
As with any new item of furniture, the style of your coffee table should complement your living room furniture and décor. Traditional taste? You might want to choose a coffee table made of wood or leather. If your style is more modern, then how about a coffee table made of glass, metal or concrete.

Coffee Tables, top row, left to right: Foundry, Malthouse, Bailey, Hemmel, Berwyn. Bottom row, left to right: Orton, Temperley, Costello, Oldfield.
Wooden coffee tables are a classic choice that are both durable and stylish. If you're keen on minimising your effect on the planet, you might want to consider our Foundry, Hemmel or Malthouse ranges, all of which use 100% reclaimed wood in their production.
Glass, ceramic and concrete-effect coffee tables are modern and sleek but can be more fragile and take more effort to keep looking clean.
Costello Concrete Effect Coffee Table
FUNCTIONALITY
Consider what you will be using your coffee table for. If you plan to use it for eating, you will need a coffee table with a large enough surface area and one that's not too low. If storage is your main goal, you'll find coffee tables with drawers or shelves. You might also want to consider one of our Taylor Storage Footstools, which can work as a table, footstool and ottoman.
"If storage is important, looks for coffee tables with shelves and drawers"
If you only need a small table to sit at the side of your sofa to put a lamp or your cup of tea on, then we'd recommend looking at our range of Lamp Tables.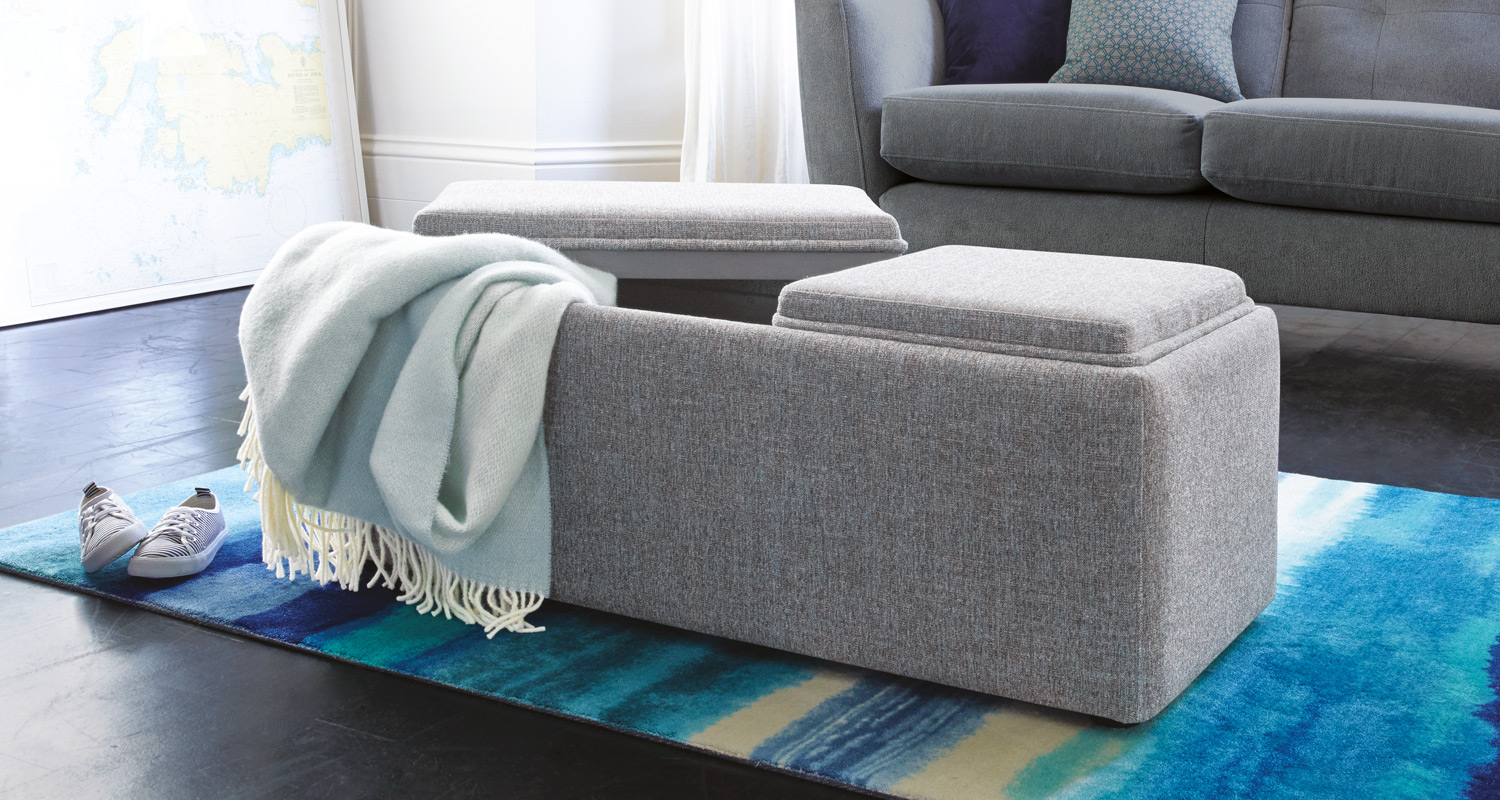 Taylor Upholstered Storage Bench in Oyster Pearl
HOW TO STYLE YOUR COFFEE TABLE
If you want your new coffee table to be Insta-worthy, it needs to be styled! But you do you style a coffee table? Firstly, decide what look will fit the décor of your room – do you want neutral and classic, bold and vibrant, or maybe industrial with a retro edge?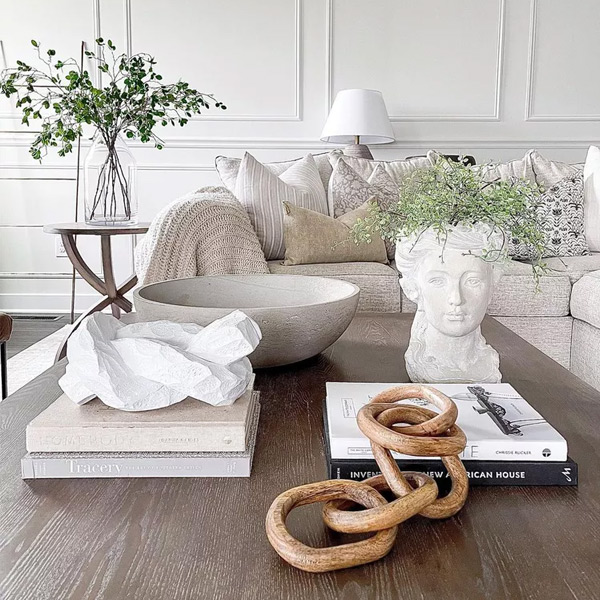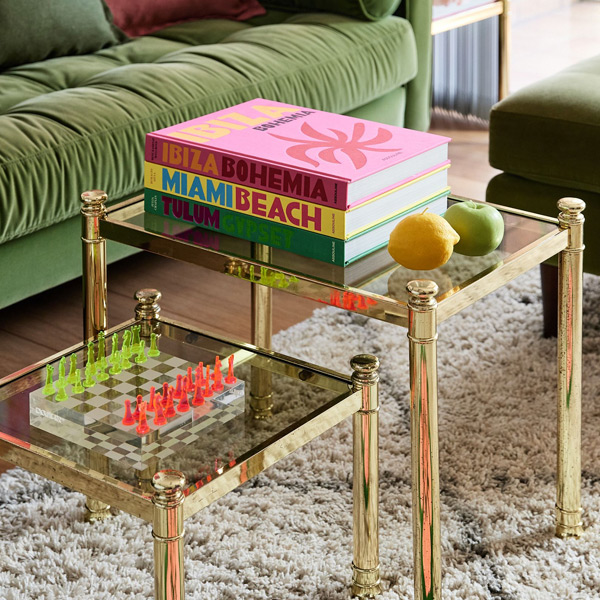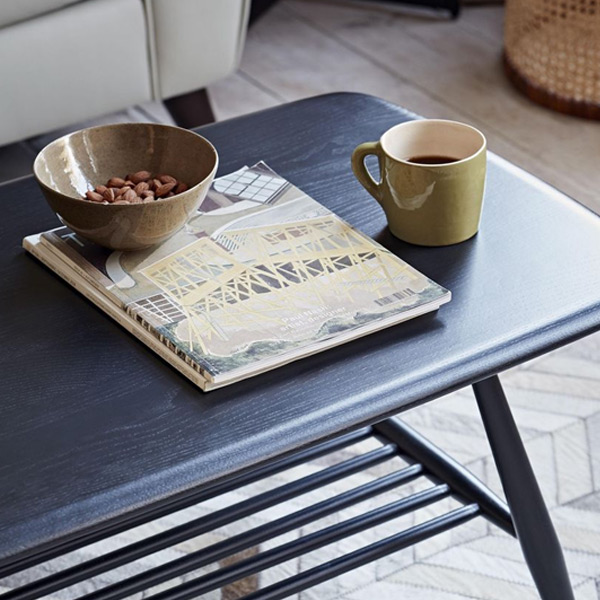 A tray is a good starting point and keeps everything in place. Choose objects of varying height and shape to give your table interest. Books are always a good choice; make sure they not only look good, but you'd also want to read them! A houseplant or cactus is a great way to add some freshness. And finally – err on the side of less – you don't want your room to look cluttered!
"A houseplant or cactus is a great way to add some freshness"
AND FINALLY...
It's important to do your research before you buy. We know that furniture is an investment, so we'd recommend visiting one of our flagship stores in Chiswick or Islington to check out the style and quality of the furniture yourself.
You'll also find peace-of-mind by reading our Trustpilot reviews, where we're rated 'Excellent' by over 1,500 customers.