It's that time again when we start dreaming of relaxing getaways to laid-back coastal retreats. Well, to be honest, we dream of them all year round! Even in the most miserable months, you can create a beach-house look in your home with understated tones inspired by the ocean and natural, weathered textures.
All images sourced from Pinterest.
Laid-Back Ocean Tones
There are two main colourways that make up a beautifully subtle coastal palette. The muted blues and greens of the ocean and the cool neutrals of the shoreline. Pair the two for the perfect balance of sea and sand.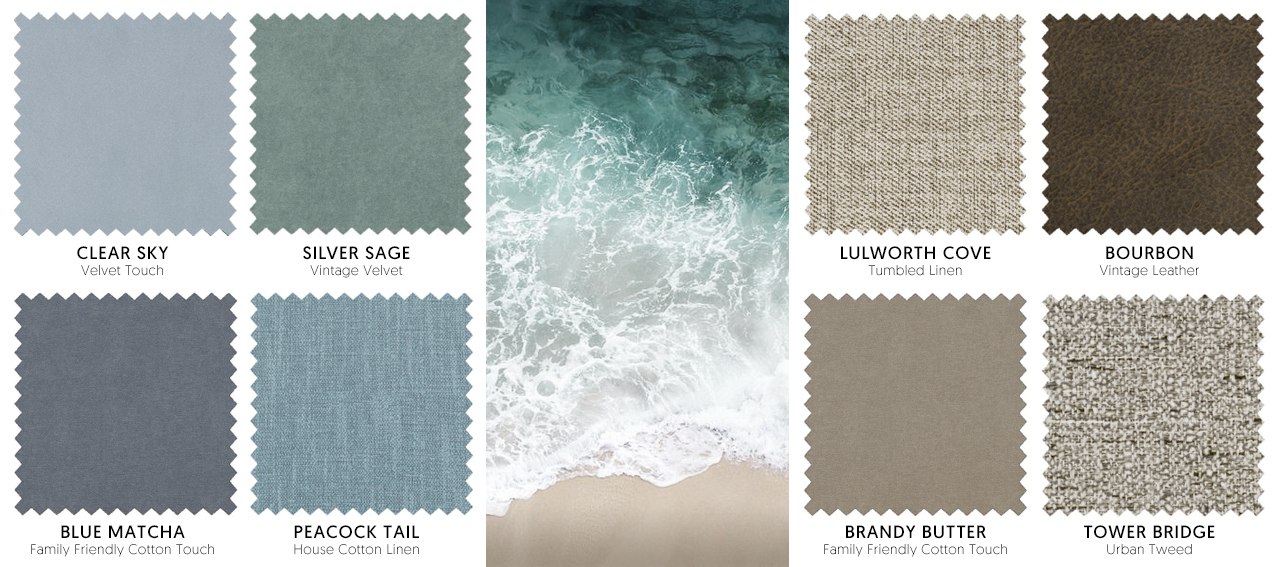 It's not all about colour, texture plays a big part in achieving the look. The tactile consistency of a linen or tweed paired with a smooth, soft velvet mimics the contrast found in nature. Leather can also be a great accent for creating a coastal look; a little goes a long way though, keep it to a footstool or cushion.
If you'd like to check out how these fabrics would look in your own lounge, you can choose up to 8 swatches and get them delivered for free. Hold them up, look at them, feel them and match them to your décor before creating your perfect sofa.
Choose Complementary Tones
Create a modern, laid-back look by choosing complementary tones and contrasting textures. Take a sofa and a snuggler; picking a fabric from the blue palette and another from the neutrals. Here are a couple of our favourite pairings:

From left to right: Briony 4 Seater Pillow Back in Velvet Touch – Clear Sky. Briony Snuggler in Tumbled Linen – Lulworth Cove

From left to right: Paloma Snuggler in Vintage Velvet – Silver Sage. Paloma 4 Seater in Family Friendly Basket Weave – Mountain Hare
Did you know that all of our sofas are available in every fabric that we offer. Choose your favourite sofa and then play with the fabrics until your find the perfect match.
Finishing Touches
It's the small accessories which really create that 'coastal chic' look. For the perfect finishing touches, choose objects in a white-washed or weathered finish. A recycled glass vase filled with wild blooms will breathe life into your room, or bring the ocean inside with a stylish framed print.

1. Light Wood Tripod Table Lamp from Iconic Lights. 2. Recycled Glass Vase from Trouva. 3. Coastal Hanging Star from The Range. 4. Framed Oceanic Poster from Juniqe. 5. Knotted Rope Door Stopper from Homescapes
So sit back, relax and dream of that deserted beach...